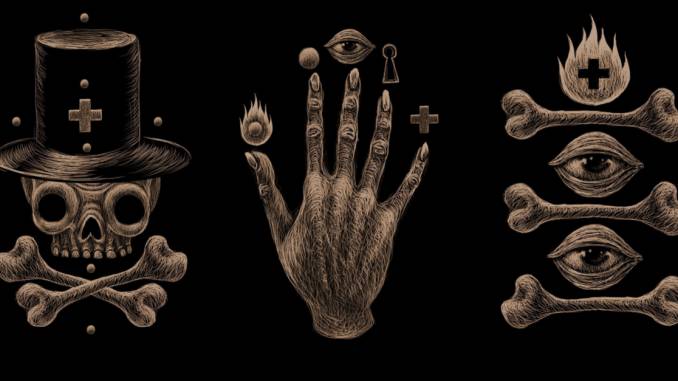 Saturn-druga pod względem wielkości planeta w układzie słonecznym, rzymski bóg rolnictwa, zasiewów i czasu, przez niektórych kojarzony również ze starożytnym kultem szatana Nazwa ta od zawsze wiązała się z czymś niezwykłym, ale i zarazem niepokojącym. Liczne porównania i poszlaki z przeszłości mówią o straszliwej i ukrytej tajemnicy związanej z tą planetą i jej symboliką. W jaki sposób Saturn powiązany jest z Szatanem?
Czy to możliwe, że od wieków ludzkość nieświadomie czciła pana piekieł?
Zanim jednak wyciągniemy pochopne wnioski, należy przyjrzeć się sprawie u źródła.
Kult Saturna w dawnych wierzeniach
Naturalnie nie ma ku temu wątpliwości, że nasi przodkowie dysponowali rozległą, astronomiczną wiedzą, której okiełznanie w tak zamierzchłych czasach bez wykorzystania ku temu zaawansowanej technologii, do tej pory spędza sen z powiek naukowcom.
Warto tutaj wspomnieć na przykład o tym, że w V wieku n.e. hinduscy astronomowie oszacowali średnicę Saturna na niemalże 119,00 km.
Dziś natomiast, z wykorzystaniem zaawansowanej technologii, jesteśmy w stanie podać, że wynosi ona 120,536 km.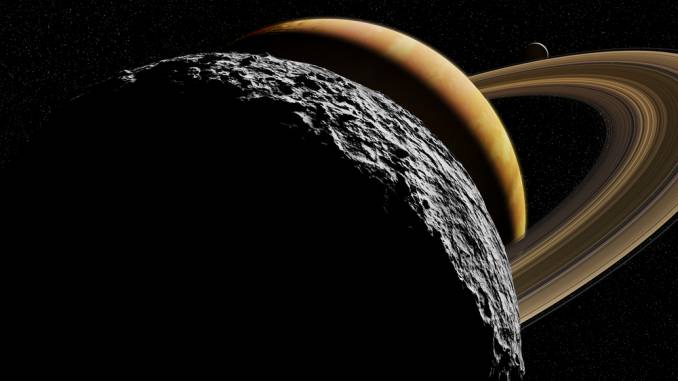 Jak więc widać, starożytni nie pomylili się zbytnio w obliczeniach.
Jakkolwiek pięknie i spokojnie nie wyglądałby Saturn z dużej odległości, na jego powierzchni panuje istny chaos, szaleją niewyobrażalne mrozy i wichury.
Złudne piękno tej fascynującej planety, przyćmione jest jej dziką, straszliwą i nieposkromioną naturą.
Powiązania Saturna ze Słońcem
Ponadto, przez wiele stuleci Saturn był uznawany za ostatnią planetę od Słońca.
W tym przypadku jednak akurat nie ma nic dziwnego, ponieważ jest on ostatnią planetą dostrzegalną okiem nieuzbrojonym.
Będąc jednak przez wieki ostatnią planetą od Słońca, gazowy olbrzym kojarzony był z zimnem, czymś nieczystym i odległym od gorejącego źródła boskości, jakim od niepamiętnych czasów było życiodajne Słońce, często stanowiące boską personifikację w pradawnych wierzeniach.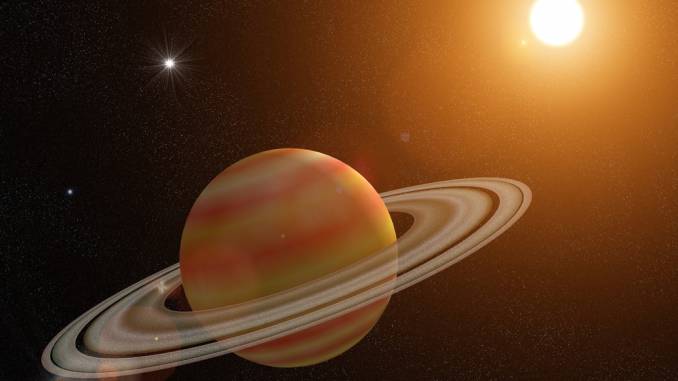 Tak jak ciepło jest kojarzone z dobrobytem, tak zimno jest kojarzone ze złem i nieszczęściem.
W wielu wierzeniach Słońce odgrywało istotną rolę i było często kojarzone z boskością.
Saturn i chrześcijaństwo
Nie dotyczyło to wyłącznie kultów starożytnych, lecz pewne elementy kultu solarnego znalazły się również w chrześcijaństwie.
Przykładowo, krzyż był niemal od zawsze świętym znakiem solarnym, boskim symbolem słońca i ognia, a czasem także płodności, czyli szczęścia i urodzaju.
W początkach chrześcijaństwa próbowano też skierować rzymski kult słońca na postać Chrystusa, określając go jako sol verus ("słońce prawdziwe"), sol salutis ("słońce zbawienia"), sol iustitiae ("słońce sprawiedliwości") i lux mundi ("światłość świata").
Według mitologii, Saturn, był odpowiednikiem greckiego tytana, Kronosa, syna pana niebios-Uranosa i Matki-Ziemi-Gai.
Kronos jednak zbuntował się, wypowiadając posłuszeństwo swemu ojcu, w konsekwencji czego został zrzucony z boskiego piedestału i wtrącony do Tartaru.
Historia ta w zaskakujący sposób odpowiada buntowi Szatana przeciwko władzy Boga.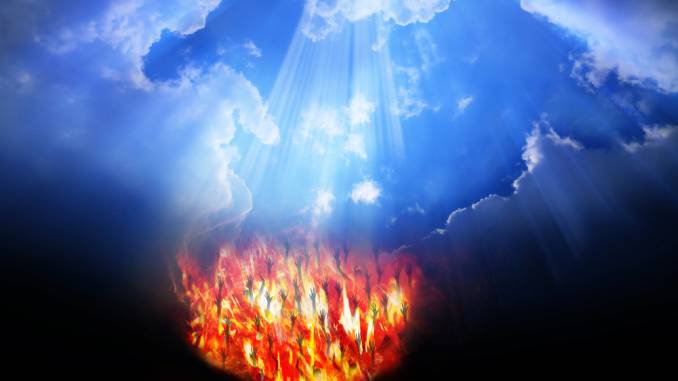 Podobnie jak grecki tytan, Lucyfer został strącony w odmęty ziemi za swoje przewinienia przeciw Bogu i ustanowionemu przez niego porządkowi.
Co więcej, Kronos, grecki odpowiednik Saturna i buntownik, obrał sobie za swój symbol sierp, którym zabił swojego ojca Uranosa i przejął władzę w stworzonym przez niego "raju".
Sierp jest też symbolem śmierci, istnym porównaniem do kosy ponurego żniwiarza.
Dowodem, iż kult Saturna przesiąkł w pewnym stopniu do religii chrześcijańskiej, jest tradycja wymiany pierścionków podczas ceremonii ślubnej.
Saturn, bezpośrednio ingeruje w nasze życie poprzez tę tradycję.
Być może jest to zwykła nadinterpretacja pewnych elementów.
Wiadomo wszak, że religie monoteistyczne, takie jak chrześcijaństwo, islam, hinduizm, czy judaizm w dużej mierze bazowały na religiach politeistycznych.
Warto jednak się nad tymi porównaniami, choć na chwilę pochylić.
Symbolika Saturna
Skoro wiemy już o wielu porównaniach tej planety do ucieleśnienia zła, a nawet samej postaci Szatana, warto zastanowić się nad symboliką Saturna, która potrafi zmrozić krew w żyłach największym sceptykom.
Liczba 6 w ezoteryce jest liczbą Genesis, a symbolizowana jest przez heksagram, czyli sześcioramienną gwiazdę i pieczęć Salomona.
Heksagram jest najpopularniejszym symbolem reprezentującym Saturna.
Jest to symbol pochodzący z bardzo odległych czasów.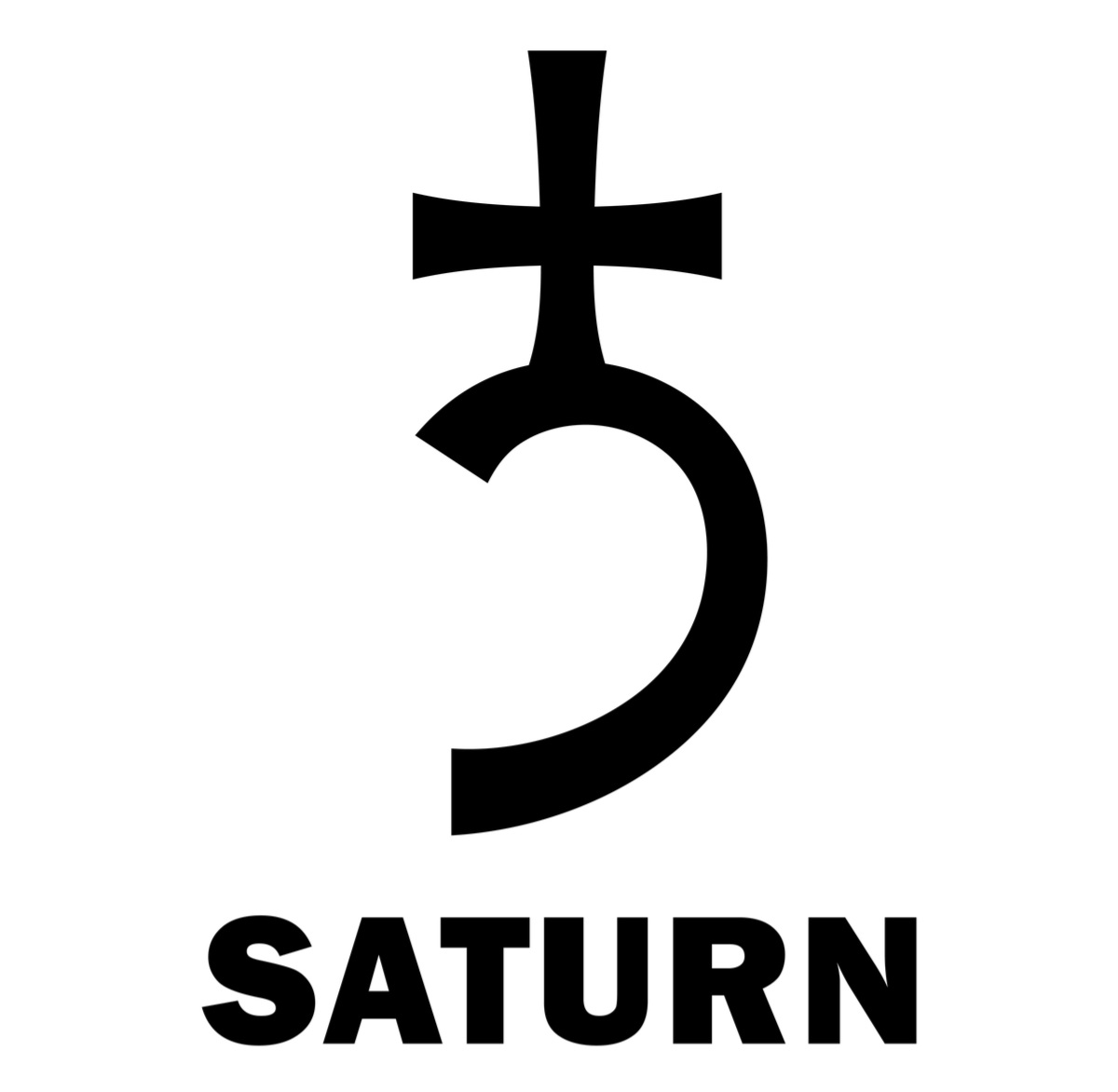 Część ekspertów uważa, że ten znak nie ma nic wspólnego z symbolem judaizmu, ale dotyczy gwiazdy Kijuna (Księga Amosa 5:26), zwaną również gwiazdą Remfana (Dzieje Apostolskie 7:43).
Obie te nazwy są określeniami używanymi przez starożytnych w odniesieniu do planety Saturn.
Heksagram to również symbol widniejący na wielu starożytnych artefaktach i budowlach sumeryjskich.
Znak ten składa się z dwóch elementów: trójkąta skierowanego wierzchołkiem do góry, oznaczającego pierwiastek męski, oraz trójkąta skierowanego w dół, co symbolizuje pierwiastek żeński.
Jest on niezwykle istotnym symbolem, wykorzystywanym w okultyzmie, czarnej magii i kabale, służy on bowiem do wywoływania i odpędzania demonów oraz nakładania klątw i zaklęć.
Ponadto, trzęsąca światem rodzina Rotschildów przyjęła symbol czerwonego heksagonu, a po nich zrobili to syjoniści.
Co ciekawe, symbol ten wykorzystywany jest również coraz częściej na występach oraz w teledyskach gwiazd muzyki pop.
Czyżby były to celowe działania, mające na celu ukierunkowanie świadomości widzów i tym samym, ułatwiające nad nimi kontrolę?
Fakt, że Saturn jest 6 planetą od Słońca, 6 dniem tygodnia jest sobota (łac. dies Saturni-dzień Saturna), a na północnym biegunie tej planety występuje niespotykane nigdzie indziej zjawisko w postaci olbrzymiego, sześciokątnego wiru polarnego, którego przyczyny po dziś dzień naukowcy nie są w stanie wyjaśnić, daje solidną pożywkę fanom teorii spiskowych.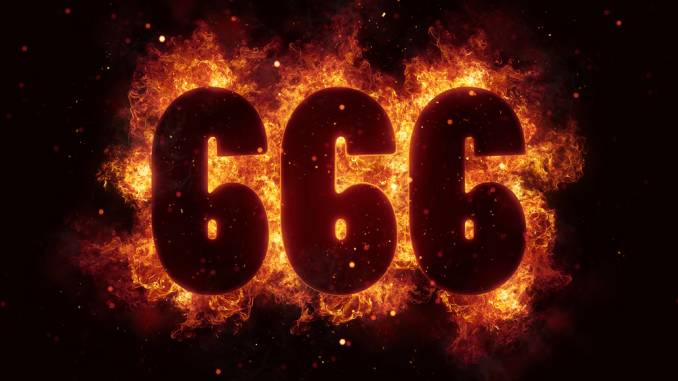 Szóstka, będąca nieodłącznym elementem Saturna, znajduje swoje potwierdzenie również w symbolice sześcianu pośród wielu głównych religii.
Sanktuarium Al-Kaba w Mekce, święte miejsce pielgrzymek muzułmanów jest czarnym sześcianem, krzyż chrześcijański przypomina siatkę geometryczną sześcianu, wyznawcy judaizmu używają czarnych pudełeczek w kształcie sześcianu, w których przechowują fragmenty Tory.
Jak widać, pewnych rzeczy jednak nie sposób zaprzeczyć, a negowanie ich, być może tylko utwierdza nas w fakcie, że jesteśmy kontrolowani przez kręgi, pragnące byśmy trwali w tej błogiej niewiedzy jak najdłużej.
Symbol 666, będący znakiem bestii z Apokalipsy Św. Jana, odpowiadający zarazem niepokojącej koniunkcji szóstek związanych z tą mistyczną planetą, nasuwa jedno wyjaśnienie tej zagadki-w licznych wierzeniach i tradycjach, Saturn kojarzony jest ze złem, Szatanem, buntem i miejscem przesiąkniętą negatywną energią.
Czy kult Saturna, skrycie czczący Szatana istniał naprawdę?
Tego nie wiemy.
Tak naprawdę o naturze tej fascynującej i zarazem niepokojącej planety wiemy tyle, ile przekażą nam naukowcy.
Pytanie brzmi tylko, czy uwierzymy w każde ich słowo, czy może nieco szerzej otworzymy umysły i sami zaczniemy dociekać prawdy.
E-BOOK OKULTYZM I ZJAWISKA PARANORMALNE Kupisz tutaj kliknij
Komentarze