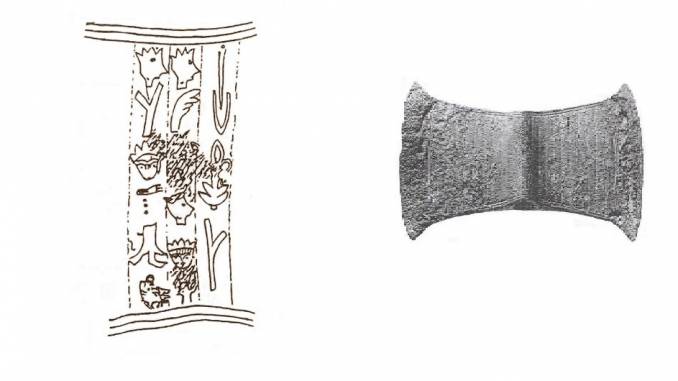 Topór z jaskini Arkalochori to jeden z setek odnalezionych w kreteńskiej jaskini brązowych artefaktów i wotywnych symboli. Godnym uwagi jest fakt, że wyryto na nim 15 symboli, podobnych do tych z zagadkowego dysku z Fajstos.
Odkrycie w jaskini Arkalochori
Jaskinia Arkalochori znajduje się około 30 km na południowy wschód od Heraklionu na Krecie.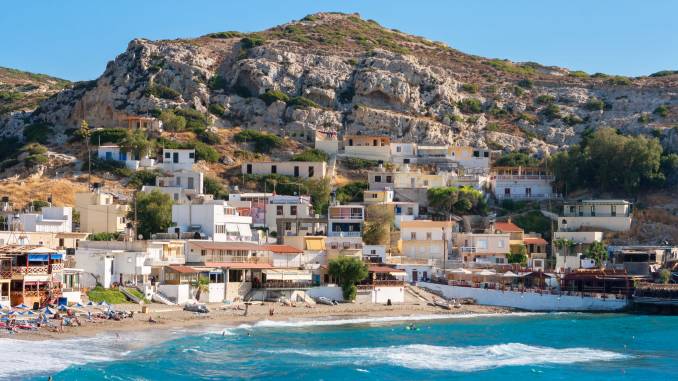 Ma 30 metrów długości i zakłada się, że użytkowano ją od około 2500 roku p.n.e.
Jaskinia pod koniec okresu późno minojskiego była częściowo zasypana, co miało prawdopodobnie związek z ówczesnymi trzęsieniami ziemi.
Najgłębsze części jaskini skrywały cenne artefakty ze złota, srebra i brązu.
W 1912 roku znaleziono 53 miecze z brązu i 19 podwójnych toporów, w tym jeden wykonany ze srebra.
W 1934 roku grecki archeolog Spyridon Marinatos zaniepokojony doniesieniami o licznych grabieżach w jaskini, postanowił dostać się do jej głębszych, zasypanych części.
Odkrycie jej zawartości było naprawdę imponujące.
Znaleziono setki długich mieczy, noży i toporów. Część z nich była wotami dziękczynnymi, inne przeznaczone były do codziennego użytku.
Wśród tych odkrytych przedmiotów znajdowało się m.in. 25 małych, podwójnych toporów wykonanych ze złota oraz 7 wykonanych ze srebra.
Ale największą wartość miał podwójny topór z jaskini Arkalochori.
Topór z jaskini Arkalochori i jego zagadkowe napisy
Podczas przeszukiwań jaskini znaleziono podwójny topór wykonany z brązu, którego szerokość wynosi około 30 cm.
Prawdopodobnie pochodzi z XVII wieku p.n.e. i był używany do religijnych rytuałów.
To, co czyni topór z jaskini Arkalochori wyjątkowym to fakt, że pokrywa go piętnaście symboli podobnych do tych z dysku odkrytego w Fajstos.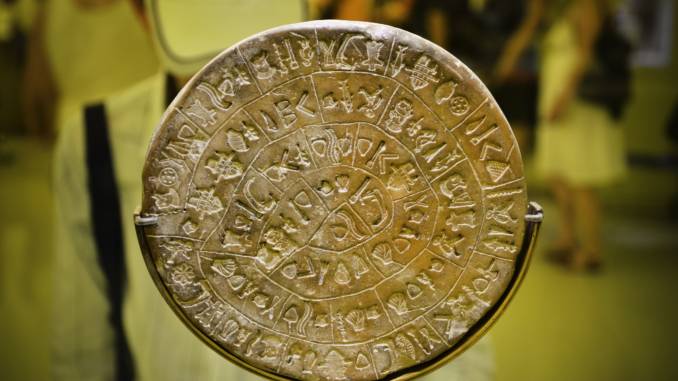 I o ile siedem symboli jest podobnych do tych umieszczonych na dysku z Fajstos, o tyle są one nieco bardziej skąpe i uproszczone.
Znaki te porównywano także do pisma linearnego A używanego w starożytnej Krecie (w sumie doszukano się podobieństw w dziesięciu znakach).
Jednak ani jedna, ani druga interpretacja nie przyniosła żadnych spektakularnych efektów w ustaleniu, jakim rodzajem symboli pokryty jest topór z jaskini Arkalochori, tym bardziej że dwa znaki były całkowicie odmienne.
Włoski archeolog Louis Godart, ekspert w zakresie archeologii mykeńskiej był nawet na tyle sfrustrowany brakiem znaczących postępów w jego odczycie, że uznał, iż tekst na toporze jest oszustwem, a jego autor był zwykłym analfabetą.
Badaczom udało się jednak zidentyfikować i odczytać zapis umieszczony na dwóch osiach topora:
Zapis fonetyczny to I-DA-MA-TE.
Transkrypcja ta według naukowców przypomina imię bogini Demeter.
Cztery symbole z pisma linearnego A również przypominają symbole z tegoż zapisu.
Wyniki analiz wskazują, że prawdopodobnie w jaskini znajdowała się świątynia kultu bogini Demeter lub jakiegoś innego bóstwa związanego z działalnością bitewną i wojskową.
Topór z jaskini Arkalochori z tajemniczymi napisami można, podobnie jak dysk z Fajstos, podziwiać w Muzeum Archeologicznym w Heraklionie na Krecie.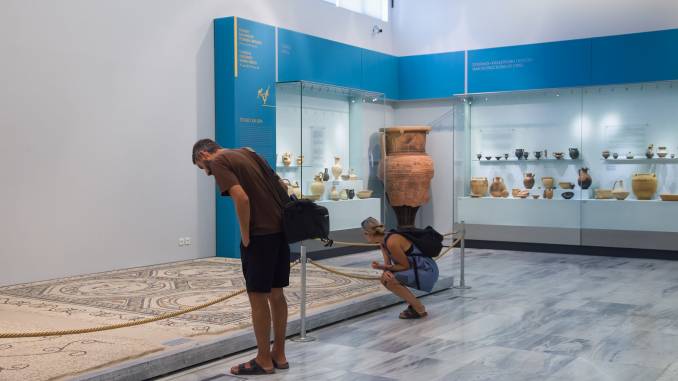 Komentarze