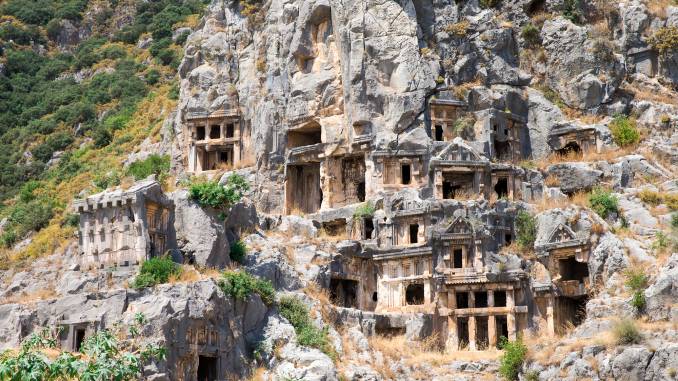 Grobowce licyjskie znajdujące się na terenie tureckiej Riwiery Egejskiej stanowią niecodzienną formę miejsca pochówku zmarłego. Do dziś zadziwiają monumentalnością i budzą zachwyt nad techniką ich wykonania, chociaż wyraźnie uwidaczniają się na nich zniszczenia spowodowane upływem czasu.
Licja – starożytna kraina grobowców
Grobowce licyjskie swą nazwę wzięły od dawnej, starożytnej krainy zwanej Licją, która znajdowała się na terenie południowo-zachodniej Anatolii.
Współcześnie można wyobrazić sobie, że tereny Licji obejmowały obszar pomiędzy Dalyan a Antalyą.
Większość terenu Licji była górzysta i obficie zalesiona.
To właśnie na tych górzystych terenach, w skałach wykuto najwięcej potężnych grobowców.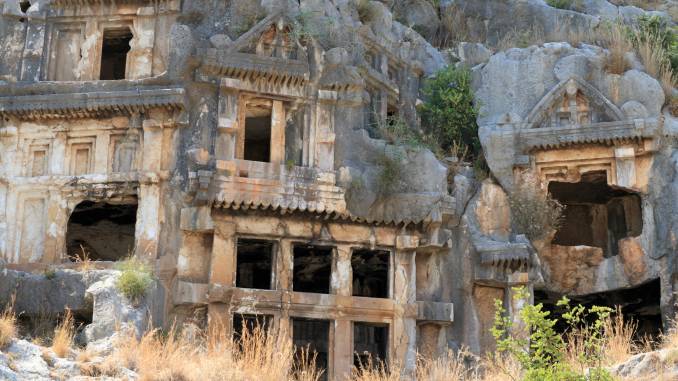 Prawdopodobnie jej obszar był zaludniony od około 3000 r. p.n.e.
Pełen okres rozkwitu kultury licyjskiej przypada na I w. p.n.e.
Upadek Licji związany był z trzęsieniami ziemi, które spustoszyły miasta oraz epidemią dżumy i wkroczeniem chrześcijaństwa.
Ostatnich greckich potomków Likijczyków wypędzono z Turcji tuż po I wojnie światowej.
Skalne arcydzieła
Znajdujące się na terenach ówczesnej Licji grobowce licyjskie stanowiły integralną część krajobrazu miast.
Najsłynniejsze można podziwiać m.in. spływając rzeką Dalyan w Kaunos oraz w Patarze i Fethiye.
Według najnowszych statystyk w Licji powstało ponad 1085 skalnych grobowców.
We wszystkich składano ciała owinięte w całuny, z umieszczoną w ustach zmarłego monetą, która miała być zapłatą dla Charona – przewoźnika dusz z grobowców do zaświatów.
Część grobowców została zniszczona lub zdewastowana przez miejscowych.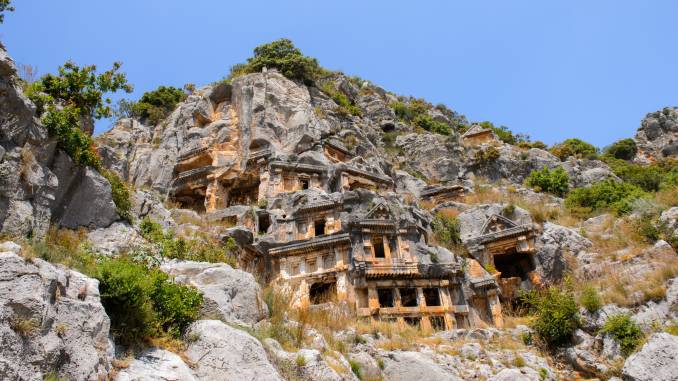 Niektóre grobowce zostały rozgrabione, a w ten sposób pozyskany materiał wykorzystywano do celów wznoszenia miejskich umocnień.
Te grobowce licyjskie, które zachowały się do dziś, zachwycają licznymi płaskorzeźbami i rozmaitymi zdobieniami.
Większość z nich przedstawia sceny z ceremonii pogrzebowej, bitwy, uczty, zwierzęta i sceny mitologiczne.
Blisko niektórych grobowców umieszczano okrągłe ołtarze, na których składano zmarłym ofiary.
Ołtarze również były bogato zdobione licznymi ornamentami i inskrypcjami. Wśród znalezionych w grobowcach licyjskich składanych ofiar odnaleziono biżuterię, butelki lub terakotowe posążki.
Niekiedy ofiary te pomagały w określeniu zawodu oraz statusu społecznego zmarłego (np. obok ciała pisarza spoczywał pojemnik z atramentem).
Grobowce licyjskie w Kaunos i Fethiye
Zespół skalnych grobowców w Kaunos można podziwiać podczas rejsu rzeką Dalyan.
Wykuto je wysoko w stromych zboczach skalnych, dlatego też nie są dostępne dla turystów.
Pochodzą z okresu IV – II w. p.n.e.
W całym kompleksie znajduje się sześć dużych oraz kilkanaście mniejszych, prostokątnych grobowców tzw. gołębich gniazd.
Największy grobowiec nie został ukończony.
Grobowce licyjskie w Kaunos skrywają ciała największych włodarzy, urzędników i samej arystokracji Licji.
Im wyżej znajdował się grobowiec, tym wyższy był status społeczny zmarłego i bliższa była też jego droga do zaświatów.
Większość arystokratycznych grobowców przypomina monumentalne, bogato zdobione świątynie jońskie.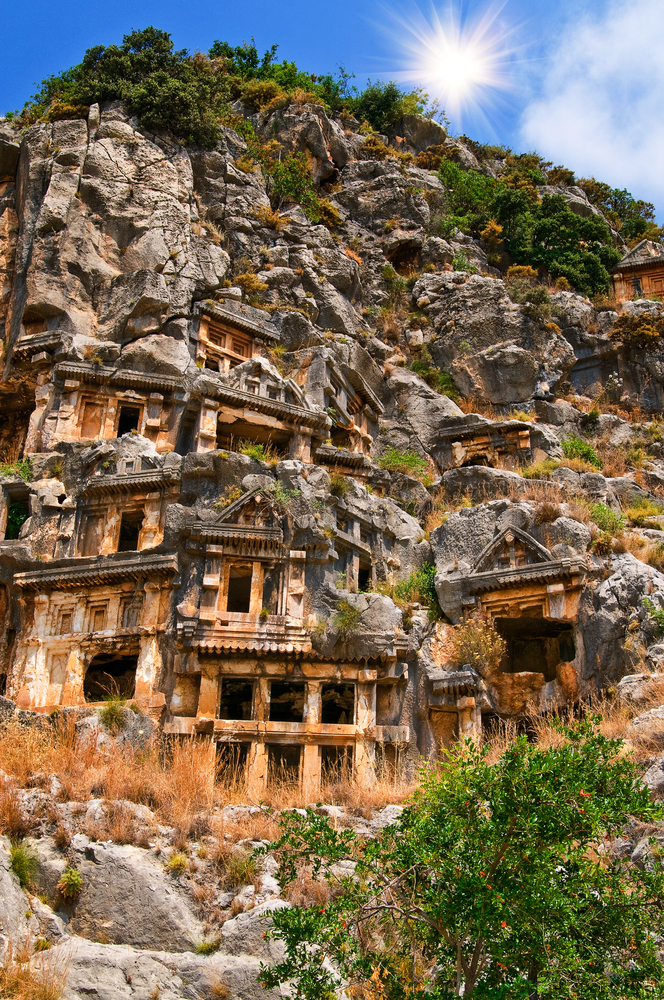 Budowa takiego jednego grobowca trwała średnio 35 lat, pomimo że ułatwiała ją miękkość i podatność skał na rzeźbienie.
Czterokolumnowe grobowce świadczyły o tym, że znajdują się w nich pojedyncze ciała, natomiast sześciokolumnowe informowały o tym, że jest to grób rodzinny.
Mniejsze grobowce posiadały skromne płaskorzeźby i wyszukane portale.
Ich dachy przypominały kształtem przewróconą łódkę, symbolizując porównanie życia ludzkiego do rzeki, po której dryfuje łódka.
Gdy człowiek umiera, łódka przewraca się i podróżuje dalej, lecz tym razem wprost do nieba.
Grobowce licyjskie dla "ogółu" budowano głównie w małym miasteczku Fethiye na przełomie VI – IV w. p.n.e.
Na zlecenie ówczesnych, skromnie mieszkających obywateli starożytnego Telmessos wykuwali je rzemieślnicy, prawdopodobnie spuszczani ze skały w koszu zawieszonym na wytrzymałej linie.
Najsłynniejszy znajdujący się tutaj grobowiec należy do nieznanego, aczkolwiek po samym wyglądzie budowli można zakładać, że wówczas zamożnego mieszkańca miasteczka – Amyntasa.
Grobowiec ten zachowany w doskonałym stanie, jest udostępniony dla zwiedzających.
Komentarze