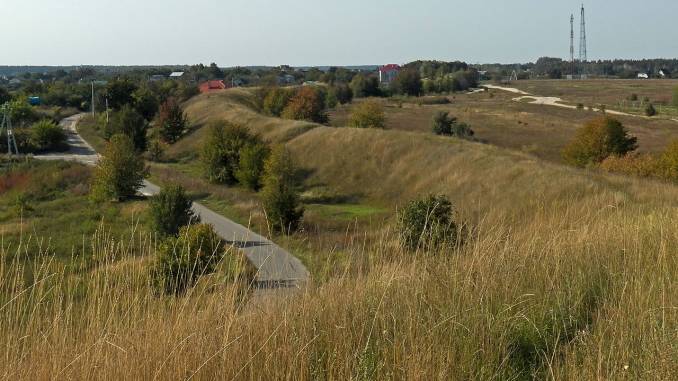 Żmijowe Wały stanowią umocnienie obronne, o którym mało kto słyszał, a swoim rozmachem dorównują Wielkiemu Murowi Chińskiemu. Ich łączna długość, w czasach świetności sięgała 2000 kilometrów. Były wysokie średnio na 6-8 metrów i szerokie na 14-16 metrów. Zlokalizowane są w lasostepowej oraz stepowej części Ukrainy.
Typowy Wał Żmijowy w przekroju był trapezoidalny, miał również spłaszczony wierzch, na którym wkopywany był częstokół wykonany z drewnianych pali.
Konstrukcja najczęściej posiadała solidny trzon wykonany z drewnianych bali, który był wypełniany ziemią.
Taka konstrukcja była przysypywana ziemią również od zewnątrz.
Po stronie stepu wał był uzupełniany linią głębokiego rowu, który był oddalony o co najmniej metr od usypanej masy obronnej, jeśli teren był podmokły, dół znajdował się dalej, aby nie zakłócać stabilności całej konstrukcji.
Istniały lokalizacje, w których wyjątkowo często dochodziło do ataków koczowniczej ludności ze stepu.
Wynikało to z obecności osad, jak również odpowiednich warunków naturalnych, które umożliwiały konnicy szybkie przemieszczanie się.
W takich newralgicznych punktach tworzono niekiedy nawet aż sześć kolejno ułożonych, jeden za drugim nasypów, które odcinały niemal całkowicie wrogowi dostęp do osady.
Przy wałach w odstępach mniej więcej 6-8 kilometrów ulokowane były niewielkie grody, w których przypuszczalnie mieszały załogi mające za zadanie ochranianie powierzonego fragmentu Żmijowego Wału.
Geneza słowiańskich wałów
Przeprowadzono na obszarze wałów badania datowania radiowęglowego, które pozwalają sądzić, iż ich budowa przypadła na okres od II w. p.n.e. do IV w. n.e.
Nie jest to jednak informacja w pełni wiarygodna.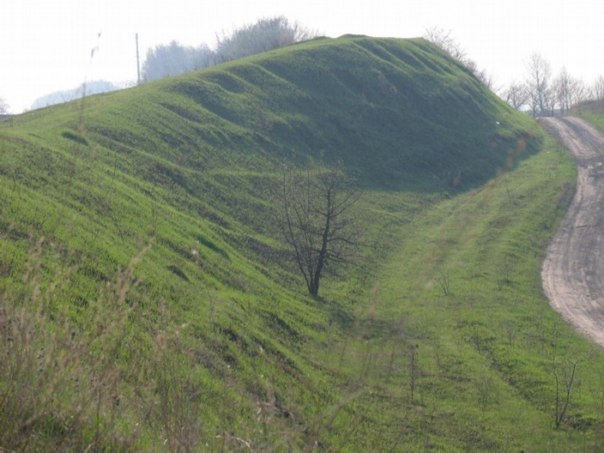 Jednocześnie nie ma jednoznaczności w kwestii stwierdzenia, kto budował te niesamowitych rozmiarów umocnienia.
Wśród licznych hipotez wymienia się Sarmatów – rolników, którzy chcieli bronić się przed koczowniczymi Scytami.
Inna teoria mówi o Gotach z Oium, którzy bronili się przed Hunami, a jeszcze kolejna o słowiańskich Antach (Kultura Pieńkowska).
Do dnia dzisiejszego najdłuższe fragmenty Żmijowych Wałów zachowały się w swojej pierwotnej formie pomiędzy linią Dniestru a Tarnopolem, okolicami Kijowa i Żytomierzem, oraz na lewym brzegu Dniepru – rozpoczynają się nieopodal sienkiewiczowskich Łubniów, podążają wzdłuż rzeki Suły i biegną aż do jej ujścia do największej Ukraińskiej rzeki.
Mimo iż na przestrzeni wieków, w tym regionie zamieszkiwały różne ludy i wiele z nich można podejrzewać o wybudowanie tego rodzaju umocnień, to pewne jest jedynie, iż stanowią one dzieło mieszkańców wschodniej słowiańszczyzny i ich zadaniem było ochranianie ich przed niespodziewanie napadającymi koczowniczymi ludami, które pojawiały się niczym fale ze stepu, który umiejscowiony był na południe od słowiańskich terytoriów.
Smok i pług, czyli legenda
Ludowe podania donoszą, że wały zostały wyorane przez straszliwego smoka, który nieustannie porywaj i zjadał dzieci mieszkańców wschodniej Słowiańszczyzny.
Istnieją co najmniej dwie wersje tej legendy, zgodnie z jedną unicestwienia smoka dokonał Kyryła Kożumjaka, w innej natomiast dowiadujemy się, że sprawcami tego doniosłego czynu byli dwaj kowale Kuźma i Demian.
Smok miał zostać pokonany, a następnie zaprzęgnięty do pługa, z którego pomocą dokonał wyorania ogromnej bruzdy, czyli wału i znajdującego się przy nim rowu.
Wedle tych opowieści miała to być linia oddzielająca tereny, które będą zamieszkane przez ludzi od ziem, które miały należeć do potwora.
Umowa okazała się jednak niepotrzebna, gdyż smok nie dostał nic.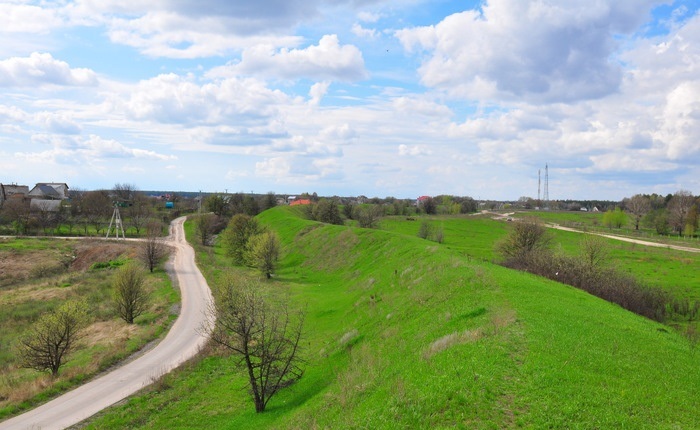 Bardzo zmęczony pracą dotarł do wody (jedna wersja mówi o rzece, druga o morzu), spragniony opił się tak wielkiej ilości wody, że pękł podobnie jak jego krewniak z Wawelu.
Stąd właśnie nazwa, która przylgnęła do tej dawnej konstrukcji "Żmijowe Wały".
Idealna forma obronności
Koczownicze ludy, które zagrażały osiedlonym na wschodniej Słowiańszczyźnie ludziom, słynęły z organizowania nagłych ataków w postaci galopującej konnicy, która gwałtownie napadała i równie szybko znikała.
Jednak Żmijowe Wały stanowiły dla nich przeszkodę nie do pokonania.
Przejście było możliwe jedynie dla piechoty, a w takiej formie plemiona koczowników traciły całą swoją siłę, element zaskoczenia i przewagę.
Nie miały szans w starciu z ludem broniącym swojej ziemi. Jakiekolwiek najmniejsze przerwanie ciągłości wału i przedostanie się wroga, nie stanowiło większego problemu, gdyż w często atakowanych pozycjach było po kilka wałów, a miasta były budowane w systemie grodowym, co ułatwiało ochronę przed najeźdźcą.
Przedsięwzięcie na wielką skalę
Patrząc, nawet w dzisiejszych czasach na rozmiary Żmijowych Wałów można odnieść wrażenie, że ówcześni budowniczowie wykonali ogrom pracy.
Archeologowie twierdzą, że łączna długość umocnień wynosiła mniej więcej 2000 kilometrów.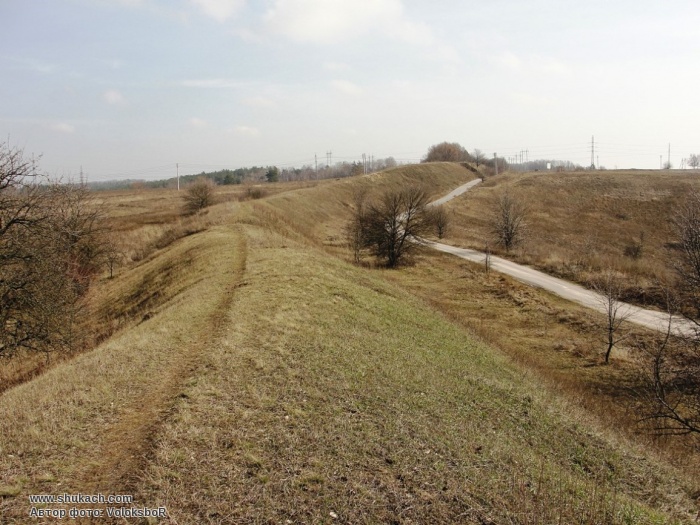 Oznacza to, że prace były czasochłonne i niezwykle wyczerpujące i brały w nich udział całe rzesze robotników.
Aby zbudować jeden metr bieżący takiego umocnienia, potrzebne było 3 metry sześcienne drewna i minimum kilkadziesiąt metrów sześciennych ziemi.
Tak więc ilość wszystkich zużytych materiałów można szacować na kilka milionów metrów sześciennych drewna i kilkanaście milionów metrów sześciennych ziemi.
Obecnie przy użyciu ciężkich maszyn być może nie byłoby to aż tak trudne, jednak dawniej sam transport budulca był o wiele bardziej wyczerpujący.
Zapomniane dzieło
Przez lata o Żmijowych Wałach nikt nie słyszał.
Nadal ich istnienie jest raczej mało nagłośnione, być może dlatego, że nadal żywy pozostaje spór dotyczący ich powstania, dowody ukazywane przez badaczy tego miejsca niszczą wyjaśnienie "przodującej" Rosji na terenach wschodniej Europy.
Pierwsze publikacje na temat tych niesamowitych umocnień ukazały się w latach 30. XIX wieku.
Niezwykła pamiątka z przeszłości została na wiele lat zapomniana po rewolucji bolszewickiej.
Badania zostały na szerszą skalę wznowione dopiero w latach 70. Ubiegłego stulecia przez naukowców pochodzących z Ukrainy, która wówczas była pod wpływem sowieckim.
Zastanawiający jest fakt, iż budowa Żmijowych Wałów jest całkowicie pominięta w najstarszych ruskich kronikach – latopisach.
Wzmiankuje je jako elementy topograficzne.
Niezauważony zostaje przez autorów sam fakt budowy, przy której przez wiele lat z pewnością pracowały rzesze ludzi.
Żmijowe Wały od dawna nie były dokładnie badane.
Ich historia, powstanie i przeznaczenie jest jedynie pełne domysłów i tez.
Konstrukcja i umiejscowienie z pewnością świadczą o ich obronnym charakterze, co może być uzasadnione w wielu okresach dziejowych.
Jednak z uwagi na milczenie źródeł pisanych pewnie, dokładne dzieje tych wspaniałych wałów pozostaną na zawsze nierozwiązaną tajemnicą.
Komentarze