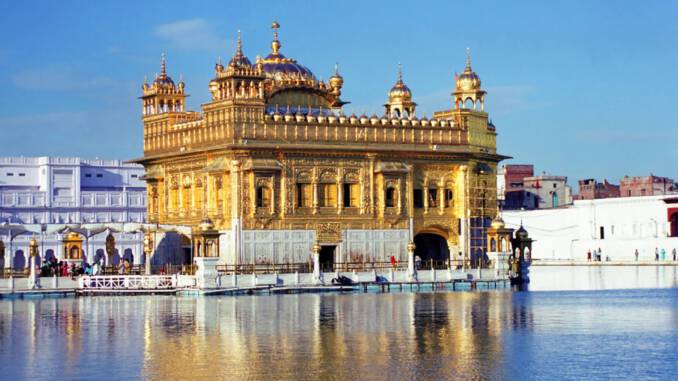 Złota Świątynia w Amritsarze jest nie tylko centralnym miejscem religijnym Sikhów, ale także symbolem ludzkiego braterstwa i równości. Każdy, bez względu na religię, wyznanie lub rasę, może szukać tutaj duchowej pociechy i religijnego spełnienia bez żadnych przeszkód. Reprezentuje także odrębną tożsamość, chwałę i dziedzictwo Sikhów.
Dom Pana
W Indiach, 30 km od granicy z Pakistanem w stanie Pendżab znajduje się miasto Amritsar.
Na co dzień nie byłoby tu nic nadzwyczajnego, gdyby nie fakt, że znajduje się w nim miejsce najwyższego kultu religii Sikhów – Złota Świątynia w Amritsarze.
W lokalnym języku znana również jako Sri Harmandir Sahib lub Sri Darbar Sahib, co w tłumaczeniu nie oznacza nic innego jak Dom Pana.
Miejsce to jest co najmniej tak ważne dla ich religii, jak mekka dla Muzułmanów, czy ściana płaczu dla wyznawców judaizmu.
Guru Arjan Sahib, Piąty Nanak, wpadł na pomysł stworzenia centralnego miejsca kultu Sikhów i sam zaprojektował architekturę Sri Harmandira Sahiba.
Świątynia robi ogromne wrażenie.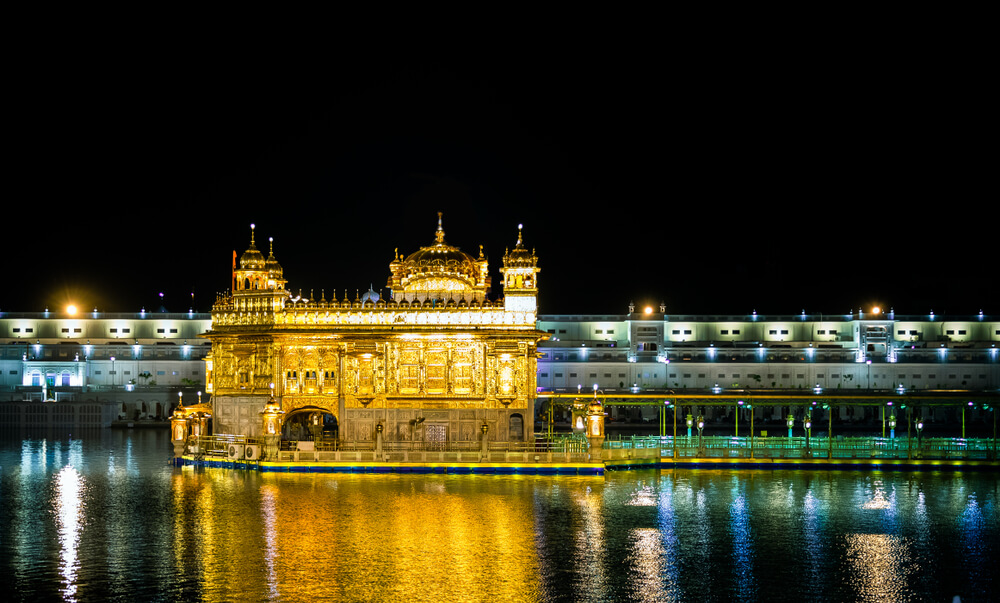 Można się do niej dostać czterema różnymi wejściami, które symbolizują otwartość na wszystkich ludzi, z każdej części świata i z każdej grupy społecznej.
Wchodząc na jej teren, trzeba koniecznie posiadać nakrycie głowy, ściągnąć obuwie oraz przejść przez wodę obmywającą  stopy.
Główna część, czyli Złota Świątynia znajduje się w centralnej części całego obiektu, na małej wysepce pośrodku sztucznego zbiornika.
Nazwa tejże świątyni odzwierciedla fakt, że fasada i kopuła budynku pokryte są prawdziwym złotem.
Wygląda to nieprawdopodobnie, szczególnie po włączeniu wieczornej iluminacji, kiedy staje się ona punktem dominującym i przyciągającym swoim blaskiem.
Od czasu powstania świątyni była ona kilkukrotnie niszczona, ale za każdym razem ją odbudowywano w takiej samej formie.
Złota Świątynia miejscem kultu
Wewnątrz Złotej Świątyni w Amritsarze znajduje się święta księga Sikhów zwana Sri Guru Grant Sahib, ma ona 1430 stron i jest traktowana jako żyjący guru sikhizmu.
Religia ta powstała w XV wieku.
Sikhowie są bardzo zżyci ze sobą oraz przyjacielsko nastawieni do innych wyznań, nie interesuje ich jaką postać przyjmuje Bóg, zawsze witają wyznawców innych religii z otwartymi ramionami w ich świętym miejscu.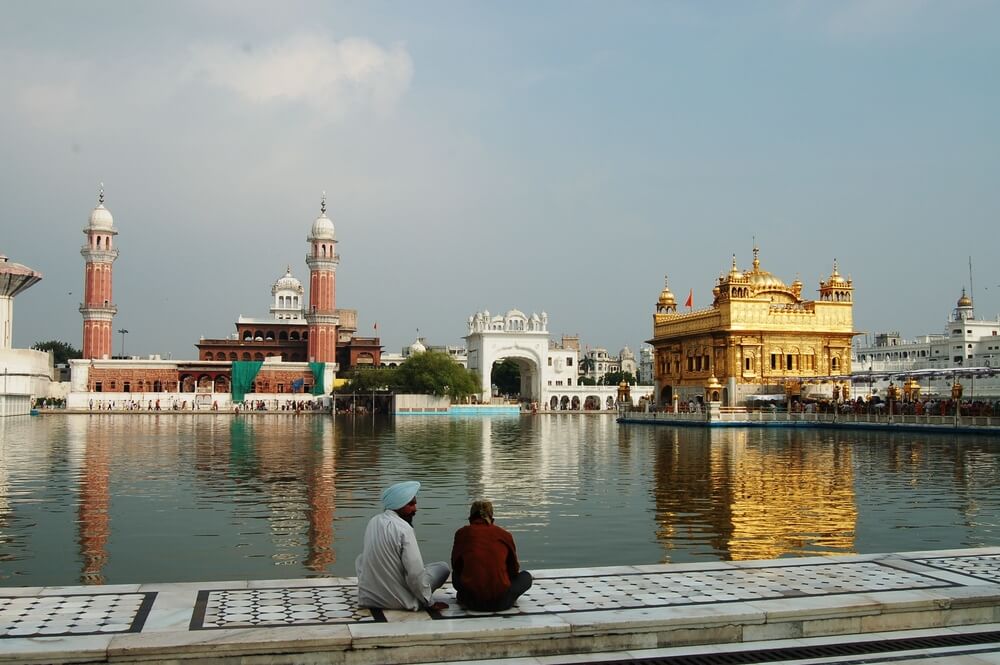 Spacerując po marmurowych chodnikach na terenie kompleksu, pielgrzymujący słyszą z głośników kojącą muzykę lub kapłanów śpiewających właśnie ze świętej księgi.
W pobliżu świątyni znajduje się Święte Drzewo, pod którym w 1506 roku Baba Budha Ji rozbił obóz, czym dał fundament pod budowę miejsca kultu.
Złotą Świątynię otacza dziś Święty Zbiornik, którego wody są traktowane jako uzdrawiające i święte.
Ludzie kąpią się w nim, aby zmyć grzechy i zapobiec chorobom.
100 000 ludzi dziennie
Na całym terenie tego religijnego kultu panuje bardzo podniosła atmosfera, więc nic dziwnego, że od ponad 450 lat codziennie Złotą Świątynię odwiedza do 100 000 ludzi.
Dobroć i gościnność jest widoczna na każdym kroku.
Na miejscu znajduje się ogromne pomieszczenie, gdzie każdy bez wyjątku za darmo otrzyma posiłek.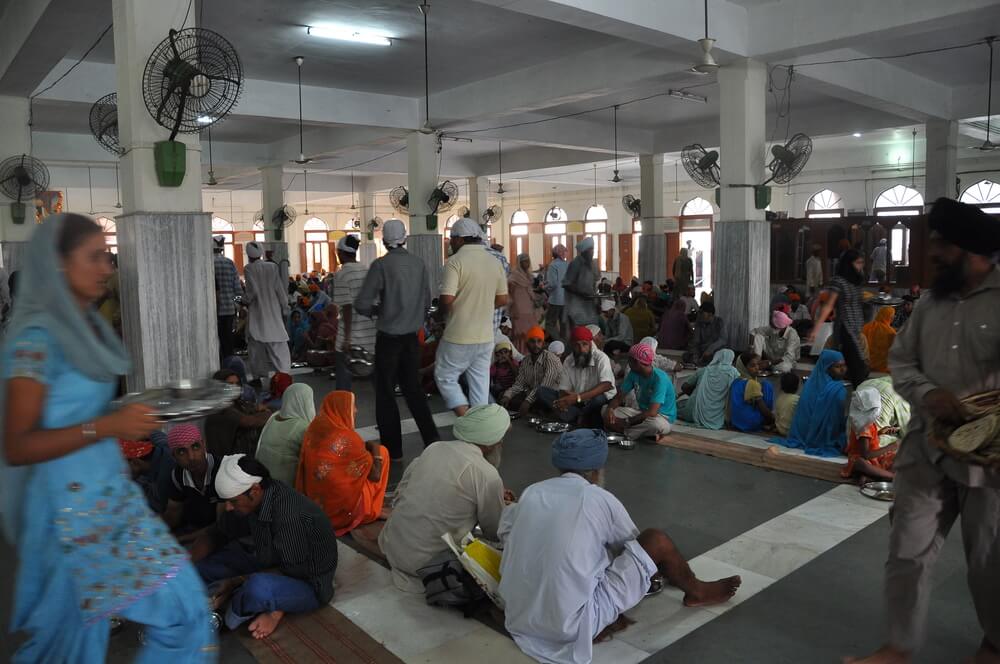 Pokarmy spożywa się, klęcząc jedna osoba obok drugiej, bez względu na status społeczny i zajmowaną pozycję, co po raz kolejny pokazuje, że tutaj nie istnieją żadne podziały.
Czy jesteśmy bogaci, czy biedni, starzy czy młodzi, każdy bez wyjątku znajdzie tutaj pożywienie, bo według tradycji, nikt podczas modlitwy nie powinien odczuwać głodu.
Podobnie jest z kwestią noclegu, znajdzie go tutaj każdy strudzony podróżą wędrowiec, jak i tubylcy, którzy chcą poświęcić więcej niż jeden dzień na modlitwę.
⇒ Czytaj także: SIKHIZM – RELIGIA POKOJU
Komentarze