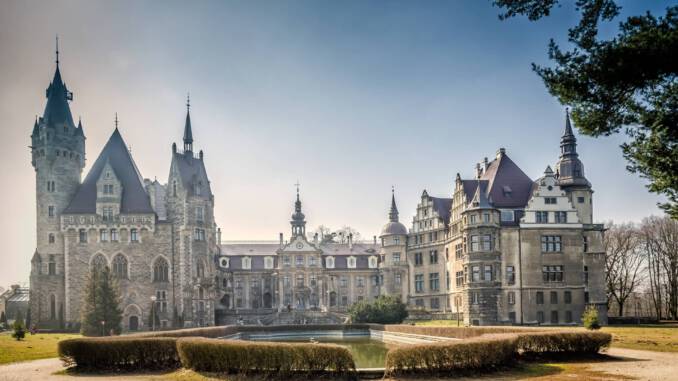 Zamek w Mosznej – znasz tę budowlę? Cóż… wiele osób w poszukiwaniu ciekawych atrakcji wyjeżdża na wakacje za granicę. Jednak Polska również skrywa piękne zabytki, a wśród nich jest zamek w Mosznej z ciekawą historią, którą warto poznać. Dzisiaj zamek jest udostępniony dla zwiedzających, a można go znaleźć w województwie opolskim.
Historia zamku w Mosznej
Moszna znajduje się w województwie opolskim, a leży na szlaku komunikacyjnym, który łączy Prudnik z Krapkowicami.
Nazwa tej miejscowości prawdopodobnie wzięła się od nazwiska Moschin, czyli rodziny, która w XIV wieku przybyła do parafii Łącznik.
Istnieje również legenda, która mówi, że w średniowieczu Moszna należała do Zakonu Templariuszy.
Natomiast w 1679 roku Moszna należała do rodziny von Skall, ale w 1723 roku, po śmierci Ursuli Marii von Skall, Moszna przeszła w ręce Georga Wilhelma von Reisewitz, który był jej kuzynem i jednocześnie nadmarszałkiem dworu Fryderyka Wielkiego.
Właśnie z tamtych czasów pochodzi pałac, czyli środkowa część dzisiejszego zamku.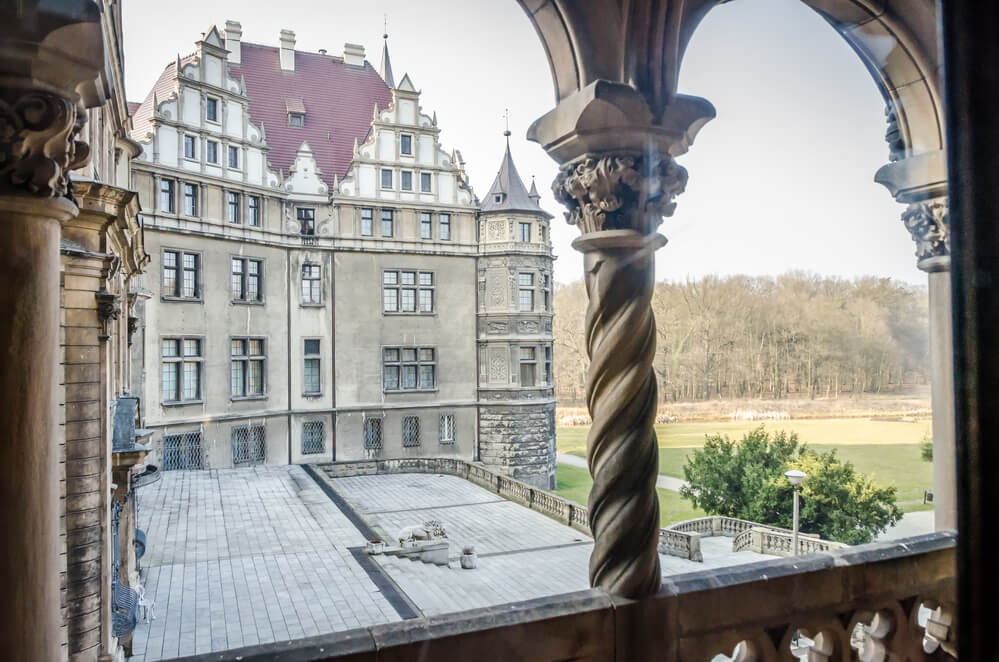 Jednak rodzina Reisewitz straciła Moszną w 1771 roku.
Następnie cały majątek został kupiony na licytacji przez Heinricha Leopolda von Seherr-Thossa.
Jego rodzina miała również na własność zamek oraz majątek w Dobrej, która znajduje się niedaleko od Mosznej.
Później Moszna została sprzedana w 1853 roku przez Karla Gottharda Seherr-Thossa, a kupił ją Heinrich von Erdmannsdorf, który następnie sprzedał ją w 1866 roku Hubertowi von Tiele-Wincklerowi z Miechowic.
To właśnie jego syn Franz Hubert był zarówno pomysłodawcą, jak i budowniczym zamku, który postawiono po tym, jak częściowo spłonął barokowy pałac (pożar miał miejsce w 1896 roku).
Dziadkiem Franza Huberta był Franz Winckler, który pracował w kopalni w Miechowicach jako górnik.
Po śmierci swojej żony oraz właściciela kopalni wziął ślub z Marią Aresin, czyli jego bogatą żoną.
W 1840 roku został mu nadany tytuł szlachecki przez króla pruskiego.
Natomiast potem całą fortunę dziedziczyła jego córka Valeska, która wyszła za mąż za Huberta von Tiele w 1854 roku, który potem kupił Mosznę w 1866 roku.
Po małżeństwie zaczęli używać połączonego nazwiska Tiele-Winckler.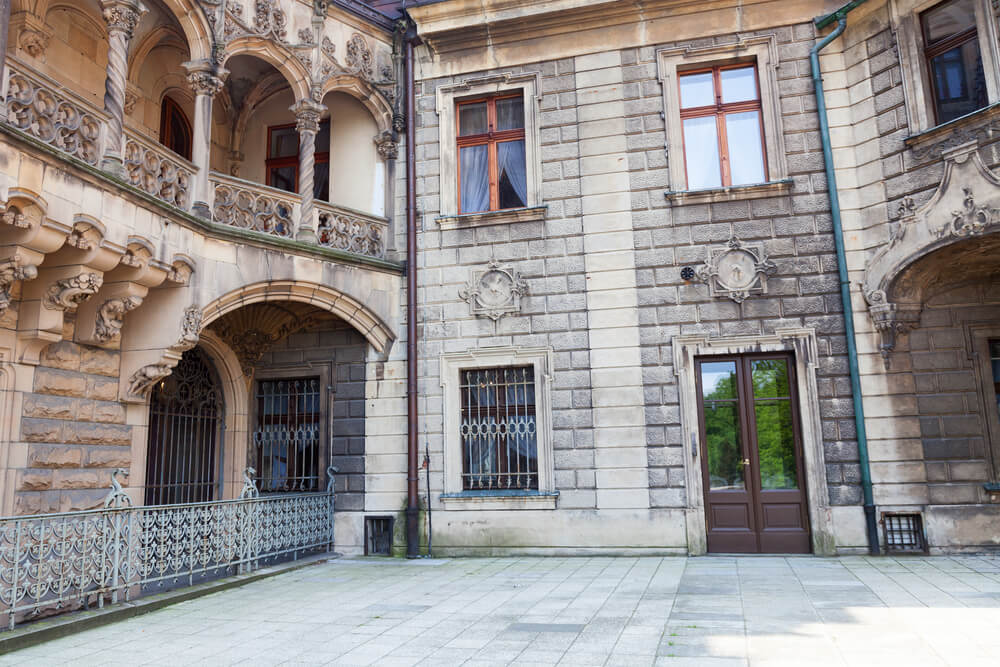 Hubert umiera w 1893 roku i po jego śmierci cały majątek odziedziczył najstarszy syn, którym był wspomniany wcześniej Franz-Hubert.
Franz-Hubert w 1895 roku wchodzi w szeregi arystokracji dzięki temu, że cesarz Wilhelm nadał mu tytuł hrabiowski.
Kiedy dochodzi do pożaru, Franz-Hubert rok później odbudowuje i rozbudowuje swój majątek.
Potem w roku 1904 oraz w 1911 i w 1912 do hrabiego przyjechał władca Niemiec, który przybył tu na polowanie i to właśnie dla niego w latach 1911 – 1913 wybudowano zachodnie skrzydło.
Jednak później Claus-Peter, który był synem Franza-Huberta, stracił w okresie międzywojennym część majątku przodków.
Kiedy umierał, nie miał żadnego syna, więc usynowił swojego kuzyna i to właśnie jego syn miał odziedziczyć majątek oraz tytuł hrabiowski.
Jego rodzina mieszkała w zamku w Mosznej do końca wojny, a potem uciekli do Niemiec przed armią czerwoną.
Po wojnie różne były losy zamku.
Od 1972 do 2013 roku zamek funkcjonował jako szpital leczenia nerwic.
W 2013 roku Urząd Marszałkowski, który był właścicielem pałacu, powołał do życia spółkę Moszna Zamek sp. z o.o.
Zamek w Mosznej dziś
Zamek ten zgodnie z planami Franza-Huberta ma 365 pomieszczeń oraz 99 wież i wieżyczek.
Obiekt ten otacza park, który ma ponad 200 hektarów, a znajdują się w nim m.in. trzystuletnie okazy dębów.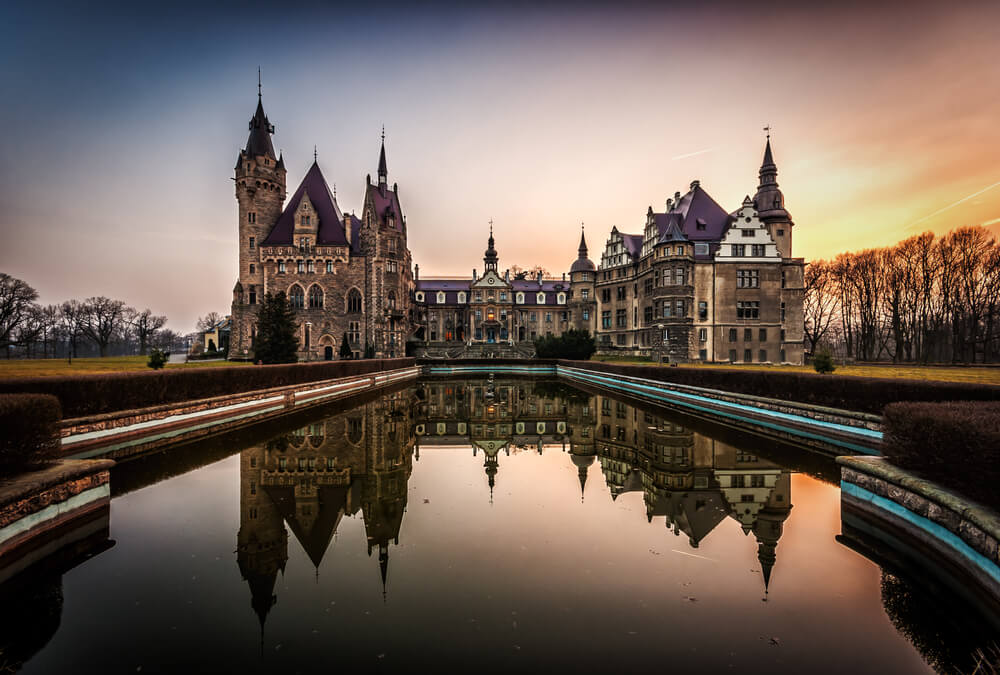 Dzisiaj na terenie tego zamku można znaleźć hotel, restaurację, sale konferencyjne oraz centrum odnowy biologicznej.
W teatrze muzycznym odbywają się różne koncerty, a także warsztaty muzyczne i od 30 lat organizuje się w nim cykl koncertów, które znane są jako Święto Kwitnących Azalii.
Legendy związane z zamkiem w Mosznej
Gdy w zamku w Mosznej mieszkał ród Tiele-Wincklerów, powstało bardzo wiele legend związanych z oryginalną budową zamku.
Jedna z tych legend głosi, że główny budowniczy zamku, czyli Franz Hubert Tiele-Winckler bardzo chciał mieć 99 wież i wieżyczek, ponieważ, gdyby było ich 100, to musiałby utrzymywać garnizon wojska.
Z kolei inna historia mówi, że ród ten miał 99 majątków i w związku z tym hrabia chciał dać temu wyraz w takiej samej liczbie wież i wieżyczek.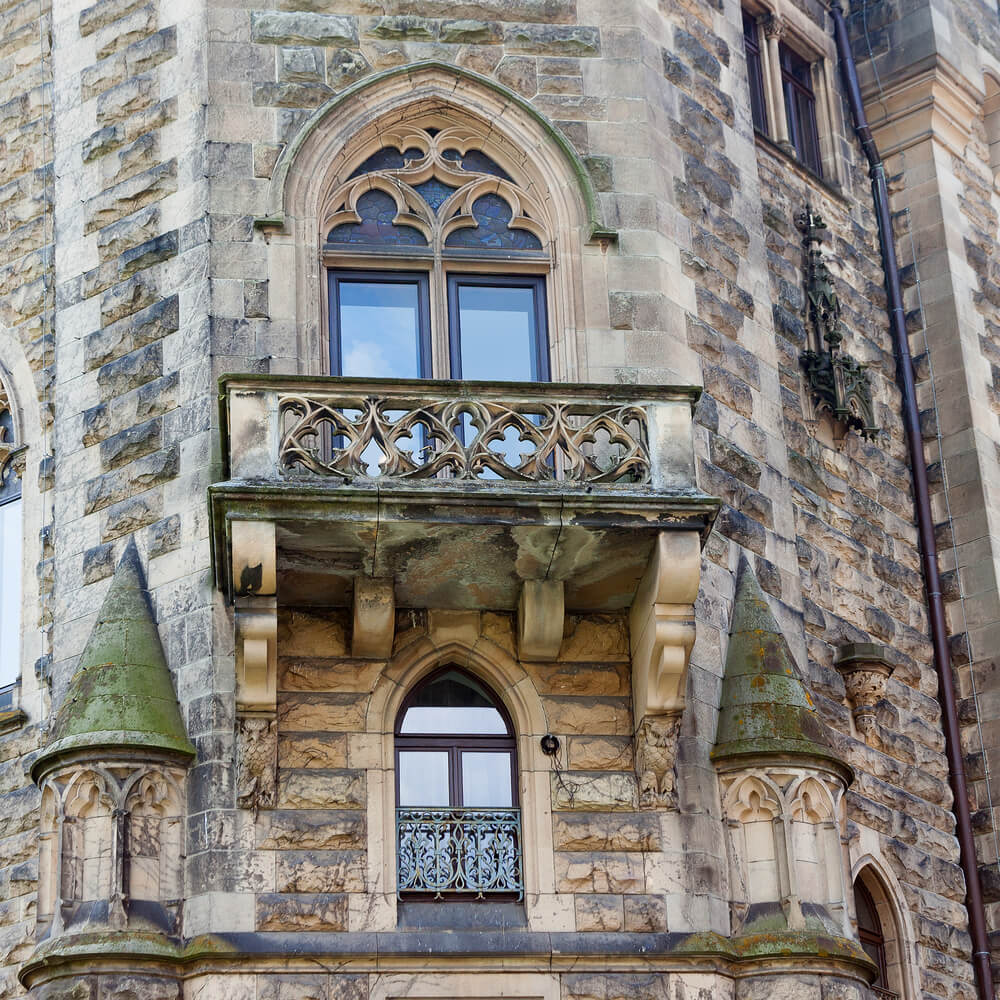 Jeszcze inna legenda głosi, że kiedy cesarz Wilhelm II przyjechał do zamku w Mosznej i widzą jego piękno, zapytał Franciszka, jak udało mu się w tak krótkim czasie stworzyć tak piękną rezydencję.
Franciszek podobno odpowiedział mu: "Panie, pomógł mi diabeł".
Prawdą jest fakt, że mieszkańcy Mosznej wierzyli w ten pakt rodu z mocami piekielnymi, gdyż dobrze układały się im interesy.
Dowodem na ten układ miał być również pomnik diabła, który znajdował się na jednej ze ścian pałacu – niedaleko zamkowej kaplicy.
Wieś wstydziła się tego, ale postać diabła przetrwała do II wojny światowej, a potem szybko ją zniszczono, aby nie narażać się Najwyższemu.
Jednak to nic nie pomogło, ponieważ diabeł przyzwyczaił się do zamku i podobno można go zobaczyć najczęściej w okolicy "czarnego pokoju".
Diabeł ma tam straszyć, gdyż mści się za zniszczenie swojego pomnika.
Kolejna opowieść związana jest z angielską guwernantką, która poprosiła, aby po jej śmierci mogła spocząć w swoim ojczystym kraju na wyspie.
Jednak Winklerowie pochowali ją na wyspie, ale w pałacowym parku i od tamtej pory ona straszy w zamku.
Inna historia mówi, że antenat właścicieli ciągle uwodził służące.
Kiedy jedna z nich zaszła w ciążę, a arystokrata odmówił uznania dziecka, to kobieta z rozpaczy powiesiła się w parku.
⇒ Czytaj także: ZAMEK W MALBORKU – BUDOWLA Z 15 MLN CEGIEŁ
♦ Zareklamuj wydarzenie, swoją działalność, produkty itd. – dodaj ogłoszenie ⇒ KLIK
♦ Współpraca reklamowa na portalu ⇒ kontakt@odkrywamyzakryte.com
♦ Chcesz poznać więcej tajemnic świata? ⇒ KLIK
Komentarze