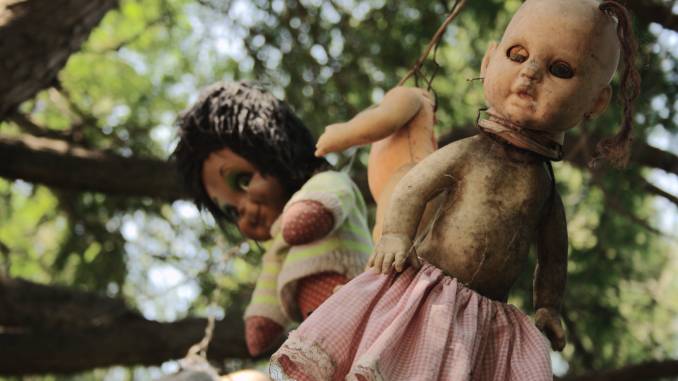 Świat pełen jest miejsc zaskakujących, przerażających, mających swoje mroczne tajemnice. Wierzenia i historie opowiadane przed miejscowych, zdają się jedynie podsycać ciekawość ludzi na całym świecie i zachęcać do poznawania nieznanego, a śmiałków, którzy mierzą się z legendami i klątwami, z pewnością nie brakuje.
Jednym z takich miejsc jest przeklęta Meksykańska Wyspa Lalek. Ta niewielka, owiana tajemnicą wyspa zlokalizowana jest na południu Mexico City, w dzielnicy Xochimilco, która jest obficie poprzecinana kanałami. Ogromna ilość lalek, które znalazły się na wyspie, ma stanowić hołd dla zmarłej przed laty dziewczynki.
Jezioro, na którym znajduje się wysepka, jest na Liście Światowego Dziedzictwa UNESCO.
Jest więc to miejsce, naprawdę wyjątkowe, które mogłoby cieszyć się ogromnym ruchem turystycznym.
Jednak z uwagi na znajdującą się w regionie malutką wysepkę, określaną jako nawiedzona, zarówno biura podróży, jak i turyści o słabszych nerwach omijają okolicę z daleka.
Wyspa może bowiem przywodzić na myśl sceny z horrorów.
Czym jest wyspa lalek?
Isla de las Muñecas (z hiszpańskiego Wyspa Lalek) – taką dokładnie nazwę nosi ta niewielka wysepka.
Jezioro Teshuilo, na którym się znajduje, zdaje się prezentować makabryczne widowisko.
Miejsce to można z pewnością określić mianem najbardziej przerażającej atrakcji turystycznej w Meksyku.
W pierwszym odruchu słysząc nazwę wyspy, można odnieść wrażenie, że z pewnością jest to ciekawe miejsce do rodzinnego wojażu, bo na pewno dzieci chętnie obejrzą rozmaite lalki.
Jednak wyspa prezentuje pozawieszane na drzewach oraz ich gałęziach zniszczone lalki.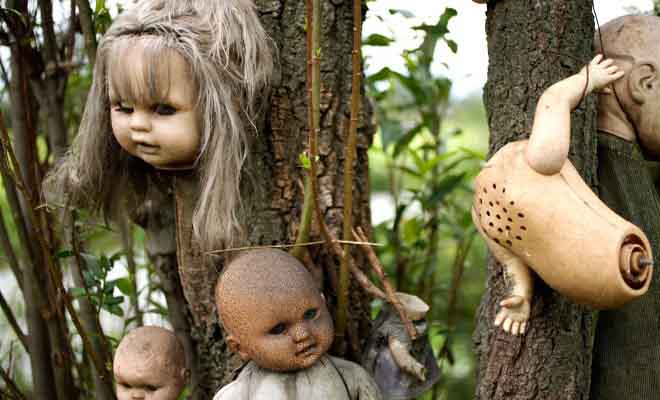 Większości brakuje oczu, głów, korpusów czy kończyn. Wyglądają więc przerażająco.
W ciągu dnia lalki delikatnie kołyszą się dzięki miejscowej bryzie, zdając się, przynajmniej te, u których zachowały się oczy, obserwować wszystkich przyjezdnych niezależnie od tego, w jakie miejsce się udadzą.
Nocą natomiast, zdaniem miejscowych, są one ożywiane przez duchy i prowadzą nieostrożne osoby do wodnych grobowców.
Skąd te lalki?
U schyłku 1950 roku na wyspie zamieszkał Don Julian Santana Barrera.
Podjął on decyzję o rozpoczęciu życia pustelnika.
Opuścił swoją żonę oraz dzieci i zdecydował się zamieszkać samotnie na niewielkiej wyspie na jeziorze.
Osoby, które go znały, określały go jako mądrego gospodarza, który utrzymywał się, sprzedając to, co wyhodował na własnej ziemi.
Co więc sprawiło, że dobry człowiek, silnie wierzący, zdecydował się porzucić swoje życie i rodzinę?
Don Julian był alkoholikiem.
Chodził od domu do domu, prosząc o pieniądze, które wydawał na alkohol.
W końcu sąsiedzi odwrócili się od niego i wypominali mu pijaństwo.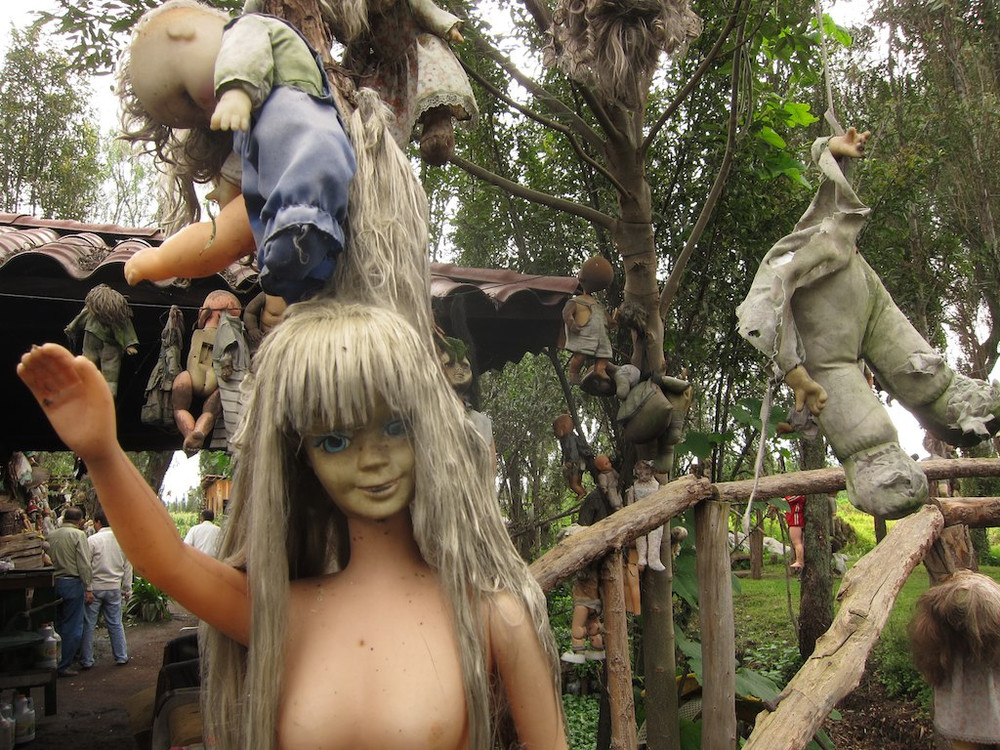 Sytuacja ta go przytłaczała, postanowił więc odciąć się od ludzi i zamieszkać samemu na małej wyspie.
Jak się okazało, również w tej odległej lokalizacji nie udało mu się doświadczyć całkowitej samotności oraz spokoju.
Już po upływie zaledwie kilku dni zaczął słyszeć dziecięcy głos.
Don Julianowi objawił się duch, który zdradził własną tajemnicę, która stała się jego udręką do końca życia.
Nie wiemy dokładnie, co usłyszał, jednak powtarzane, miejscowe legendy mogą tłumaczyć pochodzenie ducha.
Wydarzenia podobno rozegrały się około 1920 roku.
Wówczas trzy dziewczynki miały bawić się na wyspie.
Jednak finał był tragiczny, gdyż jedna z nich, z niejasnych przyczyn utonęła w mętnej wodzie nieopodal małego molo.
Miejscowi uważają, że z niewyjaśnionego powodu dusza dziewczynki pozostała na wyspie.
Strach spowodował, że uznali, iż miejsce to jest przeklęte i omijali je z daleka, w szczególności w nocy, gdy z lądu dochodziły nieznanego pochodzenia, przerażające dźwięki.
Gdy Don Julian przybył na Isla de las Muñecas, ukazał mu się duch dziewczynki, w czasie rozmowy zdradziła ona sekret swojej śmierci.
Z dalszej części historii dowiadujemy się, że poprosiła mężczyznę o przysługę.
Miał podarować jej lalki, które będą dla niej towarzystwem, możliwością zabawy, ale nie tylko.
Ich podstawowym zadaniem miało być chronienie jej przed złymi, prehistorycznymi duchami, które błąkały się po okolicznych mokradłach.
Tutaj warto zaznaczyć, że liczne wierzenia ludów Ameryki Środkowej mają silny związek właśnie z lalkami.
Mężczyzna postanowił spełnić prośbę ducha dziewczynki.
Od tego momentu rozpoczął zbieranie lalek w okolicznych kanałach, ściekach czy śmietnikach, niejednokrotnie kupował je również za własne warzywa oraz owoce.
Wszystkie zawieszał lub przytwierdzał do drzew na wyspie.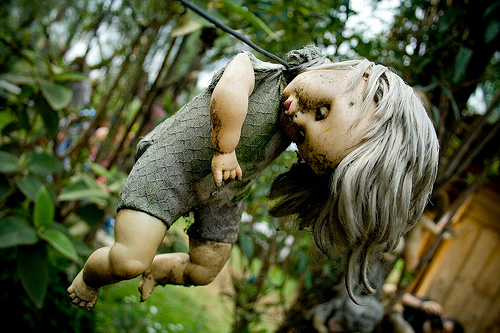 W krótkim czasie okoliczni mieszkańcy dowiedzieli się o tym, co robi Don Julian i wielu z nich zaczęło mu przynosić z domów stare i zniszczone lalki.
Jednak duchowi lalek było wciąż za mało.
Zjawa zmarłej dziewczynki była towarzyszem życia Don Juliana przez ponad 50 lat.
Do samego końca swojego życia zbierał dla niej lalki.
Obecnie na wyspie znajduje się ich więcej niż tysiąc.
Często są poprzybijane do drzew lub zbitych desek i stanowią przerażający element krajobrazu wyspy.
Śmierć twórcy Wyspy Lalek i niesamowita, mroczna atrakcja turystyczna
Dnia 17 kwietnia 2001 roku zmarł Don Julian Santana Barrera.
Jednak, jak i całe jego życie związane z wyspą i tak i śmierć pozostała owiana zagadką i tajemnicą.
Utonął on bowiem dokładnie w tej samej lokalizacji, w której doszło do śmierci dziewczynki przed laty.
Miejscowi uważają, że w ten symboliczny sposób jego duch dołączył do dziewczynki i obecnie razem mieszkają na przerażającej wyspie, którą chronią mrożące krew w żyłach lalki.
Wyspa należy obecnie do rodziny Don Juliana.
Podjęli oni decyzję o zachowaniu całej lokalizacji w możliwie jak najlepszym stanie i umożliwili jej zwiedzanie turystom.
Ilość osób, które pragną poznać to wiejące grozą miejsce, jest znaczna.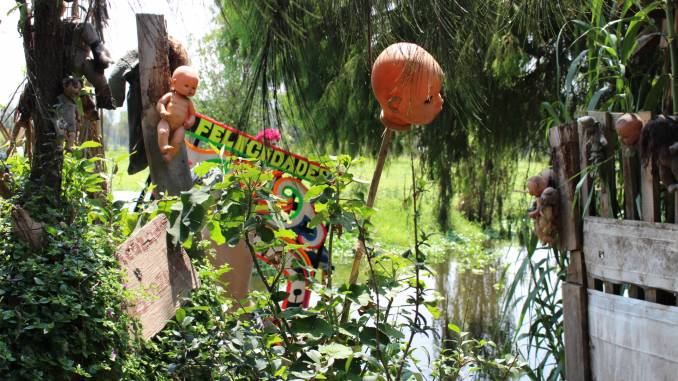 Ludzie, którzy poszukują miejsc mrocznych i tajemniczych, przybywają tutaj z całego świata i podziwiają dzieło życia mężczyzny, któremu miała ukazywać się zjawa.
Wszystkie osoby, które odbyły swoją podróż, na tę niewielką wysepkę mówią, iż wrażenie może być przygnębiające lub przerażające.
Właściwie każda z osób twierdziła, że lalki, które mają oczy, zdawały się przez czasy czas zwiedzania, nieustannie podążać za nimi wzrokiem.
Z całą pewnością Isla de las Muñecas, czyli Wyspa Lalek robi obłędne wrażenie na każdym, kto doświadczy jej widoku z bliska.
Już nawet same zdjęcia z tego miejsca zdają się poruszać, przerażać lub niekiedy hipnotyzować.
Prawdopodobnie dokładne zrozumie tej lokalizacji i wyzbycie się wątpliwości wymaga, aby zobaczyć ją osobiście.
Ebook Wyspa Lalek kupisz tutaj kliknij
Komentarze