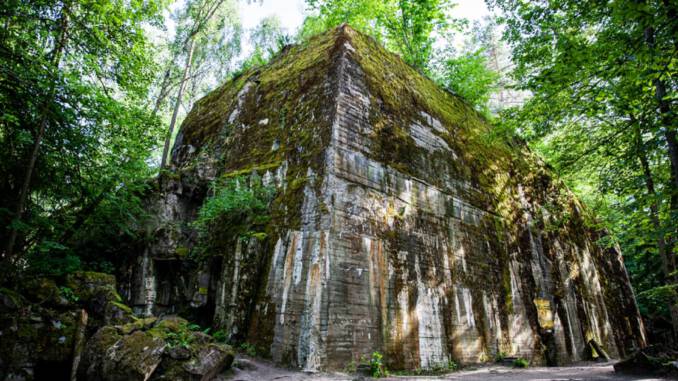 Wilczy Szaniec tajemniczy, ukryty w gęstym lesie, chroniony przez pobliskie jeziora i mokradła, był bezpieczną siedzibą Adolfa Hitlera w czasach II wojny światowej. Co roku wiosną i latem przybywają do wojennych kwater w Gierłoży liczni turyści. Jesienne zmniejszenie ruchu turystycznego w 2019 roku pozwoliło poszukiwaczom ponownie przeczesać tamtejszy teren i odkryć w dawnym lokum Hitlera niezwykłe pozostałości z codziennego życia.
Nazistowska warownia
Ukryte głęboko w polskim lesie pozostałości nazistowskiej warowni zwanej Wilczym Szańcem (Wolfsschanze) przechodzą metamorfozę.
Obecnie nadleśnictwo Srokowo, które zarządza tym terenem, robi wszystko, by Wilczy Szaniec przyciągał więcej turystów.
Leśnicy dokładają wszelkich starań, by zachować należną powagę i szacunek dla prawdy historycznej w rozpadającym się kompleksie, bo bądź co bądź to ważny kawałek historii.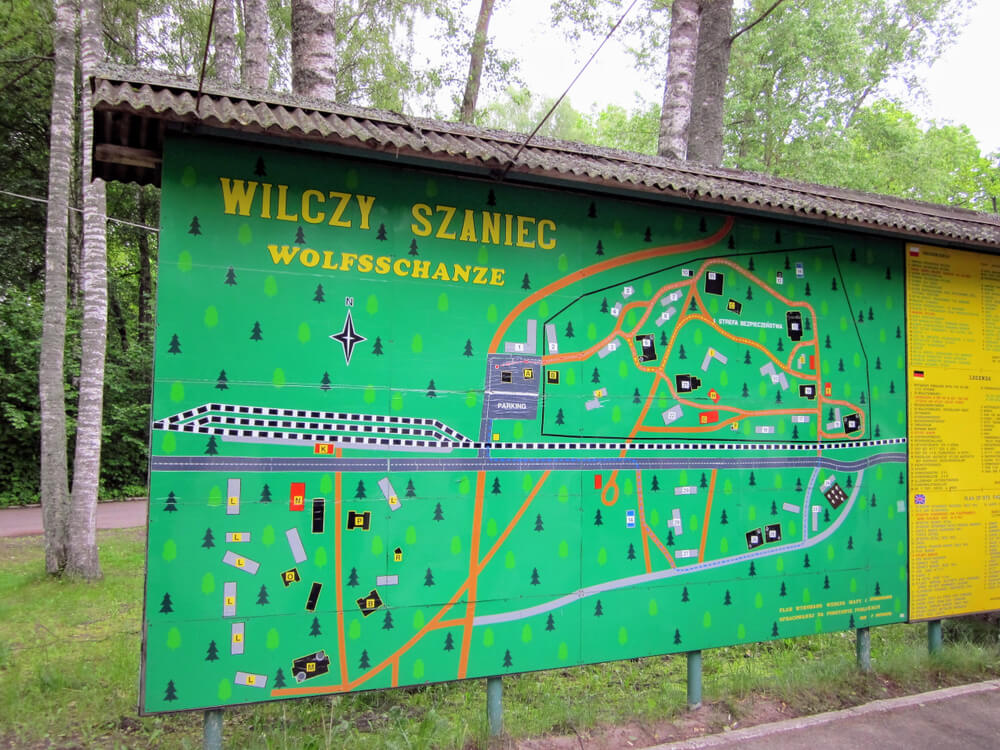 Zbudowany w 1941 roku, oddalony o 1,5 km od najbliższej wioski, Wilczy Szaniec był tajną kwaterą główną Niemiec na froncie wschodnim.
Mocno ufortyfikowane betonowe budynki bunkrów były chronione za wieloma warstwami bezpiecznych murów, a lokalizacja tego miejsca była dobrze strzeżoną tajemnicą, gwarantującą nazistowskim przywódcom możliwość opracowywania swoich tajnych strategii.
To właśnie w tym kompleksie Hitler spędził 850 dni w latach 1941–1944, zanim wycofał się i przeniósł do swojego berlińskiego bunkra.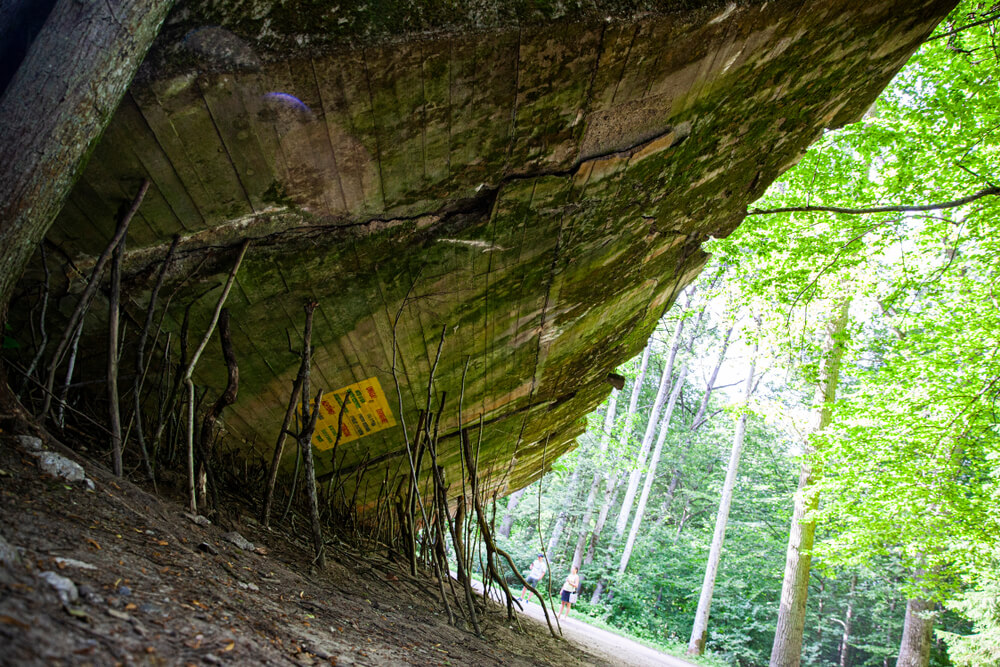 Skomplikowany system bezpieczeństwa
Wilczy Szaniec w czasach swej świetności uchodził za miejsce wyposażone w najlepsze, skomplikowane systemy bezpieczeństwa.
Cały obszar zabudowań zabezpieczony był zaporami z drutu kolczastego oraz polami minowymi o szerokości od 50 do 100 m.
Główne bunkry nie miały okien, a ich kształt przypominał prostokątne bloki betonowe lekko zwężające się do góry.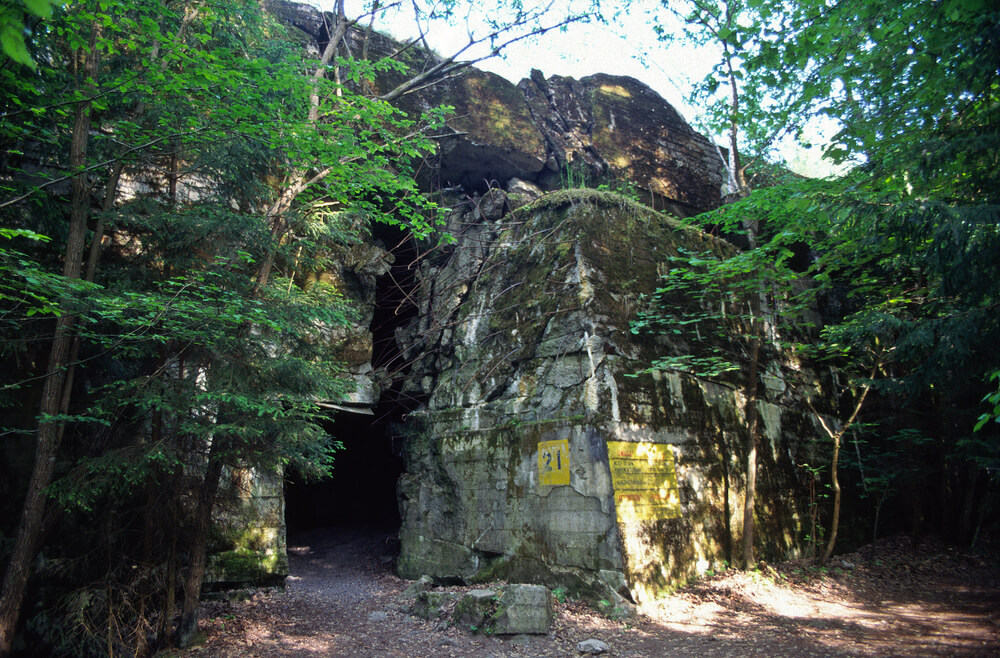 W podziemiach było kilka kondygnacji, do których dotarcie umożliwiały m.in. windy.
Zabudowania były podzielone na trzy strefy bezpieczeństwa.
W pierwszej mieściły się m.in. schrony Hitlera, Keitla, dr. Dietricha, Bormanna, centrala telefoniczna, wydział personalny wojsk lądowych, siedziba lekarzy oraz  dwie herbaciarnie, dwa kasyna, kotłownia i sauna.
Druga strefa mieściła wydziały sztabowe sił zbrojnych Wehrmachtu oraz pomieszczenia batalionu przybocznego Hitlera.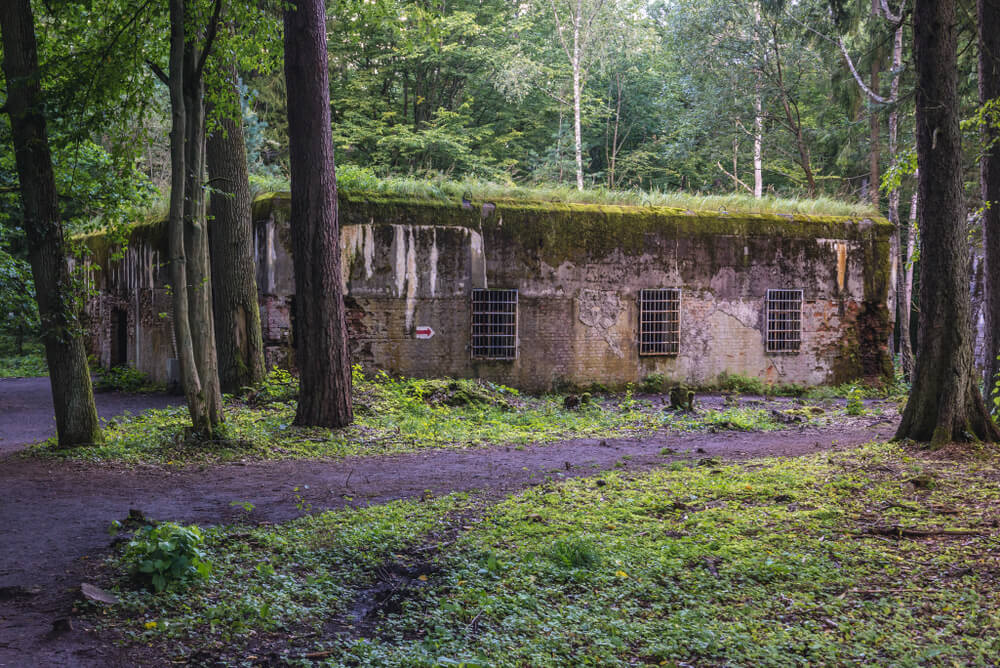 To w niej znajdowało się także kasyno oficerskie i obiekty należące do przedstawicielstw naczelnych dowództw marynarki wojennej, ministerstwa spraw zagranicznych oraz najpotężniejszy obiekt całego kompleksu, czyli ogólnodostępny schron przeciwlotniczy.
Z kolei w trzeciej strefie zlokalizowano kwatery oraz pomieszczenia dla straży i bunkry obrony przeciwlotniczej.
Przez wiele lat ani wywiad radziecki, ani aliancki, ani też miejscowa ludność nie odkryli położenia kwatery i nie wiedzieli, co się w niej działo.
Zamach na Hitlera
W rzeczywistości jednak wszystkie te betonowe bunkry, pola minowe i kamuflaż Niemców nie stanowiły ochrony przed buntowniczymi oficerami, którzy próbowali zabić Hitlera w Wilczym Szańcu 20 lipca 1944 r.
Pułkownik Claus von Stauffenberg, który przybył na naradę z Berlina, był w stanie przekraść bombę walizkową do pokoju konferencyjnego, w którym wiedział, że będzie Hitler.
Niestety cudem Hitler przeżył wybuch z niewielkimi obrażeniami (ponoć został uratowany dzięki ogromnemu dębowemu stołowi konferencyjnemu, który ochronił jego ciało).
Bomba zabiła czterech mężczyzn, w tym trzech oficerów, i zraniła ponad 20 osób.
Jednak Wilczy Szaniec został skompromitowany.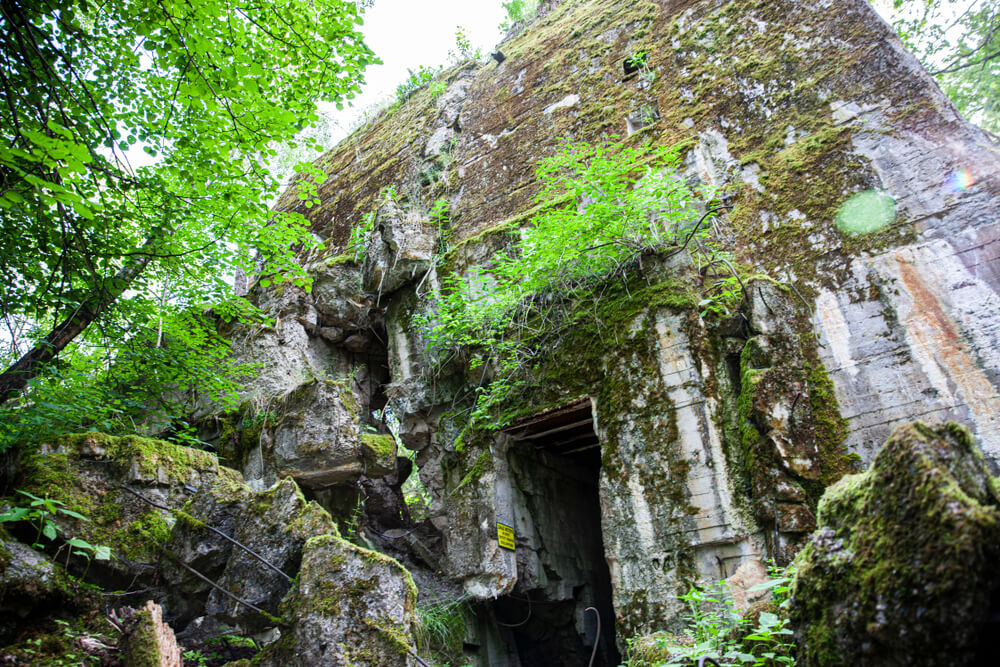 Biorąc pod uwagę wybuch i szybko zbliżające się siły rosyjskie, Niemcy szybko opuścili swoją bazę i używając materiałów wybuchowych, zniszczyli większość jej zabudowań.
Pomimo tej niszczycielskiej taktyki duże części mocno ufortyfikowanej bazy pozostały nietknięte i po prostu tkwiły przez dziesięciolecia wśród polskich lasów.
Ruiny Wilczego Szańca są teraz pokryte mchem i porostami, ale okazuje się, że nadal skrywają w sobie wiele pozostałości.
Znaleziska w Wilczym Szańcu
Jesienią 2019 roku kilkudziesięciu poszukiwaczy działających w ramach Fundacji na Rzecz Zaginionych Dzieł Sztuki Latebra z Gdańska wspólnie z leśnikami z Nadleśnictwa Srokowo, które zarządza Wilczym Szańcem, postanowili w kilku turach weekendowych przeszukać pierwszą strefę bezpieczeństwa dawnej kwatery Hitlera.
Zgodę na eksplorację terenu wyraził Wojewódzki Konserwator Zabytków.
Chociaż nie nastawiano się na wielkie odkrycia, ponieważ teren był przeszukiwany po wojnie wiele razy, to jednak to, co znaleziono, zaskoczyło samych poszukiwaczy.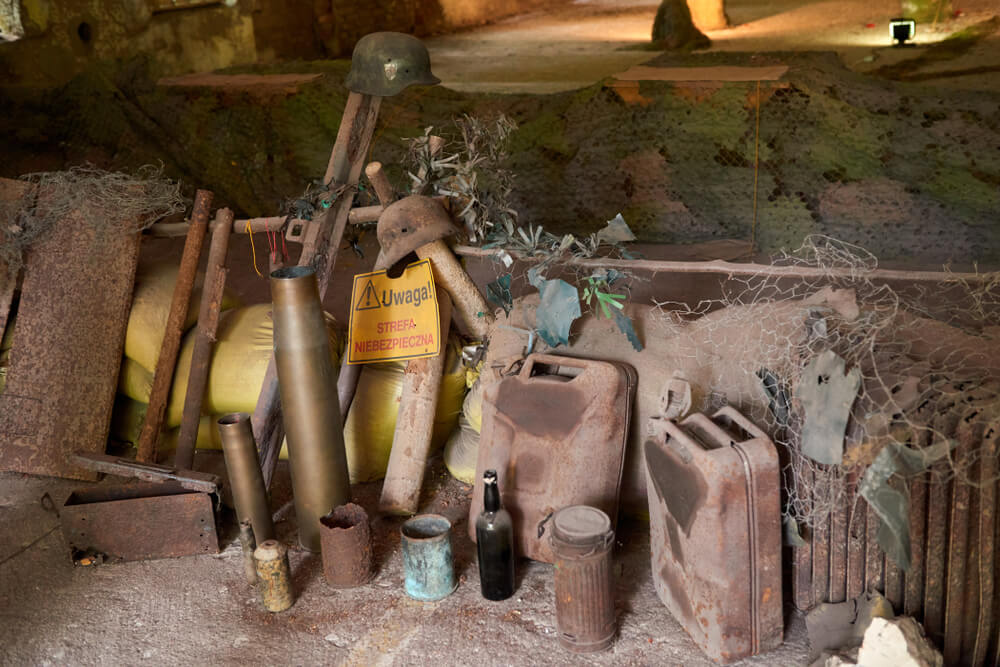 Wśród znalezisk znalazły się elementy konstrukcyjne budowli, np. stalowa okiennica oraz stalowa kratownica naziemna, elementy wewnętrznej infrastruktury wodnej i armatury łazienkowej, np. słuchawka prysznicowa i elementy armatury łazienkowej z logo berlińskiego producenta oraz przedmioty związane z codziennym funkcjonowaniem kwatery.
Wśród nich są szklane przedmioty codziennego użytku m.in. butelki po alkoholu, najczęściej piwie i winie, potłuczone talerze z kasyn Wehrmachtu oraz sygnowane godłem III Rzeszy Niemieckiej i logo producenta pojemniki po kosmetykach: kremach, perfumach.
Znaleziono także przedmioty związane z higieną, czyli  maszynki do golenia (na żyletkę), tubki od pasty do zębów, szklane pojemniki po lekarstwach.
Podczas poszukiwań natrafiono także na trzy prostokątne tabliczki informujące o lokalizacji sieci wodociągowej w Wilczym Szańcu oraz blaszany szyld z częściowo zatartym napisem "Fryzjer".
Wilczy Szaniec to niezwykłe miejsce, postrzegane przez Polaków jako blizna na pięknym mazurskim krajobrazie, bo to właśnie między innymi tu naziści podejmowali swoje decyzje dotyczące Holokaustu i rzezi ludności cywilnej w Warszawie.
Mroczne bunkry, które wydawałoby się, są już tylko zwykłymi murami, nadal skrywają wiele pozostałości świadczących o tym, że kiedyś w tej gęstwinie żyło się intensywnie i na wysokim poziomie, podczas gdy poza tym gęstym lasem ludzie walczyli o życie…
⇒ Czytaj także: SCHLESIER EHRENMAL – WAŁBRZYSKA ŚWIĄTYNIA HITLERA
Komentarze