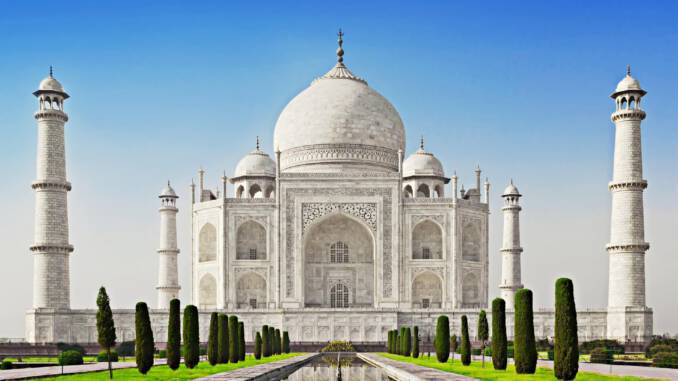 Tadź Mahal jest bardzo ważnym przykładem osiągnięć architektonicznych Indii, który powstał jako mauzoleum. Dziś określany jest świątynią miłości. Każdego roku odwiedzają go miliony turystów. Jednak bardzo niewiele brakowało do tego, żeby budynek Tadź Mahal został rozebrany i sprzedany.
Czym jest Tadź Mahal?
Tadź Mahal to indyjskie mauzoleum, które zostało wzniesione przez Szahdżahana z dynastii Wielkich Mogołów.
Obiekt ten bardzo często nazywany jest świątynią miłości, a powstał on na pamiątkę przedwcześnie zmarłej czwartej żony Szahdżahana, którą była Mumtaz Mahal.
W skład Tadź Mahal wchodzi główne mauzoleum z wielką kopułą, która ma kształt cebuli, co jest bardzo charakterystyczne dla sztuki islamu, a także ogromna brama, która ma symbolizować wrota do raju.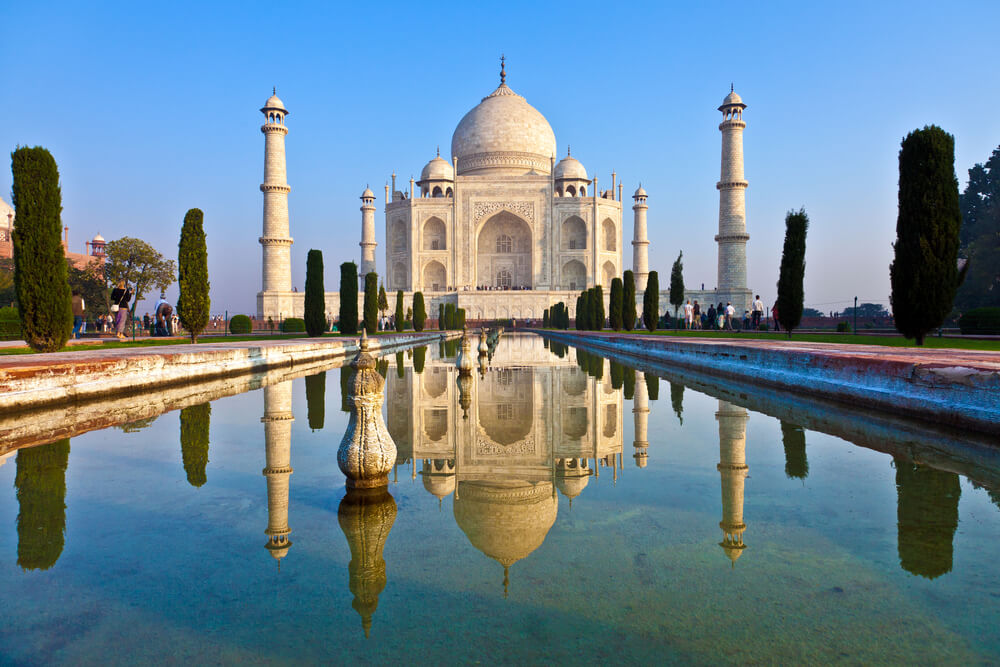 Została ona osadzona na plincie, a w jej rogach są cztery minarety, czyli wieże i to właśnie z nich muezin nawołuje wiernych do modlitwy.
Natomiast po bokach można znaleźć dwa podobne meczety z czerwonego kamienia.
Całość uzupełniają kanały wodne, a także ogród krajobrazowy, który został podzielony na cztery części.
Taka konstrukcja perskiego ogrodu przed mauzoleum imituje muzułmańskie wyobrażenie raju.
Gdzie znajduje się Tadź Mahal?
Tadź Mahal można znaleźć w mieście Agra, które znajduje się nad rzeką Jamuna w indyjskim stanie Uttar Pradesh.
Miasto to znajduje się około 200 km od Delhi.
Historia budowy
Mumtaz Mahal, która była żoną Szahdżahana, zmarła w 1631 roku przy porodzie, a było to już czternaste dziecko jej męża.
Miała wtedy 38 lat, a w związku małżeńskim przeżyła 18 lat.
Zgodnie z legendą wywarła na mężu obietnicę, że po jej śmierci nigdy się nie ożeni, zaopiekuje się dziećmi, a także postawi na jej cześć budynek, którego celem będzie jej upamiętnienie jej po śmierci.
Szahdżahan spełnił wszystkie jej prośby (chociaż nigdy się nie ożenił, to i tak miał wiele kochanek oraz konkubin) i na cześć Mumtaaz Mahal zbudował grobowiec-mauzoleum, który nie miał podobnego odpowiednika na świecie.
Zgodnie z podaniem monarcha osiwiał w ciągu jednej nocy, a po ukończeniu budowy miał podobno wydać rozkaz, aby wszystkim robotnikom obciąć kciuki, żeby nigdy już nie stworzyli podobnego dzieła.
Jednak ta informacja nie jest nigdzie potwierdzona, a do dzisiaj potomkowie tych budowniczych mają swój udział w renowacji mauzoleum.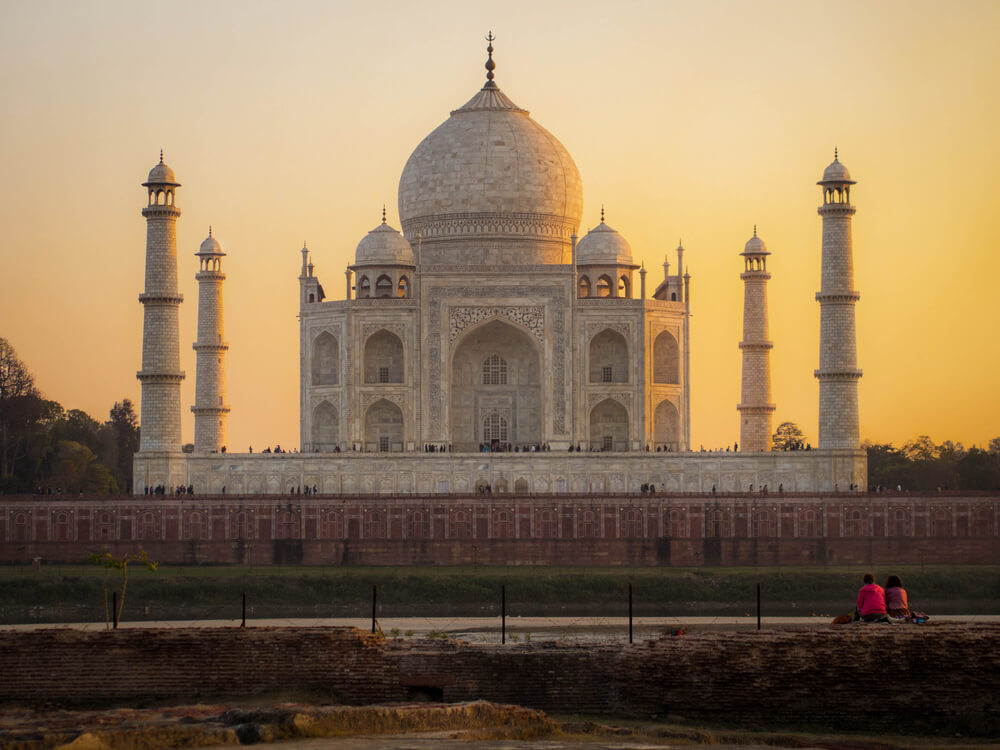 Tadź Mahal budowano przez 22 lata od 1632 do 1654, a przy budowie, zgodnie z różnymi podaniami, pracowało od 20 000 do 25 000 robotników.
W oficjalnych kronikach dworskich nie znajdzie się imienia architekta, a to może wskazywać na to, że ten projekt był dziełem samego władcy i mowa jest tylko o takich osobach, jak: Makramat-chan oraz Mir Abd al.-Karim, którzy odpowiadali za prowadzenie robót.
Jednak zostały znalezione również dokumenty, które informują, że właściwym architektem był Ustaz Ahmad Lahori.
Tadź Mahal zostało zbudowane z marmuru, który został przywieziony z kamieniołomu oddalonego o prawie 350 km.
Powierzchnie wykonane z tego marmuru są dodatkowo pokryte tysiącami kamieni szlachetnych i półszlachetnych, ale też dekoracjami kaligraficznymi z czarnego marmuru.
W latach 30. XIX wieku Tadź Mahal popadał praktycznie w ruinę, był zaniedbany i zarośnięty.
W związku z tym lord William Bentinck, który był generalnym gubernatorem Bengalu, zaproponował, aby rozebrać Tadź Mahal, a potem przesłać marmur do Londynu i tam właśnie go sprzedać.
Jednak jego plany nie doszły do skutku, ponieważ marmur, który zerwano z Czerwonego Fortu, nie znalazł kupców.
Kiedy przychodzi rok 1900, kolejny wicekról Indii, którym był lord George Curzon, nakazuje odrestaurować mauzoleum.
Zgodnie z legendą cesarz miał w planach, aby wznieść duplikat tego mauzoleum po przeciwległej stronie rzeki Jamuny, który miał być wykonany w całości z czarnego marmuru.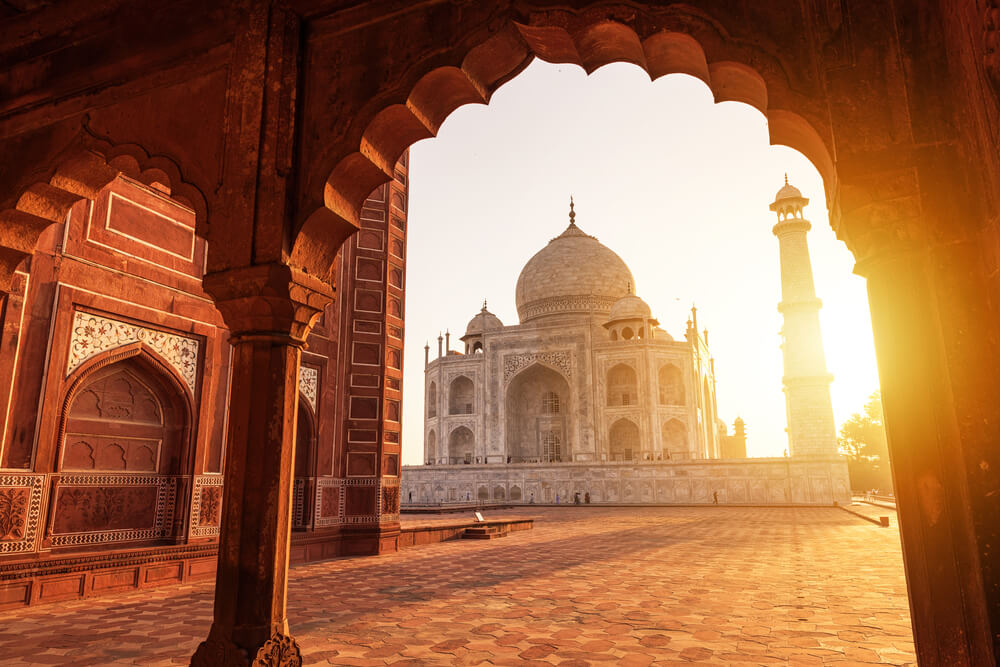 Po drugiej stronie można zobaczyć pewne pozostałości, które można byłoby uznać, że są fundamentami pod drugi Tadź Mahal, ale tak naprawdę są to pozostałości po dalszej części ogrodów tego oryginalnego Tadź Mahal, a zostały one zniszczone w wyniku powodzi.
Są także inne informacje, które podają, że ten czarny Tadź Mahal miał tylko być odbiciem tego oryginalnego budynku w basenie w przeciwległych ogrodach.
Ciekawostki na temat Tadź Mahal
♦ W 1983 roku Tadź Mahal został wpisany na Listę Światowego Dziedzictwa UNESCO.
♦ W 2004 roku była świętowana 350 rocznica ukończenia budowy Tadź Mahal.
♦ 7 lipca 2007 roku budynek został ogłoszony jednym z Siedmiu Nowych Cudów Świata.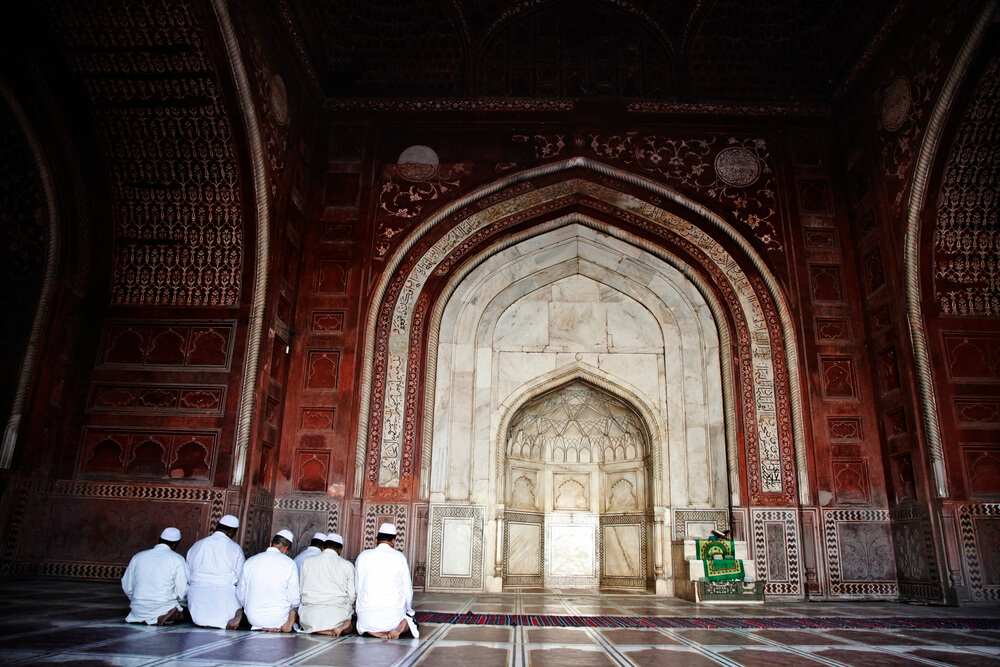 ♦ Szahdżahan również został pochowany w Tadź Mahal – grobowiec jego żony znajduje się w samym centrum mauzoleum, a jego grobowiec dostawiono obok.
♦ Zwiedzanie Tadź Mahal możliwe jest codziennie, ale poza piątkiem, ponieważ tego dnia w meczecie na jego terenie odbywają się modlitwy.
♦ Do Tadź Mahal prowadzą trzy wejścia: Brama Wschodnia, która czynna jest od wschodu do zachodu słońca; Brama Zachodnia, która również jest czynna od wschodu do zachodu słońca, a także Brama Południowa, która jest czynna od 08:00 do 17:00.
⇒ Czytaj także: ŚWIĄTYNIE ELLORA I AJANTA – ARCYDZIEŁA BUDDYJSKIEJ SZTUKI
♦ Zareklamuj wydarzenie, swoją działalność, produkty itd. – dodaj ogłoszenie ⇒ KLIK
♦ Współpraca reklamowa na portalu ⇒ kontakt@odkrywamyzakryte.com
♦ Chcesz poznać więcej tajemnic świata? ⇒ KLIK
Komentarze