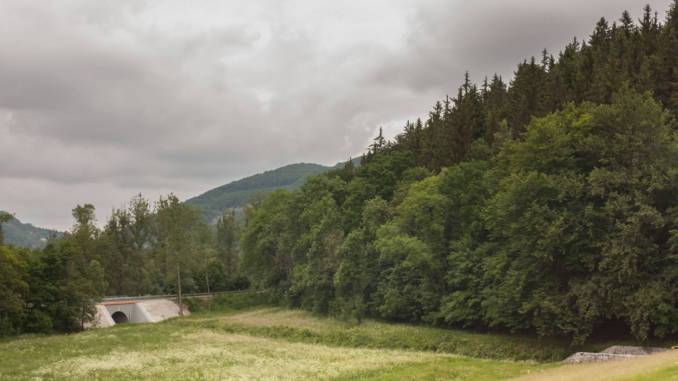 Kraina Wygasłych Wulkanów i Szlak Wygasłych Wulkanów to miejsca, o którym istnieniu wie niewiele osób. A jednak one istnieją i to bliżej niż nam się wydaje! Dolny Śląsk, a konkretnie Góry i Pogórze Kaczawskie –  to tam znajdują się wygasłe wulkany, które miliony lat temu wcale nie były tak spokojne, jak dziś…
Wulkany w Polsce
Kraina Wygasłych Wulkanów należy do jednego z najbardziej zróżnicowanych pod względem geologicznym i tektonicznym obszarów w Polsce.
Jej teren rozciąga się pomiędzy Jaworem i Jelenią Górą na Dolnym Śląsku, w rejonie Gór i Pogórza Kaczawskiego.
Wulkaniczny krajobraz tego regionu to bazaltowe wzniesienia, góry zrębowe z zapadniętymi rowami i wyniesionymi w górę zrębami, które powstały podczas trzech głównych faz aktywności wulkanicznej: około 500 mln lat temu, 250 mln lat temu oraz 20-15 mln lat temu.
Niestety, wulkany w swoim pierwotnym stanie nie doczekały naszych czasów, ponieważ zniszczyła je erozja, aczkolwiek dziś możemy podziwiać pozostałości kominów, które są wypełnione zastygłą magmą.
Co ciekawe, w trakcie procesów geologicznych doszło na tym obszarze do powstania ogromnego bogactwa złóż cennych skał i minerałów.
W Górach Kaczawskich występują m.in. rudy miedzi, ołowiu, srebra, żelaza, pirytu, azurytu, malachitu, ametystu, rubinu, kryształu górskiego, topazu, turmalinu, szmaragdu, gipsu i uchodzącego za najpiękniejszy na świecie – kaczawskiego agatu.
Ostrzyca – śląska Fudżijama
Ostrzyca uchodzi za najbardziej klasyczny stożek wulkaniczny na Szlaku Wygasłych Wulkanów.
Ma 501 m n.p.m. i nazywana jest śląską Fudżijamą.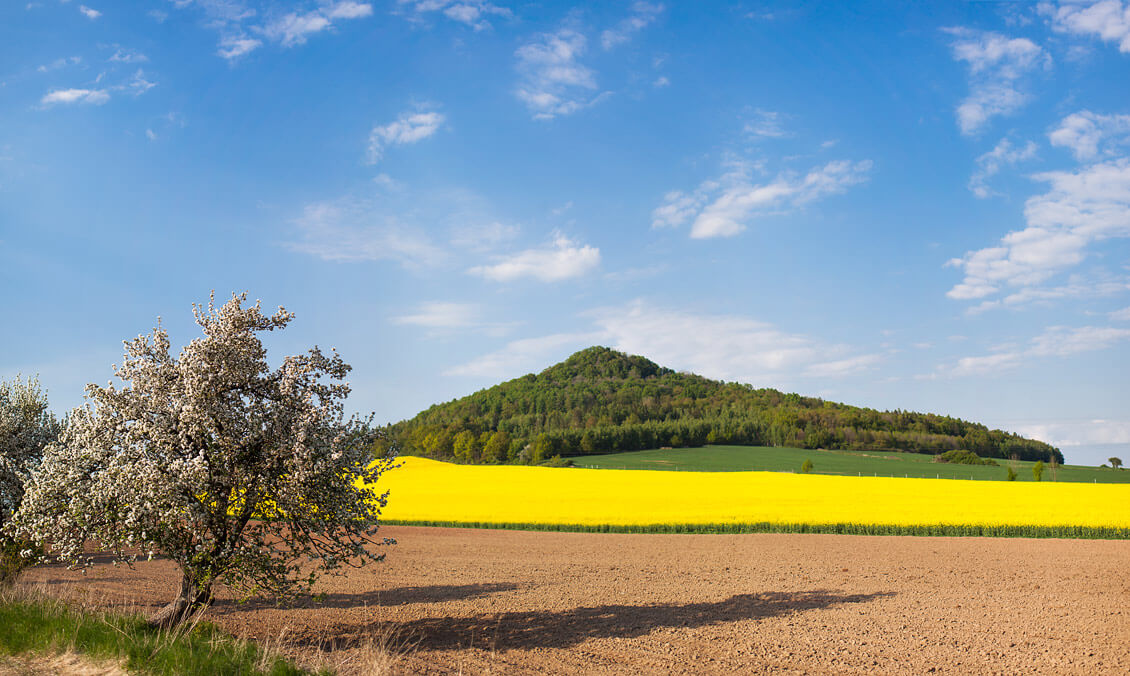 Znajduje się ona na Pogórzu Kaczawskim w pobliżu miejscowości Proboszczów, skąd spod leśnego parkingu z wiatami w trakcie trwającego 30-40 minut spaceru można zdobyć ten wulkaniczny szczyt.
Charakterystyczne dla Ostrzycy są bazaltowe gołoborza i unikatowa roślinność, a na samym jej szczycie z punktu widokowego w postaci odkrytych skał można podziwiać okolicę.
Wielkie Organy Wielisławskie
Stygnąca i krzepnąca w kominie wulkanicznym magma zmniejszała swą objętość, powodując pęknięcia skał i powstawanie słupów, które dziś przypominają konstrukcję organów.
Tak właśnie wyglądają Wielkie Organy Wielisławskie – kolejna powulkaniczna pozostałość, którą można podziwiać we wsi Sędziszowa (są również dobrze widoczne z drogi nr 328 prowadzącej ze Złotoryi do Marciszowa).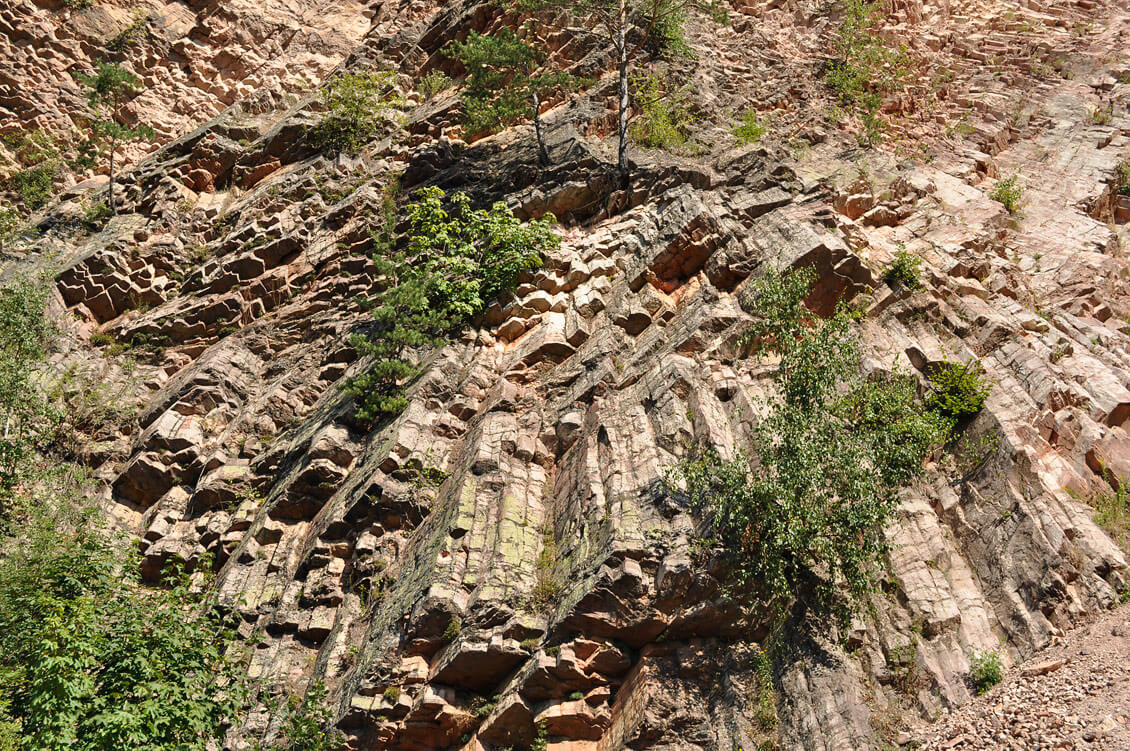 Małe Organy Myśliborskie
Na zboczach wzgórza Rataj (350 m n.p.m.), które w rzeczywistości jest wygasłym wulkanem, możemy podziwiać Małe Organy Myśliborskie – liczący 15-18 mln lat fragment bazaltowego neku wulkanicznego z wyraźnie zaznaczonymi słupami.
Wnętrze tegoż wulkanu odsłoniło wyrobisko dawniej działającej tu kopalni bazaltu.
Odwiedzając wzgórze Rataj warto wybrać się również na spacer do Wąwozu Myśliborskiego, w którym możemy podziwiać lawy poduszkowe, czyli takie, które uformowały się w kształt poduszek po zetknięciu z zimną wodą morską.
Czartowska Skała
Urokliwa Czartowska Skała, którą widać z drogi nr 365 to świetny punkt widokowy, z którego widać m.in. Karkonosze.
Wystające skały to pozostałości po kominie aktywnego jakieś 20 mln lat temu wulkanu.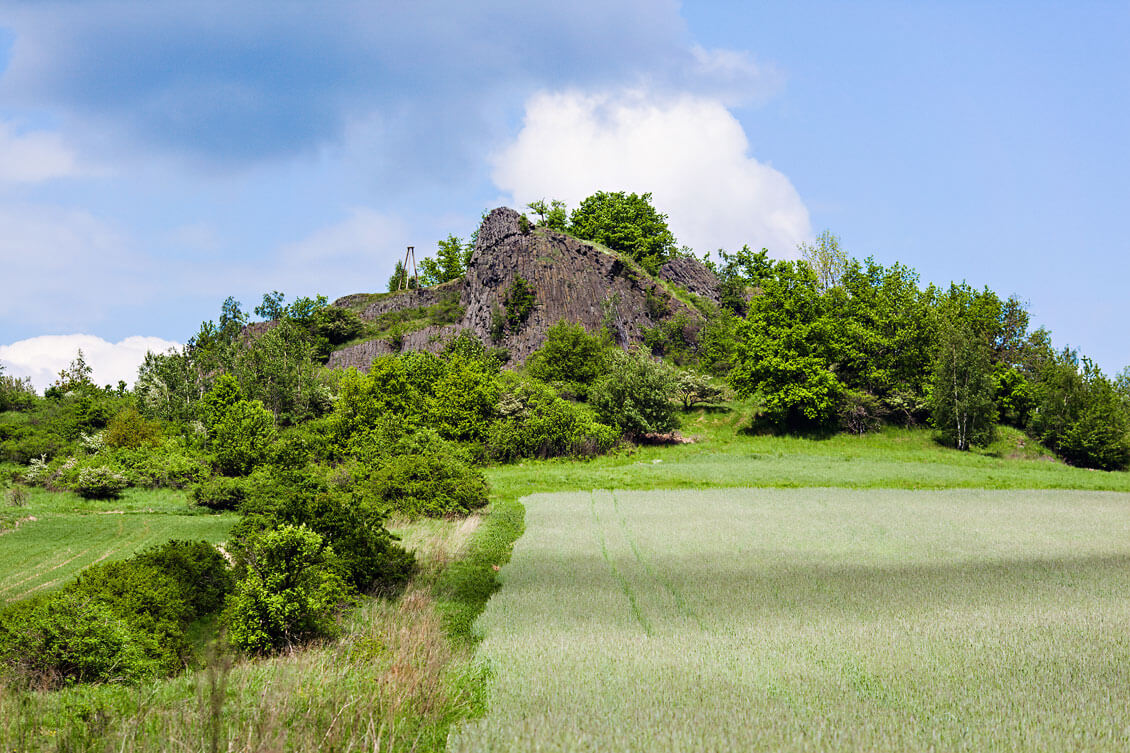 Zbocza Czartowskiej Skały są strome, tworzą je pochyłe, kilkunastometrowe słupy o średnicy ok. 20 cm, które odsłonił od dawna już nieczynny kamieniołom.
Stożek Wielki
Stożek Wieli ma 841 m n.p.m. i znajduje się w Górach Kamiennych w pobliżu miejscowości Unisław Śląski.
Teren, w którym obecnie znajduje się obecnie wygasły wulkan jakieś 270-280 mln lat temu był praktycznie zrównany, a jego podłoże wyścielały skały osadowe.
To tę mocną pokrywę udało się przebić nacierającej ku powierzchni magmie granitowej, która wylała się na zewnątrz i zastygając, zbudowała dość wysoką górę z kraterem.
Wilcza Góra
Jest to rezerwat, który utworzono dla ochrony oryginalnego układu słupów bazaltowych przypominających płatki róży.
Zaledwie 17 mln lat temu wulkan zagrażał tutejszej okolicy.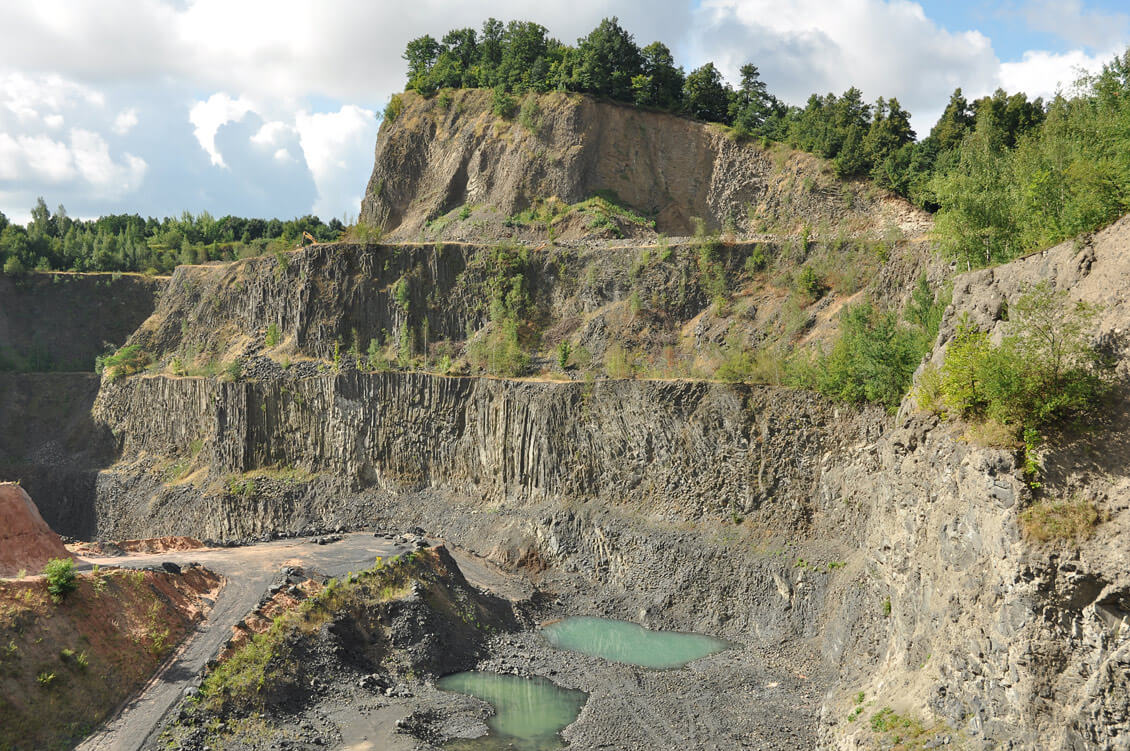 Dziś w środek wulkanu możemy zajrzeć dzięki wyrobiskom niedziałającego już kamieniołomu bazaltu, które odsłoniły piękne skały.
W piaskowcowej części ściany kamieniołomu obserwować można krętą drogę magmy przedzierającej się ku powierzchni ziemi.
Inne wulkany na szlaku
Na Szlaku Wygasłych Wulkanów możemy podziwiać również:
Wygasły wulkan Czerwony Kamień – znajduje się w północnej części wsi Nowy Kościół na Pogórzu Kaczawskim.
Wygasły wulkan Górzec – wznosi się nad Męcinką na wysokość 445 m n.p.m. W przeszłości mógł być miejscem pogańskich kultów, a także warownym grodziskiem.
Wygasły wulkan Okole – niedaleko wsi Lubiechowa. U jego stóp można podziwiać lawy poduszkowe sprzed ok. 500 milionów lat, a ze szczytu wzniesienia oglądać piękny widok na Karkonosze.
Radogost – niewysokie powulkaniczne wzniesienie (398 m n.p.m.) w kształcie stożka, na którego szczycie stoi wieża widokowa. Z jej tarasu widokowego można podziwiać panoramę Sudetów i Niziny Śląskiej.
Wygasły wulkan Bazaltowa Góra – znajduje się na terenie Parku Krajobrazowego "Chełmy". Kiedyś teren ten był miejscem pogańskiego kultu (na szczycie góry znajdowała się ponoć otoczona kamiennym kręgiem świątynia pogańska).
Zamek na wygasłym wulkanie
Kraina Wygasłych Wulkanów to także miejsce, w którym można podziwiać piękne zamki, takie jak np. zamek Grodziec zbudowany na szczycie wygasłego wulkanu.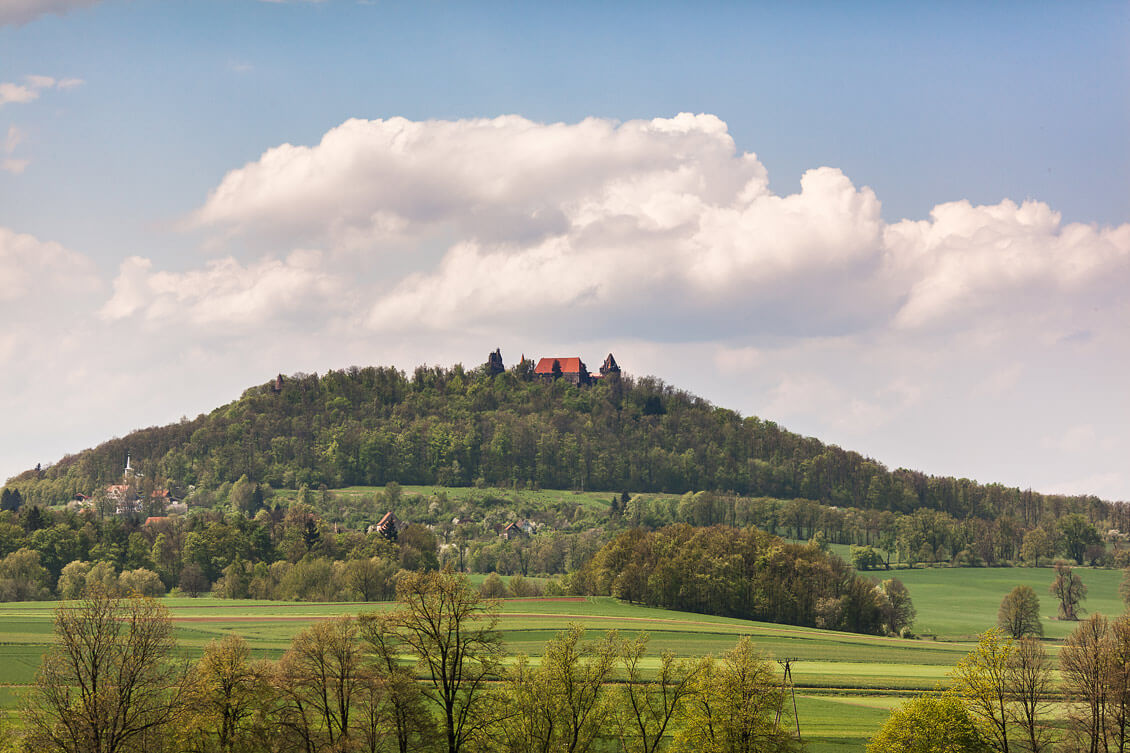 Zamek ten znajduje się na stromym bazaltowym wzgórzu, którego wysokość liczy 389 m n.p.m.
Kiedyś był warownią, dziś jednak możemy zwiedzać przebudowaną budowlę na kształt renesansowo-gotyckiej rezydencji.
⇒ Czytaj także: MOFETA W ZŁOCKIEM – POLSKA AKTYWNOŚĆ WULKANICZNA
Komentarze