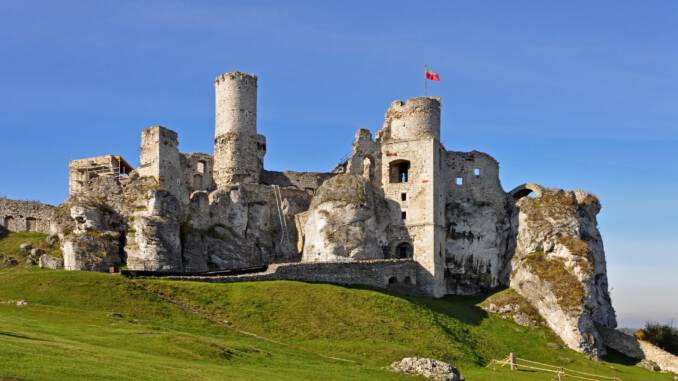 Zamek Ogrodzieniec to jedna z najbardziej ekscytujących warowni na Szlaku Orlich Gniazd. Położony jest w województwie śląskim, w małej wiosce Podzamcze. Budynek wzniesiono na przełomie XIV i XV wieku z inicjatywy króla Kazimierza Wielkiego. Warto poznać jego fascynującą historię, związane z nim legendy, a następnie odwiedzić ruiny.
Na terenie Jury Krakowsko – Częstochowskiej trudno znaleźć bardziej popularne miejsce. Turyści zaglądają tu chętnie, natomiast liczne wycieczki przybywają tu tylko w jednym celu – zobaczyć najpiękniejsze i najpotężniejsze ze wszystkich Orlich Gniazd na terenie Jury.
Ogrodzieniec i Podzamcze są nie tylko popularne, ale i wyjątkowo piękne.
Najważniejszym zabytkiem jest tu zamek Ogrodzieniec, a ważnymi obiektami w jego najbliższej okolicy są Góra Janowskiego oraz Góra Birów, znana w ostatnich latach ze zrekonstruowanego, wczesnośredniowiecznego grodu.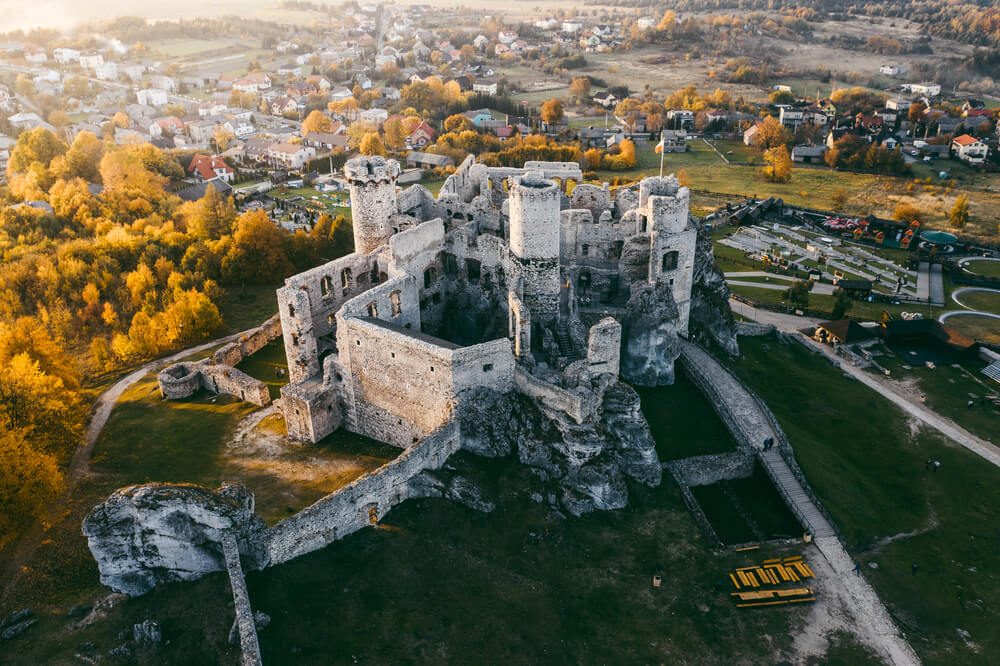 Początki Gniazda Orła
Początki zamku Ogrodzieniec sięgają XII wieku.
Powstały za panowania króla Bolesława Krzywoustego niewielki wówczas gródek znany był jako "Szczęka Wilka" i został zbudowany z drewna, a jego główną obroną były otaczające go skały.
To pierwsze drewniane miasto zostało najprawdopodobniej spalone podczas pierwszej inwazji Tatarów w 1241 r., a siły mongolskie, które zaatakowały Węgry, splądrowały i spustoszyły południowe terytorium Polski.
W połowie XIV wieku na ruinach miasta wzniesiono murowany zamek, bo to właśnie w czasach Kazimierza Wielkiego drewniany gródek zastąpiła potężna, murowana budowla obronna, pięknie wkomponowana w skalne otoczenie.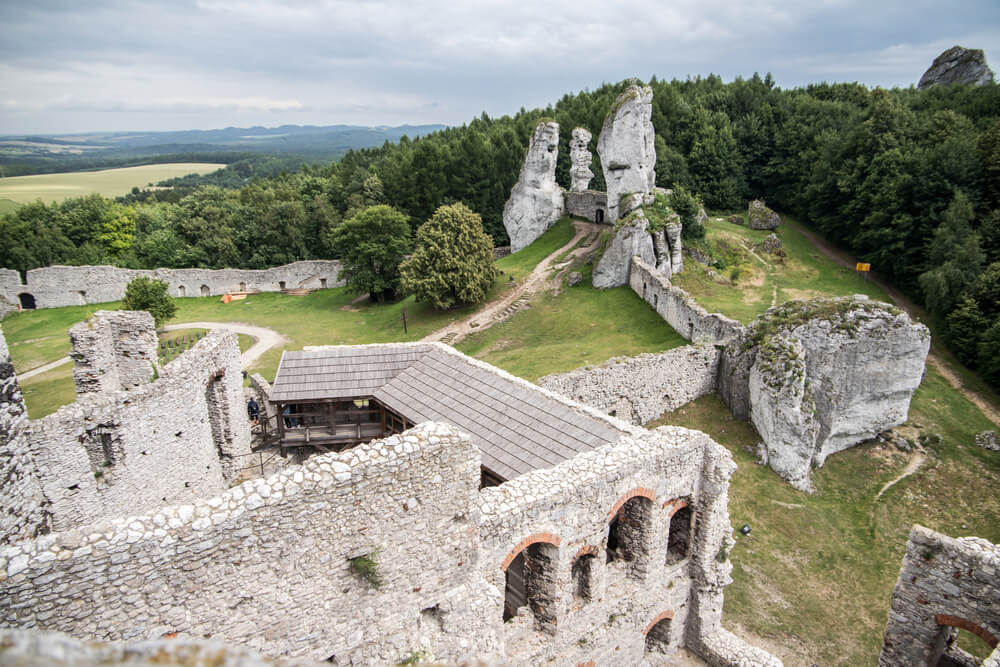 Twierdza została wzniesiona w nowym stylu gotyckim przez nieznanych budowniczych, prawdopodobnie w latach 1350–1370.
Miała ona pełnić rolę mieszkalną, ale przede wszystkim obronną, ponieważ znajdowała się na granicy polsko-śląskiej i – jako połączenie Szlaku Orlich Gniazd – miała bronić terytoriów Piastów przed najeźdźcami z Czech.
Zamek Ogrodzieniec nazwano Gniazdem Orła ze względu na malownicze położenie i fakt, że majestatyczne średniowieczne warownie zostały zbudowane jak gniazda orła na skałach jurajskich.
W 1386 r. król Władysław Jagiełło przekazał Zamek Włodkowi z Charbinowic herbu Sulima.
Główne wejście do zamku Ogrodzieniec prowadziło przez szczelinę między skałami.
Od północy dostęp do niej chronił wał.
Za wałami, za murami…
Zamek Ogrodzieniec wielokrotnie zmieniał właściciela i stał się własnością rodziny Boner, jednej z najbogatszych i najbardziej wpływowych rodzin w Polsce w pierwszej połowie XVI wieku.
Seweryn Boner, rajca krakowski, chciał uczynić z zamku Ogrodzieniec budowlę mogącą równać się z Zamkiem Królewskim na Wawelu.
Wykorzystał on naturalne ukształtowanie terenu oraz to, co wzniesione zostało już w czasach Kazimierza Wielkiego.
W efekcie jego rezydencja uderzała (i w dalszym ciągu uderza) swym ogromem.
Składała się z dwóch części: podzamcza oraz właściwego zamku.
Z podzamcza na teren zamku prowadziło wejście przez wielokondygnacyjną bramę, która szczęśliwie przetrwała do dzisiaj.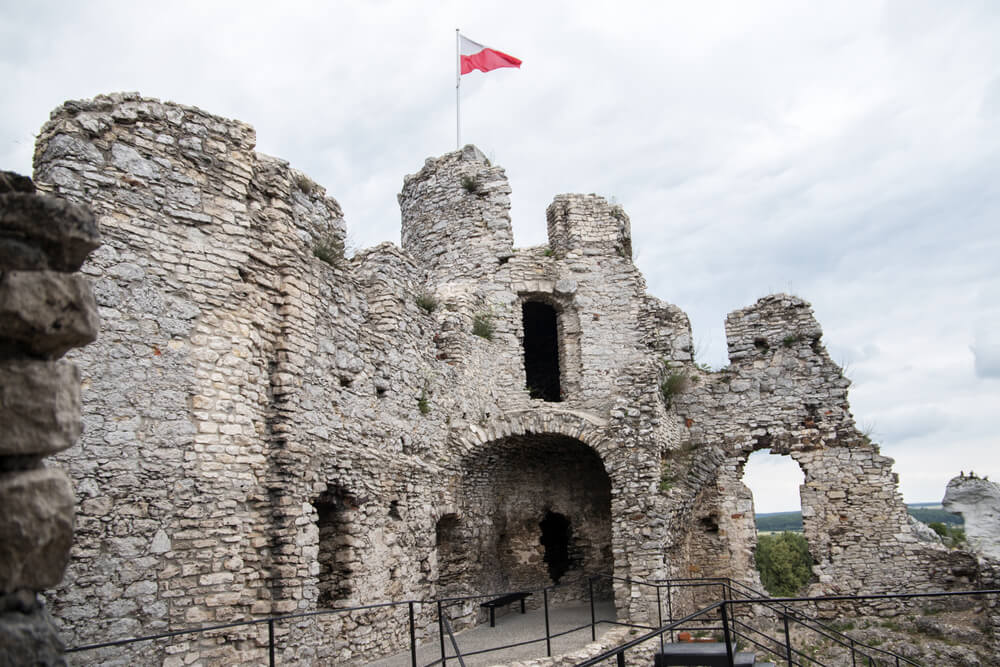 Dawniej prowadził do niej zwodzony most, pod którym znajdowała się sucha fosa.
Nad wejściem prowadzącym na zamek zachowały się dobrze widoczne tarcze z herbami Bonerów.
Po przejściu przez bramę wchodziło się na niewielki dziedziniec.
Otoczony wieżami i budynkami mieszkalnymi placyk powstał zaś w miejscu, w którym istniało pierwsze w Ogrodzieńcu grodzisko.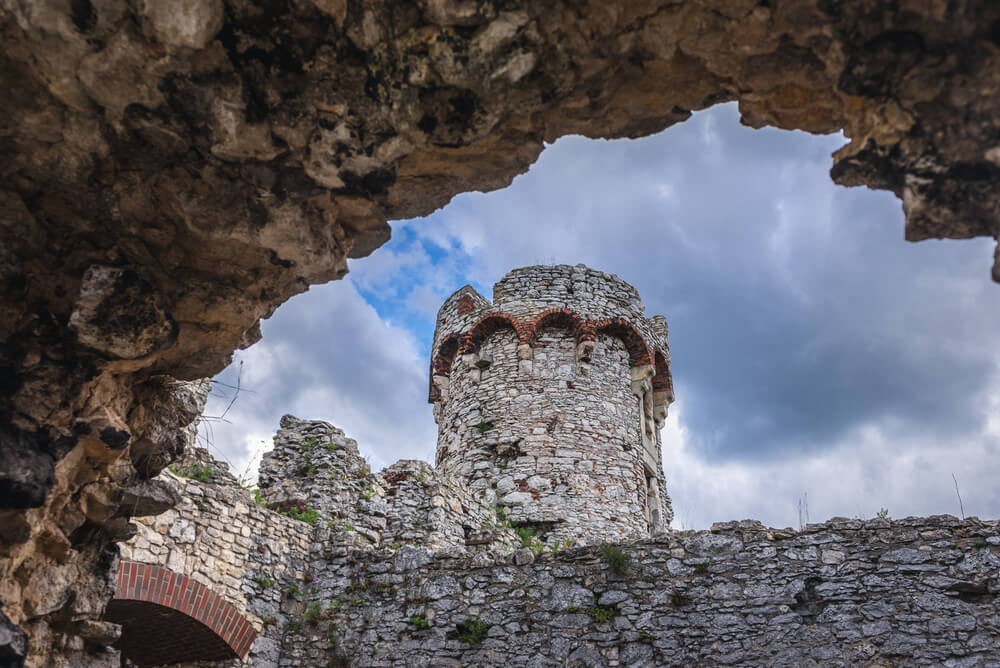 Po Bonerach zamkiem władali Firlejowie, po nich słynny Warszycki, zaś po nim – Męcińscy.
Na początku XIX wieku ostatnia z rodu Męcińskich – Zofia – opuściła popadający w coraz większą ruinę zamek.
Dopiero z początkiem XX wieku odkrył jego piękno Aleksander Janowski – inicjator utworzenia Polskiego Towarzystwa Krajoznawczego.
Dzięki długim i żmudnym pracom konserwatorskim, które trwały 24 lata, dziś możemy zwiedzić ruiny zamku w Ogrodzieńcu i podziwiać ten fascynujący "kawałek historii".
Dusza kasztelana
Z zamkiem w Ogrodzieńcu związane są różne legendy.
Jedna z nich, ta najpopularniejsza głosi, że podczas pełni na zamku pojawia się wielki czarny pies, ciągnąc za sobą duży złoty łańcuch.
Według legendy jest to dusza bogatego i brutalnego krakowskiego kasztelana Stanisława Warszyckiego, oskarżonego o kontakt z diabłem.
Słynął z okrucieństwa i chciwości.
Podobno kasztelan wciąż strzeże swoich skarbów ukrytych pod zamkiem, których nikt dotąd nie znalazł.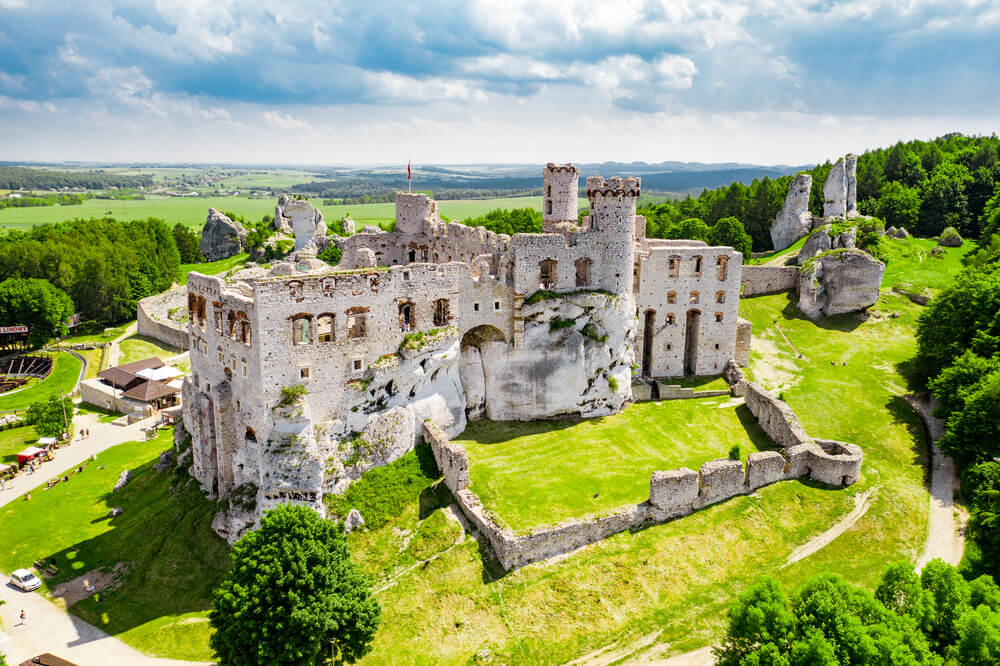 Zamek Ogrodzieniec – zwiedzanie
Zamek Ogrodzieniec to tzw. trwała ruina.
Niedawno otwarto zupełnie nową, specjalnie przygotowaną trasę turystyczną.
Zamek oferuje ponadto swoim gościom wiele wydarzeń kulturalnych, takich jak imprezy masowe, turnieje rycerskie, spotkania z duchami i koncerty.
Jednym z najbardziej ekscytujących wydarzeń na zamku jest odbywający się wiosną coroczny "Najazd Barbarzyńców na Zamek Ogrodzieniecki w Podzamczu", podczas którego średniowieczna twierdza zamienia się w barwną osadę, w której królują Wikingowie i Słowianie, a wojownicy z różnych zakątków Europy próbują stawać z nimi w szranki.
Warto również odwiedzić Muzeum Zamkowe, które przedstawia przeszłość i teraźniejszość zamku, warowną twierdzę na Górze Birów, w której rejonie znaleziono nie tylko ślady wczesnośredniowiecznego grodziska, ale i liczne pamiątki z okresu paleolitu, a także przyjrzeć się  wystawom historycznym znajdującym się w zbrojowni i komnacie tortur.
Zamek Ogrodzieniec można zwiedzać indywidualnie lub z przewodnikiem.
♦ Ciekawostka: w 2001 roku na terenie zamku reżyser Andrzej Wajda nakręcił adaptację komedii Aleksandra Fredry pt. "Zemsta".
⇒ Czytaj także: ZAMEK KRZYŻTOPÓR – ZAGUBIONY WERSAL ZIEMI OPATOWSKIEJ
♦ Zareklamuj wydarzenie, swoją działalność, produkty itd. – dodaj ogłoszenie ⇒ KLIK
♦ Współpraca reklamowa na portalu ⇒ kontakt@odkrywamyzakryte.com
♦ Chcesz poznać więcej tajemnic świata? ⇒ KLIK
Komentarze