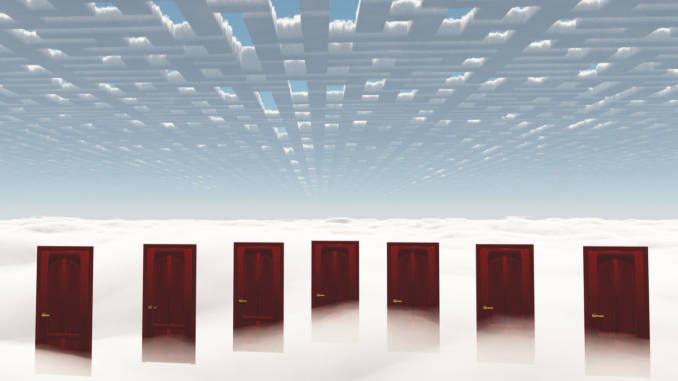 Pola Torsyjne-geneza.
Kariera Giennadija Iwanowicza Szypowa wykładowcy fizyki na Uniwersytecie Moskiewskim początkowo nie wróżyła mu echa rozgłosu. Jednak zmieniło się to za sprawą… fascynacji osobą Alberta Einsteina.
Przez całe swoje życie Albert Einstein próbował dowieść, że jego teoria jednolitego pola (teoria wszystkiego) może wyjaśnić budowę i działanie wszechświata.
Szypow, dla którego naukowiec był swoistym "guru", tak zainspirował się badaniami Einsteina, że nad rozwikłaniem owej zagadki spędził prawie 6 lat. Po tym czasie ni stąd, ni zowąd ogłosił nagle, że pracował nad "teorią próżni Szypowa", której główna teza dotyczy tego, że świat jest zbudowany z siedmiu poziomów materii.
Swoją drogą za propagowanie owej teorii stracił posadę na uniwersytecie i został wyrzucony ze środowiska naukowców w Rosji. Jednak będące częścią teorii pola torsyjne do dziś są podstawą zjawisk z zakresu magii, parapsychologii i psychotroniki.
Pola Torsyjne – 7 poziomów rzeczywistości
Teoria próżni fizycznej Szypowa dowodzi istnienia dotychczas nieznanych, niewidzialnych rodzajów materii i energii, które mimo wszystko istnieją obiektywnie i współdziałają z planami widzialnymi, czyli z naszą rzeczywistością materialną. Ponadto wynika z niej także, że pewnego rodzaju promieniowanie pędzi miliardy razy szybciej od prędkości światła lub rozchodzi się natychmiastowo.
Jednak najbardziej kontrowersyjnym elementem teorii było właśnie przedstawienie nowej budowy wszechświata, który miałby składać się z 7 poziomów (planów) rzeczywistości, tj. 1 – Absolutne "Nic", 2 – Pierwotne pole wirowania (świadomości), 3 – Próżnia, 4 – Plazma (cząstki elementarne), 5 – Gaz, 6 – Ciecz, 7 – Ciało stałe. Wszystkie poziomy prezentuje poniższy diagram: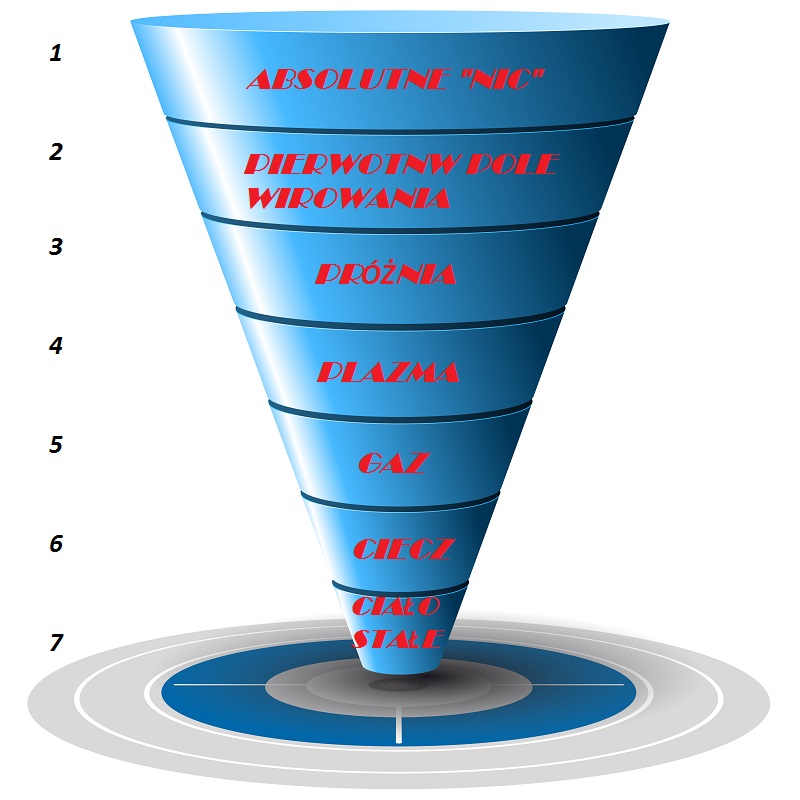 I o ile o poziomach od 4 do 7 każdy uczy się w szkole, o tyle poziomy 1, 2 i 3 stanowią podstawowe elementy niezwykłego świata Szypowa. Bez wątpienia najciekawszą przestrzenią jest próżnia, która jest źródłem wielkiej, niemieszczącej się w granicach umysłu ilości energii. Jak twierdzi sam Szypow, wystarczy 1 cm 3 owej próżni, aby zaspokoić zapotrzebowanie na energię dla całej ludzkości na 10 kolejnych lat. Dla Szypowa próżnia nie posiada ani masy, ani ładunku, za to jest żywą, poddawaną drgnieniom tkanką, w której zachodzą procesy powstawania oraz niszczenia cząstek i antycząstek.
Wszechobecna świadomość
Bardzo interesujący jest poziom drugi – pierwotne pole wirowania lub inaczej – pole świadomości. Jak napisał Szypow w swojej książce pt. "Teoria próżni fizycznej", pole to składa się z "[…]elementarnych wirów czasoprzestrzennych przenoszących informacje". Z racji tego, że jest ono związane z ruchem wirującym, nazywa się je również polem torsyjnym (ang. torsion – wirowanie).
Pola torsyjne nie przenoszą energii, lecz informacje. Gdybyśmy mogli wykorzystywać pola torsyjne we współczesnym świecie, kierowalibyśmy wydarzeniami i efektywnie sterowali wszystkim procesami bez niepotrzebnych strat energii.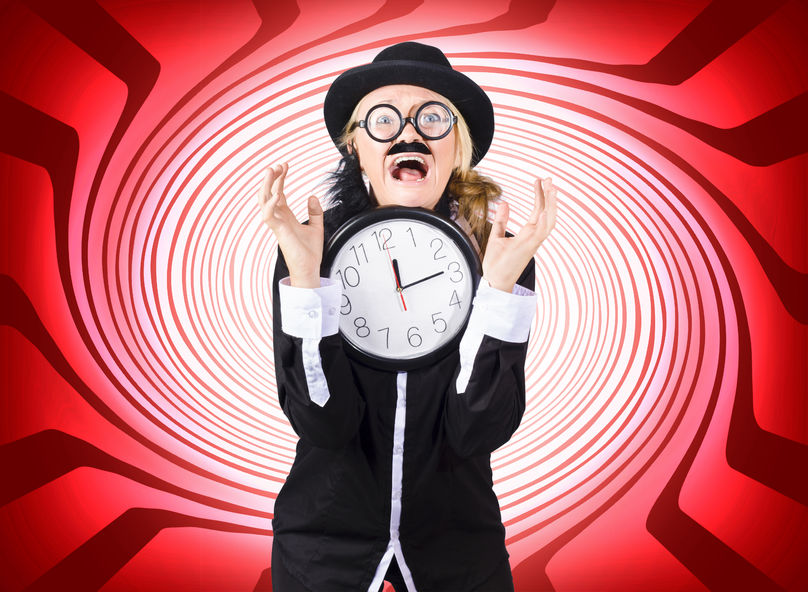 Pole torsyjne wytwarza solitony, czyli pewne zagęszczenia posiadające zdolność do samoistnienia, które stanowią magazyn dla wszystkich naszych pomysłów, myśli, wizji itp. Mogą one odrywać się od jednego mózgu do drugiego, stąd często mamy poczucie, że "nadajemy z kimś na tych samych falach".
To właśnie ten poziom umożliwia zachodzenie zjawisk określanych mianem magii, parapsychologii, rzeczy niemożliwych i niezwykłych zjawisk (telepatii, psychokinezy, jasnowidzenia itp.).
Te przenoszące informację pierwotne wiry składają się na taki specyficzny rodzaj materii, jaki określić możemy mianem powłoki myśli, a na tym poziomie myśl natychmiastowo staje się materialna. Co więcej, Szypow twierdzi, że cały wszechświat i wszystko, co w nim istnieje, ma świadomość. Łączy to bezpośrednio z hipotezą Gai – Jamesa Lovelocka głoszącą, że Ziemia jest planetą, która żyje i ma świadomość.
Ponadto według badań Szypowa pole torsyjne może wirować w lewo bądź w prawo, a każde ciało fizyczne wytwarza pole torsyjne o charakterystycznych dla siebie właściwościach. Wiedza ta bezpośrednio pokrywa się ze współczesnym zakresem działania bioenergoterapii i radiestezji. Jak wiadomo niektóre pola promieniowania, są korzystne a inne nie dla zdrowia człowieka.
W związku z tym pole prawoskrętne wzmacnia funkcje życiowe organizmów, z kolei lewoskrętne hamuje procesy życiowe i działa na nie osłabiająco.
Wzór na istnienie Boga
Najbardziej interesującym wnioskiem, jaki wysnuł w swej teorii pola świadomości Szypow, jest to, że stanowi ona teoretyczne podłoże do wyjaśnienia istnienia Boga. Najwyższym polem jest poziom określany jako Absolutne "nic" – prawdopodobnie siedziba Boga.
Jak sam twórca teorii pisze w swojej książce: "Tego rodzaju przestrzeń zakłada istnienie »pierwotnej świadomości«, zdolnej do ogarnięcia Absolutnego »nic« i uporządkowania go. Na tym planie decydującą rolę odgrywa "super-świadomość".
Inaczej mówiąc, aby wszechświat mógł zaistnieć, trwać i rozwijać się, konieczne jest świadome działanie Superistoty. Jeżeli ktoś wierzy w Boga, to właśnie natrafiliśmy na jego ślad".
Z teorii pola świadomości wynika również wyjaśnienie dowodzące istnienia życia po śmierci. Ludzkie dusze, które uwolnią się z materii (czyli ciała), udają się do materialnego pola myśli, czyli tam, gdzie materializuje się ona natychmiastowo i staje się rzeczywistością.
I choć trudno w to uwierzyć i zrozumieć zasady działania planu teorii Szypowa, to jednak jego równania opisują spójny, całościowy obraz wszechświata, który opiera się na założeniu istnienia "Absolutnego nic", będącego podwaliną do istnienia nas samych…
Komentarze