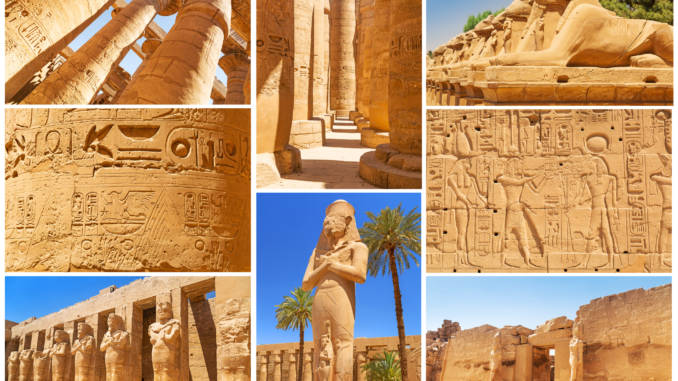 Karnak, współcześnie uważany za przedmieścia egipskiego Luksoru to miejsce tłumnie odwiedzane przez turystów. Znajduje się tutaj największy na świecie, odkryty w XVII wieku kompleks świątynny w całości poświęcony bogom tebańskim. Cały teren jest większy niż niektóre starożytne miasta. W głównej świątyni mogłyby się zmieścić trzy katedry Notre Dame. W 1979 roku Karnak wraz ze słynną Świątynią Amona znalazł się na liście światowego dziedzictwa UNESCO.
Karnak – najświętsze miejsce
Karnak leży na wschodnim brzegu Nilu, około 3 km od Luksoru.
Znajduje się na miejscu dawnych Teb, które niegdyś były stolicą Egiptu.
Kompleks świątynny był budowany stopniowo przez stulecia,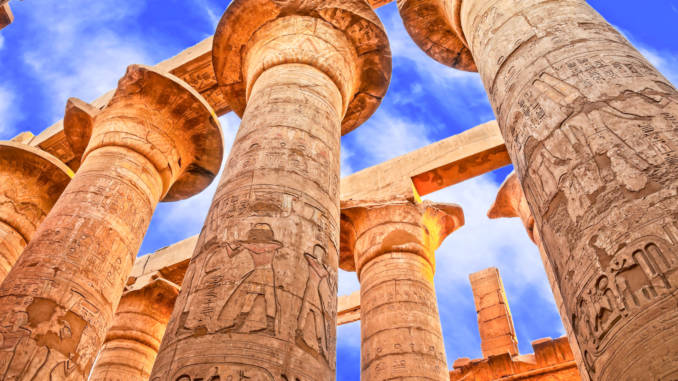 a każdy nowy władca dodawał do niego "coś" od siebie, poczynając od XII Dynastii ze Średniego Państwa (ok. 2040 – 1782 r. p.n.e.) po okres Nowego Państwa (1570 – 1070 r. p.n.e.).
Każdy następny władca dodawał lub odejmował jakieś elementy budowlane i architektoniczne z całego kompleksu, aby okazywać triumf swojego panowania.
Budowa trwała przeszło 1000 lat i ostatecznie nigdy nie została zakończona.
W czasach Średniego Państwa Egipcjanie nazywali ten teren "Nesut-Towi", co można przetłumaczyć jako "Tron dwóch miejsc/krajów" lub bardziej popularną nazwą "Ipet-Isut", czyli "Najbardziej dobrane z miejsc".
Pierwotna nazwa ma związek ze starożytnym egipskim, architektonicznym przekonaniem, że świątynię stawiano na gruncie, z którego pierwotnie wyłonił się Bóg stwórca.
Miała ona symbolizować początki stworzenia świata, być reprezentacją tzw. pagórka stworzenia, obiektem ściśle związanym z przyrodą (dachy ozdabiane gwiazdami i ptakami, reliefy ze wzorami papirusu, lotosu i palm) oraz łączyć się z naturą (bliskość wód zalewowych Nilu).
W okresie Średniego Państwa Karnak stanowił nie tylko miejsce kultu i domu
, ale także schronienie i ośrodek pracy tamtejszych kapłanów.
Pracowali oni nad tworzeniem wyposażenia świątyń, wytwarzali dewocjonalia, przygotowywali posiłki, odprawiali modły.
W okresie Nowego Państwa Karnak uważano za najważniejsze i największe centrum religijnego kultu poświęcone bogu Amonowi.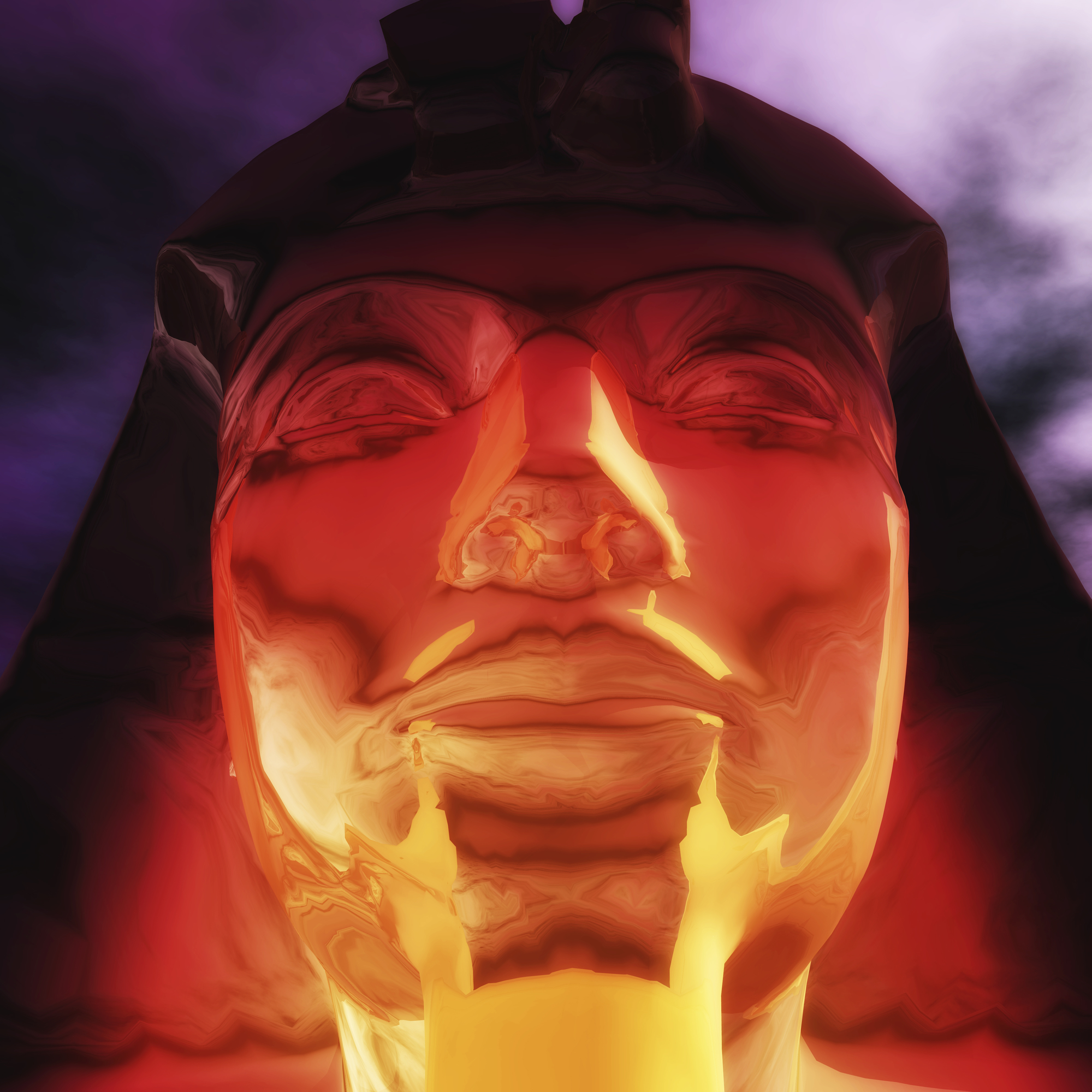 Początkowo Egipcjanie traktowali Amona jako lokalnego boga, jednak wraz z rozkwitem Nowego Państwa zaczął być utożsamiany z bogiem Re i stał się nie tylko bogiem państwowym, ale także i władcą bogów Amonem-Re.
W XVII wieku teren ten odkryli Europejczycy, jednak renowacją świątyni i pracami archeologicznymi na jej terenie zajęto się dopiero w XIX wieku.
Wówczas część zabytków wywieziono zagranicę.
Do dziś archeolodzy pieczołowicie pracują nad wykopaliskami.
Przestrzeń jest ogromna, pracy jest bardzo dużo, tym bardziej że kompleks przez tysiąclecia ulegał licznym zniszczeniom, głównie ze strony niszczycielskiej siły wód Nilu.
Do jego dewastacji przyczynili się również Koptowie – fanatycy religijni oraz miejscowi, którzy chętnie pobierali z terenu świątyni materiał budulcowy.
Świątynia Amona
Choć w Karnaku było kilka świątyń poświęconych bóstwom tebańskim, do najważniejszej i najpotężniejszej z nich zalicza się świątynię Amona.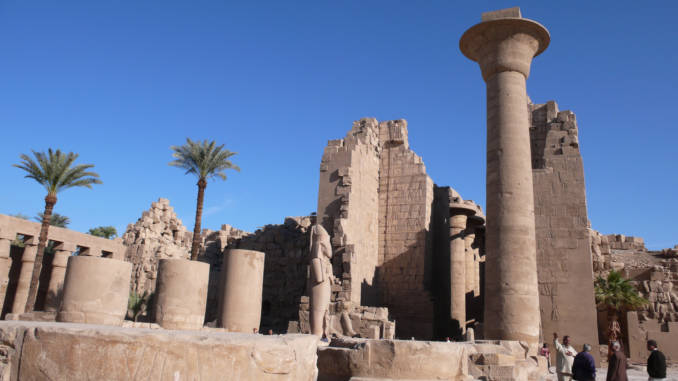 Jej powierzchnia zajmuje ponad 250 tysięcy m².
Do pierwszego pylonu, czyli pary wież o prostokątnej podstawie grubości 12 metrów, które zwężały się ku górze, prowadzi aleja procesyjna.
To właśnie tę drogę przemierzali w czasach starożytnych faraonowie i wierni w czasie procesji, zmierzając ku świątyni.
Aleja biegnie na południe w kierunku świątyni w Luksorze.
Z obydwu stron otoczona jest czterdziestoma sfinksami o baranich głowach, ponieważ baran był świętym zwierzęciem Amona-Re.
Obecnie zachowane w całości pozostały nieliczne posągi, gdyż części z nich brakuje głów.
Świątynia Amona liczy wiele świątynnych kaplic i sal, które oddzielane są od siebie pylonami.
Przykładowo droga sfinksów prowadzi na największy na świecie świątynny dziedziniec, który jest oddzielony pylonem od sali kolumnowej tzw. Wielkiego Hypostylu.
Pylony poprzedzały obeliski lub ogromne posągi faraonów, np. przed pylonem prowadzącym do sali kolumnowej stoi posąg faraona Ramzesa II i jego żony, która sięga mu do kolan.
W całym kompleksie posągów faraonów jest o wiele więcej.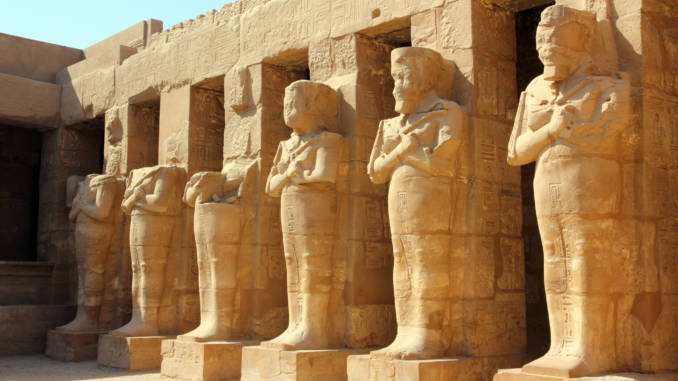 Wszystkie budzą respekt i podziw swoimi rozmiarami i dokładnością wykonania.
Faraonowie przedstawiani są zazwyczaj w dwóch charakterystycznych królewskich postawach – albo ze skrzyżowanymi na piersiach rękoma trzymającymi symbole władzy, albo z ramionami opuszczonymi ku dołowi, z zaciśniętymi pięściami, wysoko uniesionym podbródkiem i lekko wysuniętą do przodu lewą nogą.
Kolumny i ściany w świątyni Amona w Karnak pokrywają liczne reliefy.
Niemal na każdym kroku widać płaskorzeźby lub wyryte symbole anch – egipskiego hieroglifu oznaczającego życie wieczne, płodność i boskość władców.
W cieniu kolumn…
Świątynia Amona zadziwia największym cudem architektonicznym tamtego okresu w Karnaku – salą, w której strop opiera się na 134 równomiernie rozmieszczonych potężnych, rzeźbionych kolumnach, mających 23 metry wysokości.
Górna część każdej kolumny ma około 15 m2 powierzchni i zwieńczona jest symbolem rozwiniętego papirusu.
Sala hypostylowa o długości 102 metrów i szerokości 53 metrów została wybudowana za czasów rządów XIX dynastii.
Wówczas na terenie całego kompleksu pracowało 81 322 osoby, łącznie z kapłanami, strażami, robotnikami i chłopami.
Świątynia Amona utrzymywała się głównie z wpływów z pobliskich majątków, zakładom rzemieślniczym, targowiskom oraz łupom faraona zdobytym w zwycięskich wojnach.
Wnętrze świątyni w Karnak było ozdobione barwnymi malowidłami.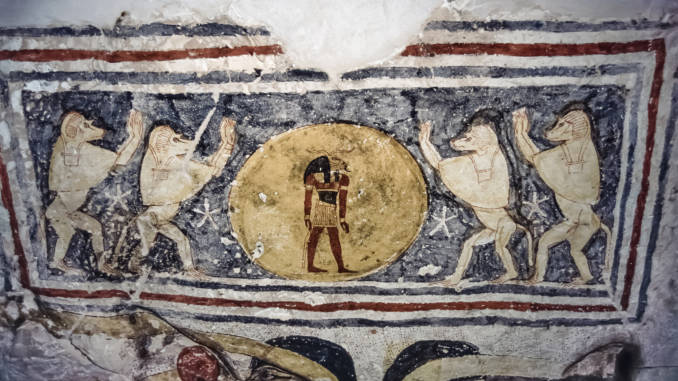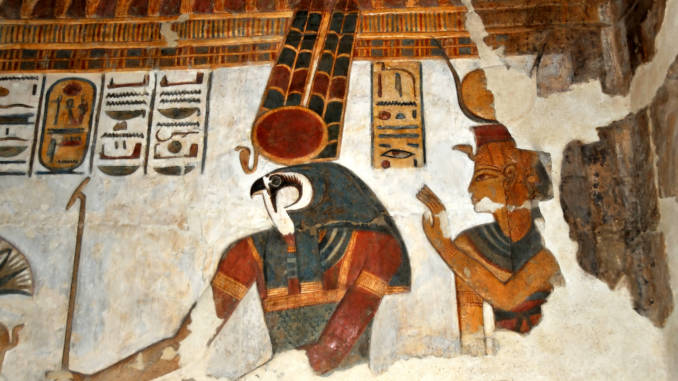 Cześć z nich umieszczoną na kolumnach i sufitach można podziwiać do dziś.
Część środkowa sali została podwyższona i skonstruowana w formie clerestorium, czyli tak, aby do pomieszczenia napływało powietrze
i światło.
Za salą hypostylową znajduje się starsza, mniejsza część świątyni, oddzielona od pozostałych kolejnymi pylonami, do której nie wszyscy mieli dostęp.
W skład całego kompleksu w Karnak wchodzi jeszcze ponad 20 innych świątyń, w tym m.in. świątynia Montu (boga wojny), Chonsu, Mut, Ptaha, bogini Opet i Ozyrysa.
Część z nich nie jest udostępniana dla zwiedzających.
Najbardziej okazałe obok świątyni Amona są świątynie jego żony – Mut i syna – Chonsu.
Pierwsza leży na południe od sanktuarium Amona-Re i łączy się z aleją sfinksów.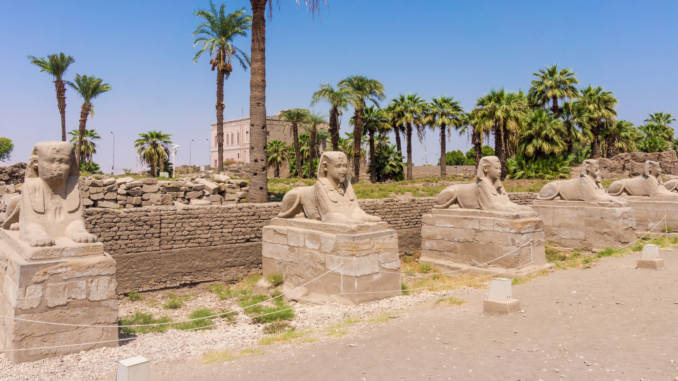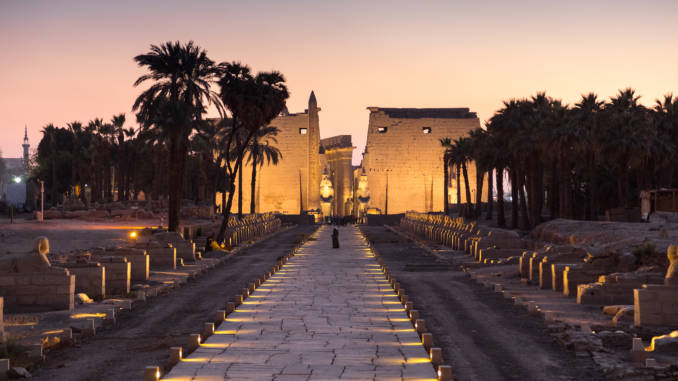 Mut przedstawiano zazwyczaj jako uskrzydloną kobietę, która symbolizowała opiekuńczość oraz patronowała królowym.
Druga świątynia należąca do Chonsu – boga księżyca odznacza się wielką kolumnadą oraz intrygującymi malowidłami, które przedstawiają sceny z egipskiego życia.
Na terenie Karnaku znajduje się również święte jezioro, w którym kapłani obmywali się przed przystąpieniem do odprawiania ceremonii.
W jakim stopniu wygląda ono dziś tak, jak tysiące lat temu nie wiadomo.
Archeologowie zakładają, że dwa tysiące lat temu jezioro było otoczone ogrodami, drzewami, kwiatami itp.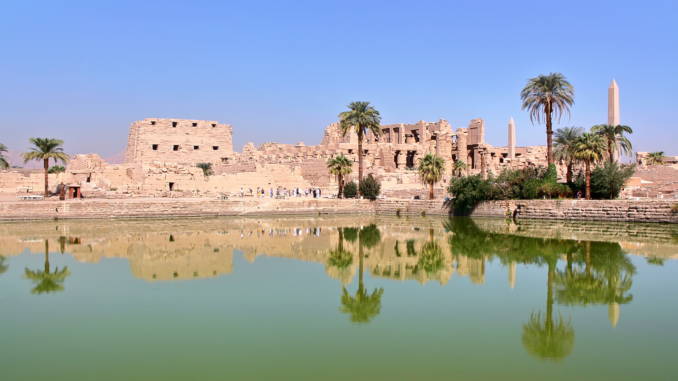 Niektóre stanowiły tylko ozdobę, a inne służyły do dostarczania warzyw, owoców i kwiatów. Im bliżej świątyni Amona, tym bardziej musiały być okazałe i ozdobne.
Prawdopodobnie cały kompleks liczył pierwotnie co najmniej 433 ogrody.
Tuż obok jeziora znajduje się kamienna rzeźba świętego skarabeusza Chepri, postawiona za czasów Amenhotepa III.
Według tutejszych wierzeń ten, kto siedmiokrotnie okrąży pomnik i wypowie trzy życzenia, doczeka się ich spełnienia…
TAJEMNICE STAROŻYTNYCH CYWILIZACJI 12: KARNAK. ŚWIATYNIA BOGÓW / OKRES GRECKO-RZYMSKI (DVD)+(KSIĄŻKA)  kliknij
Komentarze