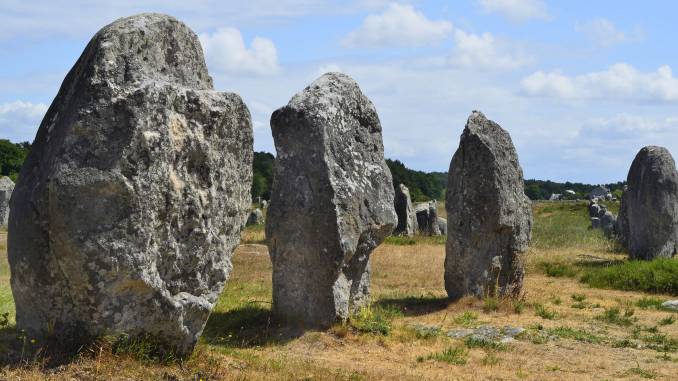 Kamienne rzędy w Carnac to jedna ze światowych zagadek. Tajemnica ta umiejscowiona jest w małym celtyckim miasteczku, znajdującym się na zachodzie Francji, u wybrzeży Oceanu Atlantyckiego. Wyjątkowe kamienne rzędy zlokalizowane w Bretanii są porównywane do słynnych kamiennych kręgów. Zastanawiające jest jednak, jaki cel przyświecał ich twórcom, którzy wkopali pionowo w ziemię setki obelisków, a wśród nich nawet takie o wadze kilkunastu ton? Zdaniem badaczy wszystkie te działania i twory, mimo że obecnie są zaskakujące i mogą zadziwiać, miały swój cel powiązany z prehistorycznym ruchem pielgrzymkowym.
Wyjątkowe w skali świata
Ustawione z kamieni szeregi na obszarze Bretanii są wyjątkowe z kilku powodów. Po pierwsze, archeolodzy datują ich postanie na około 5000-6000 lat wstecz.
Zdaniem badaczy pierwotnie ustawionych głazów mogło być około 10 tysięcy. Obecnie wizytówką regionu są rzędy kilku tysięcy kamieni.
Tego rodzaju twory nie są nowością ani w skali świata, ani samej Francji, jednak z całą pewnością Kamienne rzędy z Carnac należą do największych na świcie.
Niektóre kamienie, które wchodzą w skład tej niezwykłej konstrukcji, ważą nawet 20 ton. Przeprowadzono rekonstrukcję z zastosowaniem jedynie narzędzi, które były znane w czasach neolitu i udowodniono, że możliwe było wykucie takiego obelisku przez około 20 osób.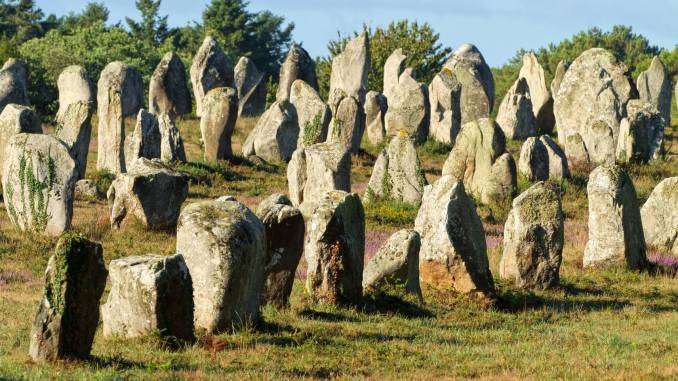 Jednak nadal zastanawiające jest ich pionowe ustawienie. Warunki naturalne w tym regionie pozwalały prehistorycznym budowniczym na wkopanie ich na niewielką głębokość około 20 centymetrów.
Konieczne było więc ich ustawienie w taki sposób, aby zachowały balans. Jednak one nadal stoją, pomimo faktu, iż upłynęły tysiące lat.
Liczne budowle megalityczne na świecie uległy naturalnemu lub celowemu zniszczeniu. W Carnac sytuacja wygląda zupełnie inaczej, gdyż o istnieniu kamiennych rzędów nie wiedziano aż do XVII wieku.
Wówczas chłopi usunęli niektóre z nich, przygotowując nowe miejsca pod uprawę, jednak poczynione wysiłki okazały się przewyższać uzyskane areały. Wcześniej kamienne rzędy skąpane były w gęstej roślinności i pozostawały nieznane.
Późno odkryte, późno badane
Archeolodzy zainteresowali się kamiennymi rzędami z Carnac dopiero w drugiej połowie XX wieku. Ten fakt stanowi przyczynę tak ograniczonej obecnie wiedzy o ich powstaniu i przeznaczeniu.
Znajdują się one na terenie 3 miejscowości: Le Menec, Kermario oraz Kerlescan. Istnieją różne teorie odnośnie do ich kształtu.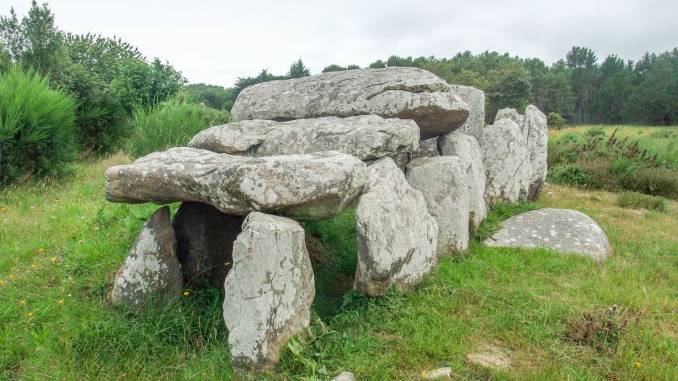 Niektórzy uznają, że poszczególne rzędy są ze sobą połączone i tworzą jeden długi ciąg. Inni natomiast, że każdy z szeregów jest osobny. Jaka jest prawda, na razie nie wiadomo.
Ile jest tych kamieni?
Największa koncentracja kamieni znajduje się nieopodal Erdeven, natomiast inne na północ od Carnac. 11 rzędów kamieni znajduje się w Le Menec, liczą łącznie 1099 sztuk, jest to najsilniej wysunięta na zachód część konstrukcji.
Pośród nich wyróżnia się jeden, który zdaje się niejako górować nad całą resztą. Określany jest "gigantem", ma 3,7 metra wysokości.
Na terenie Kermario obecnie znajduje się 1029 kamieni, które tworzą 10 rzędów. Całość ustawiona jest na długości 1120 metrów, a poszczególne kamienie znajdują się w około 1-metrowych odstępach.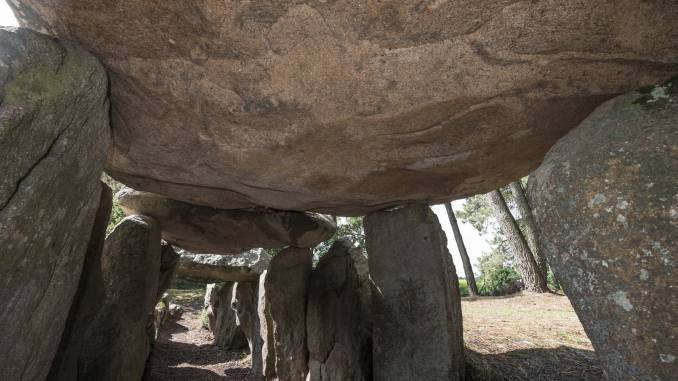 Ostatnią lokalizacją jest Kerlescan, gdzie możemy podziwiać 594 kamienie ustawione w 13 szeregach. Umieszczone zostały w tym przypadku na długości 880 metrów.
Układ i założenia konstrukcyjne
We wszystkich trzech lokalizacjach zastosowano podobne założenia. Największe kamienie znajdują się zawsze po zachodniej stronie i na wzniesieniu. Im bardziej przesuwamy się na wschód, tym kamienie są mniejsze i zlokalizowane bliżej siebie.
W okolicy znajdują się również inne kamienne obeliski. Jeden z nich pierwotnie ważył 340 ton i mierzył 20 metrów. Wędrując po okolicy, możemy podziwiać wielki Dolmen, który stoi oparty o ścianę jednego z gospodarstw.
W czasie poznawania tego terenu zobaczymy również inne, choć może mniej spektakularne kamienie, wydające się być porozrzucane po tym obszarze.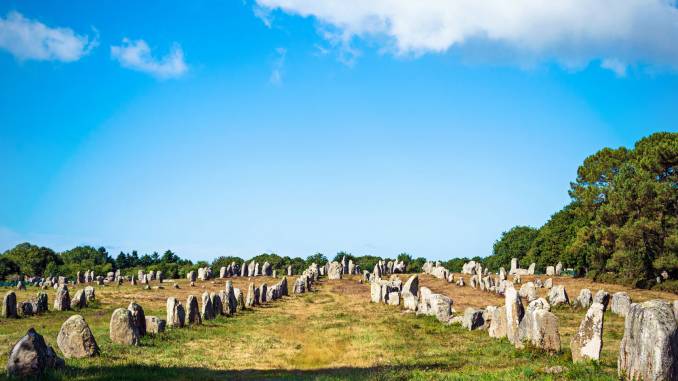 W odległości około 3 kilometrów na północ w Kerzerho znajduje się 10 rzędów, złożonych z 1130 głazów. W Saint Barbe pozostały 4 rzędy utworzone z 50 głazów, pozostałe usunęli rolnicy lub są pogrzebane w piasku.
Obecnie zachowały się jedynie najwyższe na wzniesieniu. Poszczególne lokalizacje, nie są ze sobą jednoznacznie połączone, jednak poznając je, można zaobserwować pewne prawidłowości i powtarzalność.
Jakie było przeznaczenie kamiennych szeregów?
Archeolodzy nie zyskali dotąd pewności co do swojej hipotezy. Jednak udało im się wykluczyć przeznaczenie głazów jako grobowców, nie służyły również celom militarnym.
Najbardziej prawdopodobne zdaje się być ich religijne zastosowanie. Obecnie, porównując do współczesnych praktyk, oceniane są jako rodzaj przystanków w czasie procesji.
W cywilizacji Megalitycznej czymś całkowicie normalnym było odbywanie rytualnych pielgrzymek i temu zdaje się służyć to niezwykłe miejsce.
Niezrównane i nie do końca wyjaśnione pozostaje silne oddziaływanie na podświadomość tego, co obserwujemy w Carnac.
Ukazane są na nich skojarzenia przywodzące na myśl ludzkie twarze lub zwierzęta. W Erdeven znajduje się cała seria kamieni, które wydają się być uformowane w taki sposób, że nieustannie spoglądają na inne.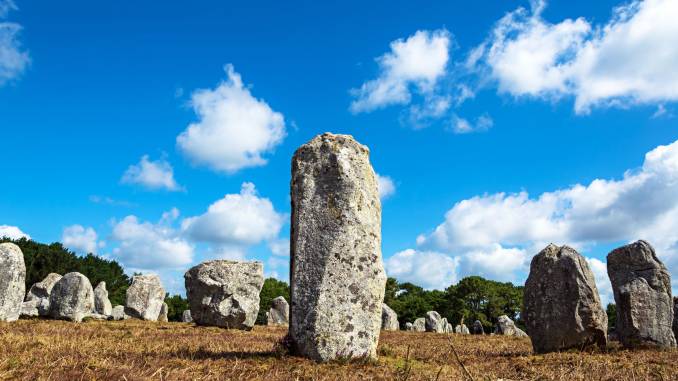 Z pewnością osoby, które tworzyły te podobizny, zdawały sobie sprawę z powstających odniesień, nie wiemy jednak, do kogo należały twarze. Jedna z hipotez mówi o odwzorowywaniu wizerunków przodków i podążaniu ich drogą.
Przodkowie byli wówczas traktowani na równi ze świętymi. W takim odniesieniu ukazywanie ich wizerunków w kamieniu i pielgrzymowanie do nich oddawanie czci wydaje się logicznym i uzasadnionym założeniem.
W tak określonym kontekście każdy z kamieni miałby być odzwierciedleniem i miejscem zamieszkiwania jednej duszy.
Legenda
Jedna z miejscowych legend przedstawia założenie, że kamienie stanowią zamienionych w kamienie maszerujących rzymskich legionistów. Czynu takiego miał dokonać św. Korneliusz lub Merlin, w czasie ucieczki przed ich wielką siłą.
Niezależnie od tego, jaka jest dokładnie prawda odnośnie do powstania tych niezwykłych kamiennych szeregów, z całą pewnością te w Carnac warto zobaczyć na własne oczy i ujrzeć ich imponujące rozmiary i pewnego rodzaju potęgę, z jaka się kojarzą.
Komentarze