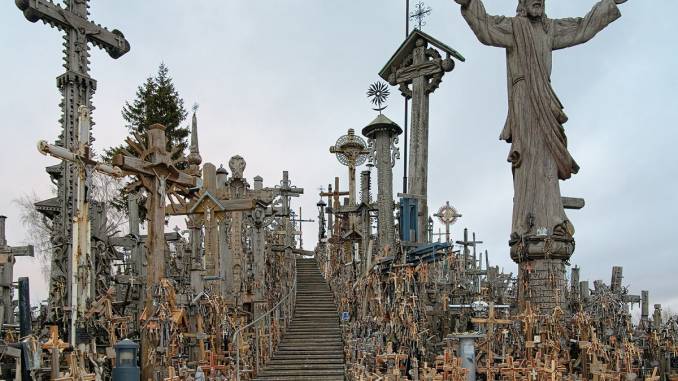 Góra Krzyży to niezwykłe miejsce kultu religijnego na Litwie. Zlokalizowane jest na Żmudzi około 210 kilometrów od Wilna. Wzgórze Kryžiu kalnas umiejscowione jest w odległości około 12 kilometrów od miejscowości Szawle. Często jest potocznie nazywane litewską Golgotą, nosi również inne określenia jak: Góra Modłów, Góra Zamknową czy też Święta. Mimo wszystko trudno nazwać to miejsce górą, gdyż jest to niewielkie wzniesienie o wysokości około 10 metrów.
Skąd to miejsce?
W roku 1430 ustawiona została w tym miejscu kapliczka, która miała upamiętniać przyjęcie chrztu przez mieszkańców Żmudzi.
Lokalizacja ta była więc w pewnym stopniu, od samego początku wyjątkowa pod względem kultu religijnego.
Przypuszcza się, że pierwsze krzyże zostały w tym miejscu ustawione po zakończeniu powstania listopadowego i ich celem było upamiętnienie i uczczenie tych, którzy ponieśli śmierć w czasie walki z wrogiem.
W 1863 roku, w trakcie przebiegu zrywu, dokładnie w tym miejscu dokonywane były egzekucje powstańców. Później miejscowi rozpoczęli ustawianie krzyży, które miały symbolizować ich bohaterstwo.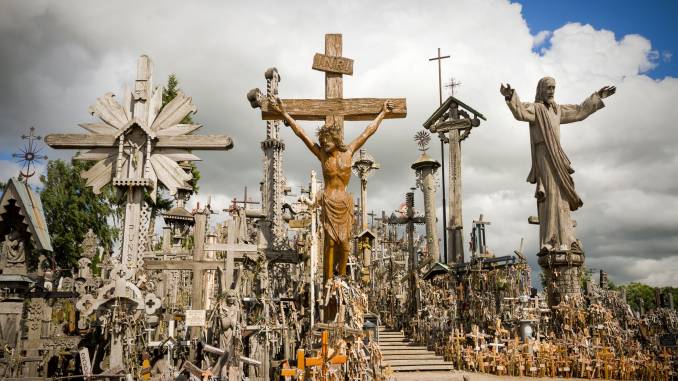 Połączenie miejscowej kapliczki z lokalizacją egzekucji zdaje się przywodzić na myśl nawiązanie do Biblii, a dokładnie do śmierci Jezusa na krzyżu.
Stąd kult ustawiania kolejnych symboli w tym miejscu, szczególnie przez ludzi wierzących i zwracających się do Boga wydaje się być w pełni uzasadniony i zrozumiały.
Uznali oni, że to właśnie Wszechmogący wyznaczył to miejsce jako święte i że to właśnie tu mogą się z nim spotkać wierni.
Nagromadzenie krzyży
Przez lata krzyży przybywało. Ludzie stawiali je jako pamiątkę po osobach, które odeszły, lub w ich intencji.
Z czasem do Góry Krzyży zaczęto organizować pielgrzymki religijne, nie tylko z samej Litwy. Wierni przywozili ze sobą krzyże lub różańce, które zostawiali w tym miejscu, jako rodzaj ofiary prosząc Boga o pomoc w intencji, w której przybyli, np. o łaskę lub o zdrowie.
Miejsce to nigdy nie stanowiło cmentarza i nadal nim nie jest. Krzyże stanowią tu jedynie wyznacznik silnej wiary i modlitwy.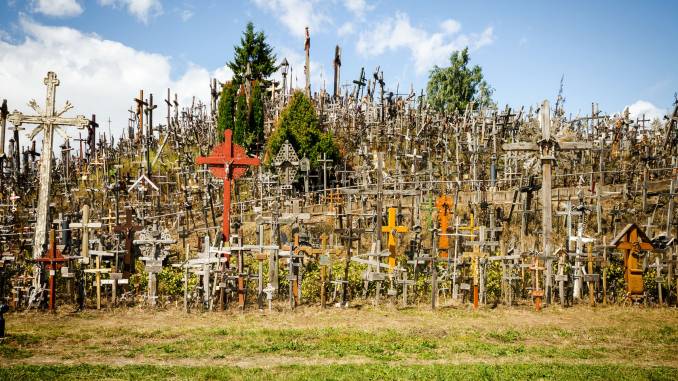 W roku 1900 na górze ustawionych było 130 krzyży, a już w 1923 około 400. Sława świętego miejsca na mapie Europy wzrastała, czego skutkiem było, że w 2007 roku doliczono się w tej lokalizacji około 200 tysięcy krzyży.
Od roku 1997 na Litewskiej Golgocie w ostatnią niedzielę lipca organizowany jest odpust.
Zagrożenie istnienia dla krzyży
Czasy sowieckie stanowiły okres rozległej ateizacji i prób odwrócenia ludzi od wiary. W tym czasie przeprowadzane były liczne akcje całkowitego usunięcia i zlikwidowania Góry Krzyży.
Władzą zależało na ich trwałym pozbyciu się i zapomnieniu. Drewniane krzyże były palone, betonowe zakopywane w ziemi, zaś metalowe wywożone na złom.
Jednak ludzie, w nocy po kryjomu, nieustannie ustawiali nowe krzyże. W ten sposób ukazywali swoją wiarę i to, że nie dadzą jej sobie odebrać.
Powstał straszny plan zatopienia góry, rozpoczęto budowę tamy, której całe szczęście nie dokończono.
Ważny krzyż
Na tym symbolicznym wzgórzu znajduje się również krzyż ofiarowany przez papieża Jana Pawła II. Opatrzony jest granitową tablicą, na której wyryte są słowa "Dziękuję Wam, Litwini, za tę Górę Krzyży, która świadczy przed narodami Europy i całego świata o głębokiej wierze ludzi tego kraju".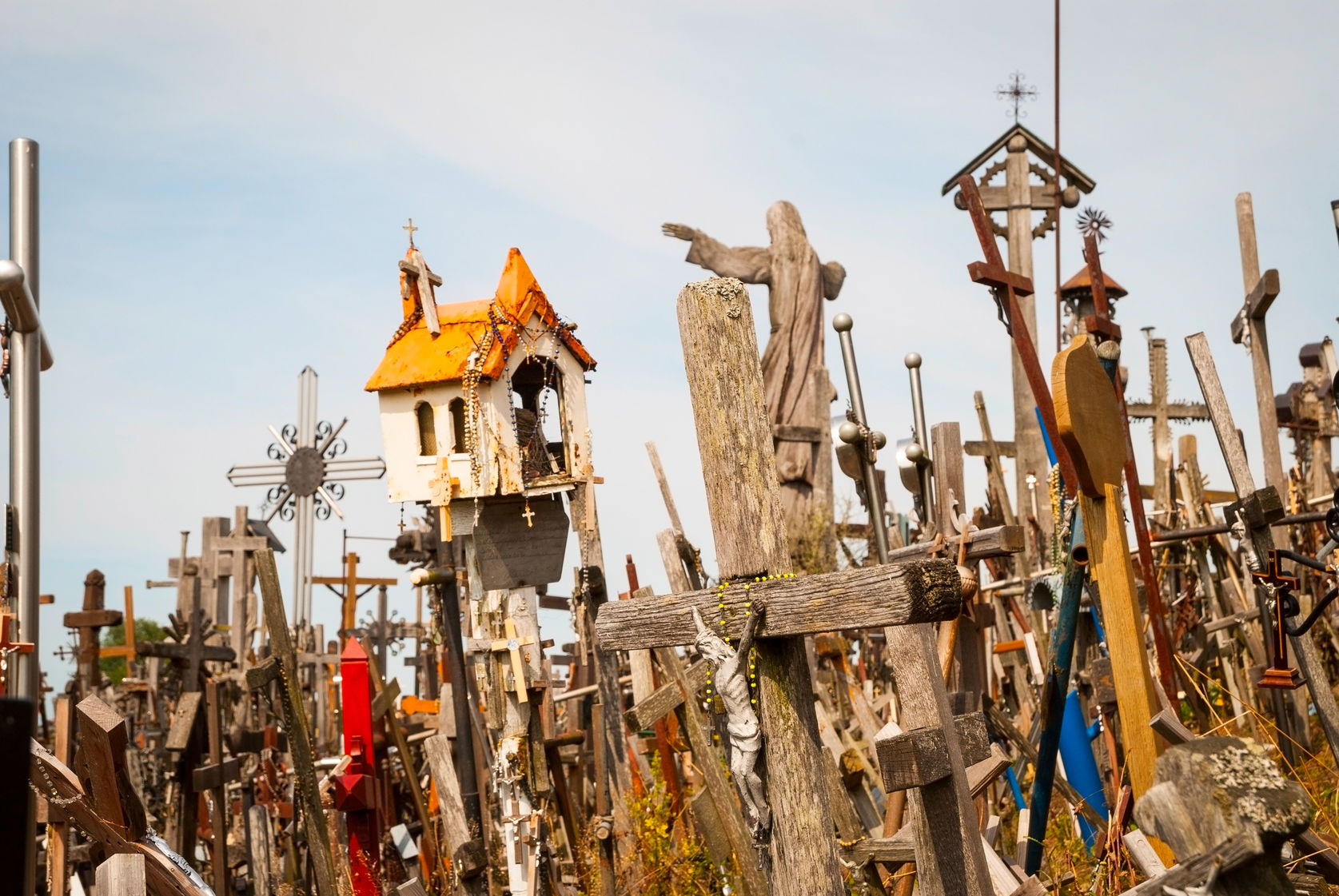 Jan Paweł II w trakcie swojego pontyfikatu odbył tylko jedną pielgrzymkę na Litwę we wrześniu 1993 roku. Wówczas celebrował mszę na Górze Krzyży.
Opieka nad Górą Krzyży
Jan Paweł II przyczynił się również do stworzenia religijnej opieki dla Góry Krzyży. W czasie swojej wizyty we włoskim Sanktuarium La Verna przekonywał franciszkanów do utworzenia eremu, czyli rodzaju samotni w tym miejscu religijnego kultu.
Wzniesiony został klasztor, który poświęcono 8 lipca 2000 roku. W skład budynku wchodzi kilka cel klasztornych, kaplica oraz biblioteka.
Własność wiernych z całego świata
Obecnie Góra Krzyży stanowi miejsce kultu religijnego, ale również pamięci, bólu, nadziei oraz modlitwy. W oczach Litwinów jest to narodowe sanktuarium, wyjątkowe miejsce, wybrane i uświęcone przez samego Boga.
Można spotkać się z twierdzeniem, iż jest to lokalizacja, w której dawni kapłani dokonywali rozpalania świętego ognia, miejscowa ludność natomiast składała ofiary pogańskim bogom.
Zebrane w tym miejscu krzyże pochodzą od pielgrzymów z całego świata, którzy wierzą, że modlitwa i taka skromna, symboliczna ofiara – krzyż lub różaniec są w stanie pomóc im w komunikacji z Bogiem.
Za ich sprawą ilość krzyży w tym miejscu nieustannie się powiększa, co czyni je jeszcze bardziej wyjątkowym.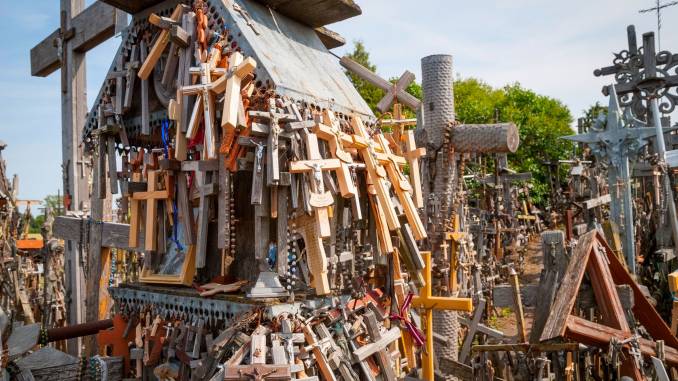 Z pewnością znajdą się sceptycy i krytykanci takiego kultu. Pewne jest jednak, że większość ludzi potrzebuje wiary do życia.
Daje im ona nadzieję, ukazuje sens ich życia, czasem pomaga poradzić sobie w trudnych sytuacjach życiowych, jak również wesprzeć się, gdy nie potrafimy się podnieść.
Religia i wszelkie poprzedzające ją na świecie kulty i zabobony pokazują, że człowiek musi wierzyć w cokolwiek, aby dobrze funkcjonować, bo element wiary istniał w naszych społeczeństwach od zawsze.
Kiedy wyruszyć w pielgrzymkę na Górę Krzyży?
Odbycie takiej podróży ma charakter przede wszystkim duchowy, tak więc powinniśmy czuć się emocjonalnie gotowi to pielgrzymowania.
Czasem będzie to rodzaj oczyszczenia, innym razem podziękowania, a jeszcze innym prośby o wstawiennictwo.
Nie istnieją jednak lepsze i gorsze powody, bo to w naszym indywidualnym odczuciu pozostawienie krzyża i modlitwa na Górze Krzyży musi stać się rodzajem spełnienia.
Komentarze