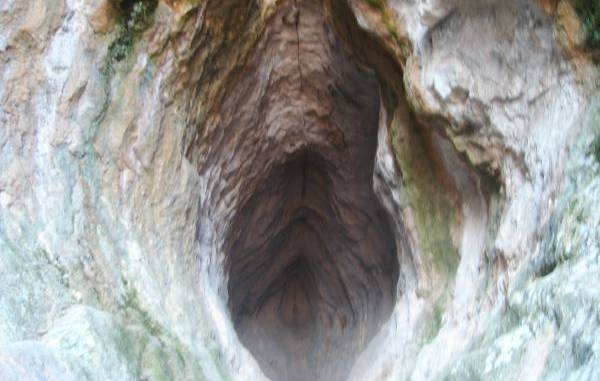 Jaskinia Utroba w Bułgarii umiejscowiona jest w obrębie skalistej części Tangradak Kaya, nieopodal wsi Nenkovo, w odległości około 20 kilometrów od Kardzhali. Aby zyskać możliwość podziwiania tej nietypowej, sztucznej jaskini należy zjechać z drogi prowadzącej do Kardzhali w kierunku wiosek Dazhdovnitsa oraz Padartsi. Przemierzając malowniczą trasę biegnącą wzdłuż tamy Kardzhali, w odległości około kilometra od kanału Borovitsa, dojdziemy do żwirowej drogi. W tym miejscu wchodzimy na oznakowaną ścieżkę, którą można poruszać się jedynie pieszo. Jest ona niedostępna dla wszelkich pojazdów.
Szlak, którym będziemy szli, jest dość komfortowy, z uwagi na swoją dużą szerokość.
Cechuje go jednak również znaczny poziom stromizny, co sprawia, że wędrówka może okazać się nie najłatwiejsza.
Po drodze znajdują się trzy znacznych rozmiarów altany, liczne ławki oraz schronienie wraz z kominkiem pod szczytem.
W tych lokalizacjach możemy odpocząć.
Do miejsca, z którego rozpoczniemy wędrówkę, możemy dojechać własnym samochodem, jednak możliwe jest również skorzystanie z transportu publicznego.
Autobus z Kardzhali, do którego łatwo przedostać się każdemu turyście regularnie kursuje do wioski Nenkovo.
Co możemy podziwiać na miejscu?
Jaskinia Wombów, inaczej Утроба, Utroba znajduje się w Górach Rodopy.
Jej niezwykłość związana jest z jej kształtem oraz kultem tego miejsca.
Religia tracka (Orphyzm) wyróżniała się faktem, że miejsca czci ulokowane były zawsze na szczycie góry, gdzie znajdowały się jaskinie z mżącą wodą.
Tak samo jest i w tym przypadku.
Woda kapie z jaskini Utroba i zbiera się w niewielkim basenie znajdującym się u podstawy, nigdy nie wysycha.
Cała ta sztuczna struktura skalna jest w sposób całkowicie dosłowny ukształtowana jako żeńskie organy płciowe.
Ma ona długość 22 metrów.
Pierwsze 16 zostało utworzone w sposób naturalny w wyniku podziału i rozpadu skał w tej lokalizacji, wywołanego przez, chociażby czynniki atmosferyczne.
Kolejne 6 metrów zostało jednak skrupulatnie wydrążonych, a ich kształt dopasowany w taki sposób, aby stał się idealnym odwzorowaniem damskich genitaliów, obrazem anatomicznego elementu każdej kobiety.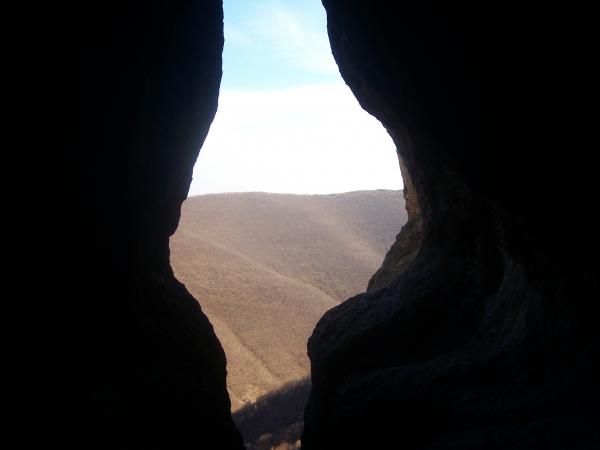 Samo wejście do jaskini Utroba ma około 3 metrów wysokości, zaś 2,5 szerokości.
Daje to możliwość przedostawania się promieni słonecznych do wnętrza.
Jednak rola światła jest tu znacznie większa i ma swoją symbolikę.
Samo wejście do jaskini zostało tak zaprojektowane, że promienie słońca wpadają do wnętrza pod określonym kątem.
Przedostają się aż do macicy i trafiają w sam środek ołtarza, prowadząc do symbolicznej inseminacji, czyli zapłodnienia.
Sztuczne zakończenie jaskini znajduje się na jej północnym krańcu, stanowi ono symbol kobiecego łona.
Trakowie czcili tę jaskinię, stanowiła ona dla nich symbol płodności, łona, poczęcia i odrodzenia.
Naukowcy uważają, że ta nietypowa struktura powstała XI-X w. p.n.e.
Na terenie Bułgarii znajdujemy również inne jaskinie, uformowane na kształt macicy.
Jednak żadna z nich nie jest równie duża, jak ta z Utroba.
Jaskinie stanowiły miejsce kultu oraz licznych rytuałów, które miały prowadzić do płodności i poczęcia. Ich rola jest jak najbardziej uzasadniona.
Pochodzą z czasów starożytnych i są powiązane z nurtem religijnym.
Trakowie ukształtowali ten nietypowy, zaskakujący, a dla niektórych osób nawet gorszący otwór jaskini około 1000 r. p.n.e., dla nich z pewnością było to miejsce święte, silnie związane z kultem nowego życia.
Miało im to zapewnić przeżycie, przetrwanie i potomstwo, o które w tamtych czasach było zdecydowanie trudniej.
Wiele dzieci rodziło się martwych, często zdarzały się poronienia, a dodatkowo wiele kobiet nie przezywało porodu.
Do odkrycia jaskini Utroba na terenie Bułgarii doszło w 2001 roku.
Specjaliści chętnie rozpoczęli jej badanie i zgłębianie tajemnicy jej powstania, jak również tego, iż przetrwała w tak dobrze zachowanym stanie przez tysiąclecia.
Promienie słońca w jaskini
Kąt ustawienia skał, jak już pisaliśmy, został dokładnie przemyślany.
Jednak do symbolicznego zapłodnienia światłem nie dochodzi codziennie.
Jedynie jeden dzień w roku umożliwia, przedostanie się promieni słonecznych aż do dna jaskini. Codziennie wnikają do wnętrza.
Jednak właściwe zadanie spełniane jest raz do roku o godzinie 12.
Niektórzy twierdzą, iż ma to miejsce w dzień Bożego Narodzenia (25 grudnia), inni wskazują na jeden z lutowych dni.
Tego dnia dochodzi do symbolicznego zapłodnienia łona Matki Bogini, której poświęcone jest całe sanktuarium.
W tym dniu promienie słońca sięgają aż na 22 metry wgląd jaskini.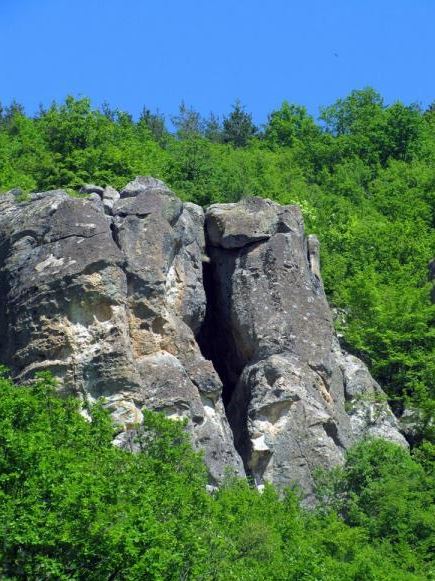 Dochodzi wówczas do oświetlenia ołtarza, po którym ewidentnie widzimy, że jest dziełem rąk ludzkich.
Jego wysokość wynosi około 1 metra i 30 centymetrów.
Na samym jego środku zlokalizowana jest niewielka dziura.
W chwili, gdy promienie słońca sięgają tej dziury, dochodzi do dokonania się rytuału i powstania nowego życia.
Jest to tzw. sojusz pomiędzy Matką Boginią a Słońcem.
Ludzie wierzą po dzisiaj w siłę działania tej jaskini.
Żyjące współcześnie, bezdzietne pary, które bezskutecznie starają się o poczęcie, często decydują się odwiedzić jaskinię.
Niektóre z nich dbają, aby przebywać w tym miejscu w czasie dopełniania się rytuału.
W ten sposób chcą doprowadzić do spełnienia swojego marzenia o powiększeniu rodziny.
Jak wskazują liczne relacje, bardzo często takie postępowanie przynosi zamierzony skutek.
Idziemy do jaskini!
Z całą pewnością jaskinia Utroba jest miejscem niecodziennym i nietypowym.
Wiele osób odwiedza ją z czystej ciekawości, inne liczą na możliwość skorzystania z jej nieprawdopodobnej mocy.
Gdy już przemieścimy się w okolice pieszego szlaku prowadzącego do jaskini, musimy liczyć się z koniecznością odbycia 40-60-minutowego, dość wyczerpującego marszu.
Gdy pokonamy tę odległość, w celu dostania się do jaskini zachodzi konieczność przejścia po kilku drewnianych stopniach, które niekiedy bywają zgniłe, z uwagi na warunki, jakie panują w tym miejscu i znaczący poziom wilgotności.
Z tego powodu zaleca się dużą ostrożność w czasie podejścia.
Dobrze jest również nie zapuszczać się tutaj w pojedynkę, gdyż w razie sytuacji wystąpienia niebezpieczeństwa zdecydowanie trudniej będzie się wydostać.
Jaskinia Utroba jest jednym z bardziej zaskakujących miejsc na ziemi.
Została stworzona sztucznie, jednak stała się miejscem kultu zarówno kobiecości, jak i takim, które ma nam umożliwić zostanie rodzicami i doprowadzić do poczęcia.
Dziś mamy wprawdzie mamy wiele metod medycyny konwencjonalnej, mogących nam to umożliwić, jednak w wielu przypadkach efekt jaskini może zdziałać cuda, głównie jako forma placebo, jednak co ważne z pewnością wycieczka w to święte dawniej miejsce nam nie zaszkodzi.
WSPARCIE NIEZALEŻNYCH PORTALI.
Komentarze