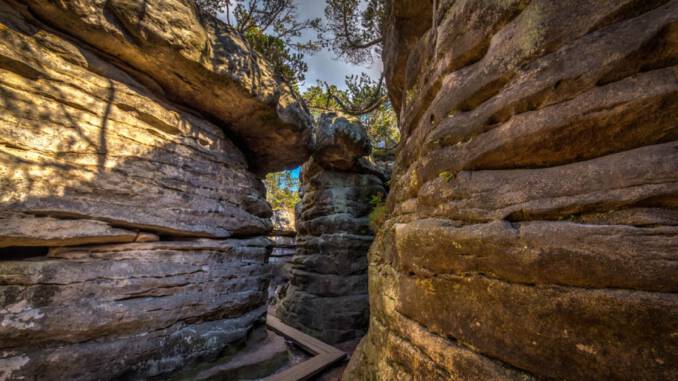 Błędne Skały to niepowtarzalny zakątek znajdujący się w Parku Narodowym Gór Stołowych. Miejsce to trzeba koniecznie odwiedzić, będąc w tej części Sudetów. Te jedyne w swoim rodzaju formacje stanowią swoisty labirynt skalny obejmujący grzbiet Skalniaka o wysokości 915 m n.p.m. To dzieło natury w dalekiej przeszłości zostało wyrzeźbione w piaskowcach przez wodę oraz liczne wiatry.
Bardzo wąskie korytarze
Chroniony obszar Błędnych Skał zwanych też często Wilczymi Dołami, obejmuje powierzchnię około 22 hektarów i znajduje się na wysokości 853 m n.p.m.
Labirynt ten jest położony na obszarze Parku Narodowego Gór Stołowych nieopodal Bukowiny Kłodzkiej oraz granicy z Czechami.
Błędne skały to niesamowite bloki skalne tworzące kilkusetmetrową trasę turystyczną o niepowtarzalnym uroku.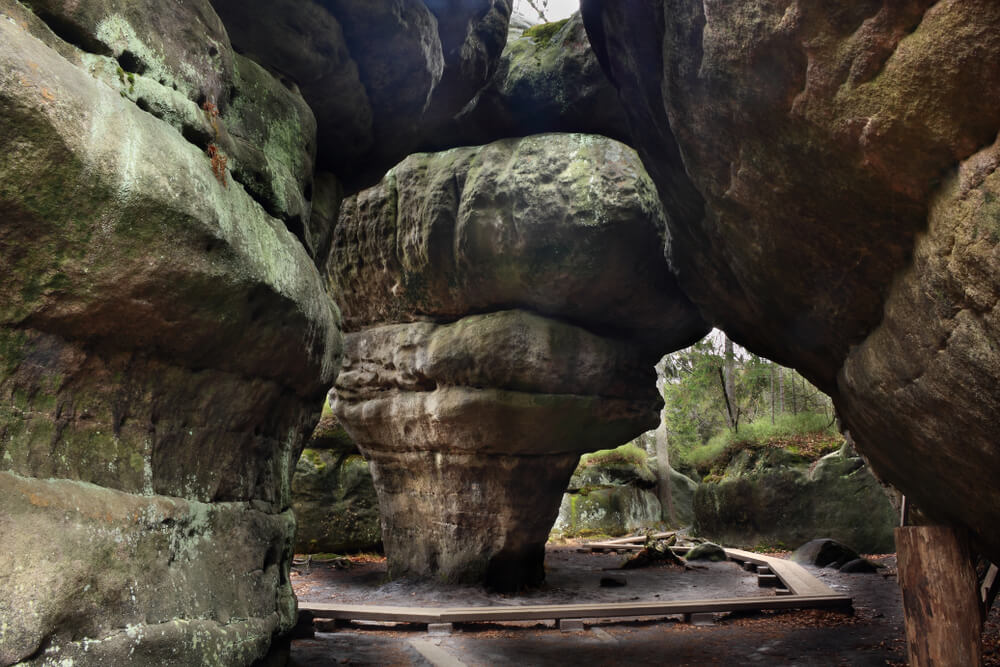 Maszerując wśród formacji skalnych, w niektórych miejscach turyści muszą się przeciskać pomiędzy wąskimi szczelinami.
Wysokość znajdujących się tutaj korytarzy wynosi od 6 do 8 metrów, natomiast ich szerokość jest bardzo zróżnicowana.
Na trasie nie brakuje miejsc, w których szerokość korytarza wynosi tylko kilkadziesiąt centymetrów.
Osobliwe formy skalne
Ten skalny obszar Gór Stołowych obejmuje swoim zasięgiem zespół osobliwych form skalnych, które zostały wytworzone na skutek wietrzenia piaskowca.
Błędne Skały stanowią unikatowy labirynt niezwykle wąskich szczelin oraz zaułków oddzielających poszczególne bloki skalne.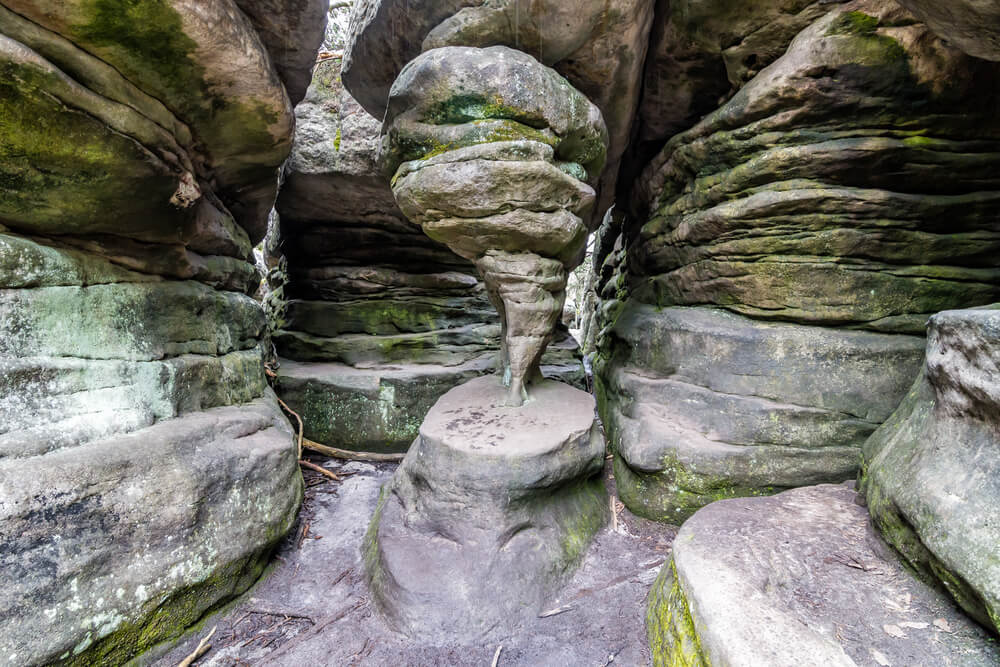 Większość z nich ma nawet własne nazwy, np. "Skalne Siodło", "Kurza Stopka", "Labirynt", "Tunel" czy też "Wielka Sala".
Na terenie Błędnych Skał znajduje się również niezwykle ciekawy punkt widokowy, na platformie o nazwie "Skalne Czasze".
Z tego miejsca każdy turysta może podziwiać: Szczeliniec Wielki i Mały, Broumovską Vrchovinę, miejscowość Machov, a przy dobrej widoczności można nawet zobaczyć Karkonosze.
W jaki sposób uformowały się Błędne Skały?
Powstanie Błędnych Skał to czyste dzieło natury.
W pierwszej kolejności na dnie górnokredowego morza osadziły się bardzo grube pokłady piaskowców.
Następnie w trzeciorzędzie, w okresie orogenezy alpejskiej zostały one wraz z całymi Sudetami wydźwignięte.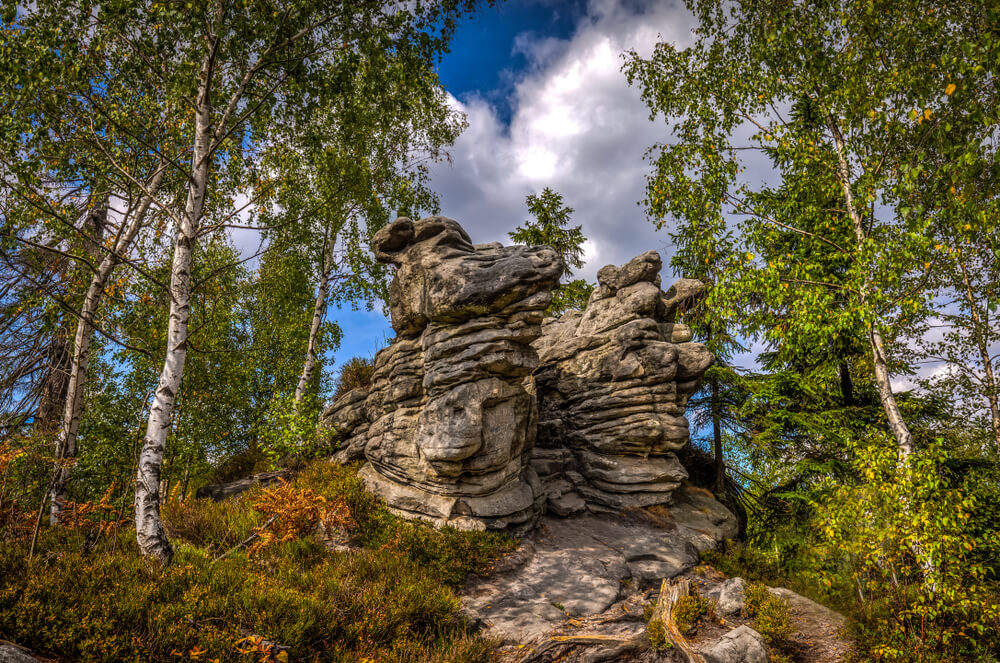 Po tym czasie rozpoczął się długotrwały okres erozji oraz odprowadzania zwietrzeliny.
Z powodu nierównej odporności warstw skalnych na wietrzenie i poszerzanie poszczególnych szczelin, które to przecinały masywy w trzech kierunkach, uformowały się znane nam dziś bardzo głębokie korytarze o różnorodnej szerokości.
Legendy i ciekawostki
Błędne Skały oprócz Szczelińca są najciekawszą atrakcją Gór Stołowych.
Kształt labiryntu wijącego się pomiędzy skałami wygląda do tego stopnia zjawiskowo, że miejsce to stanowiło doskonałą scenerię dla kilku filmów, np. "Przyjaciela Wesołego Diabła" oraz "Opowieści z Narnii".
W pobliżu Błędnych Skał znajduje się "Głaz Trzech Krzyży".
Niegdyś miejsce to było pilnie strzeżonym punktem celnym pomiędzy hrabstwem kłodzkim a Królestwem Czech.
Na głazie znajduje się szereg dat, najstarsza z nich to rok 1616.
Jak głosi legenda, owe daty ryto w celu upamiętnienia przyłapania przemytników.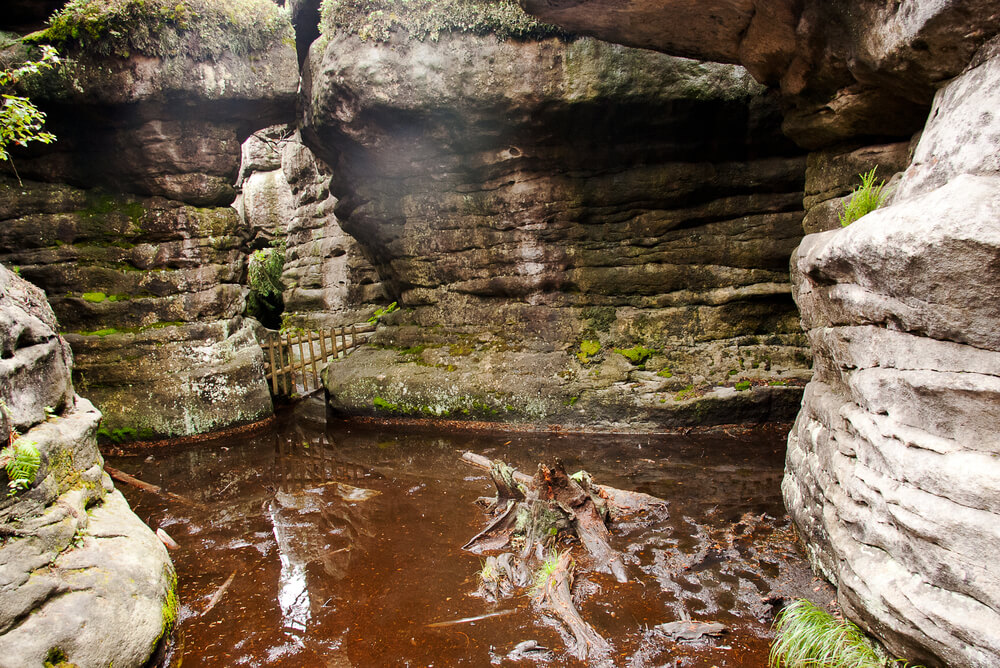 Z powstaniem Błędnych Skał wiąże się również pewna legenda.
Otóż niegdyś pod Skalniakiem bardzo często zbierali się poganie, aby oddawać cześć bóstwom.
Zmierzali tam po to, aby wyprosić szczególne łaski dla siebie, modlili się o dobre plony oraz powodzenie w życiu osobistym.
Pewnego dnia natrafili na Liczyrzepę, którego to namawiali, aby wspólnie z nimi oddał cześć bożkom.
Ten mocno rozgniewany rozstąpił ziemię, natomiast poganie powpadali w jej szczeliny.
W taki oto sposób w miejscu dawnej równiny powstały dziwne formacje skalne.
⇒ Czytaj także: GÓRA RORAIMA – SKALNY "DOM BOGÓW"
Komentarze