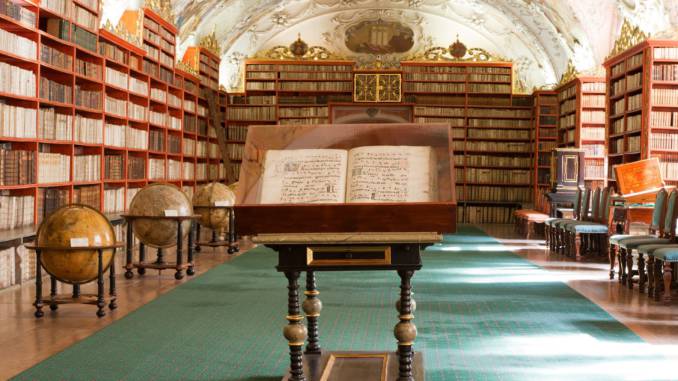 Biblioteka Strahovska jest jedną z dwóch bibliotek w Pradze, pochodzących z okresu romańskiego. Biblioteka mieści się w ogromnych salach, których sufity zdobią przepiękne freski z okresu baroku. Znajduje się tu największy, najstarszy i najcenniejszy księgozbiór w kraju. Unikatowe zbiory, kolekcje archeologiczne oraz wystrój biblioteki to prawdziwe, unikatowe arcydzieła na skalę światową.
Praski klasztor na Strahovie
W czeskiej stolicy turyści zwiedzać mogą wiele ciekawych, unikatowych zabytków.
Na uwagę zasługuje m.in. praski klasztor na Strahovie (Strahovský klášter), który został założony w 1140 r. przez księcia Władysława II i jego żonę Gertrudę, z pomocą biskupa praskiego Jana i biskupa ołomunieckiego Jindricha Zdika.
Położony jest na szczycie wzgórza, na południowy zachód od Zamku Praskiego.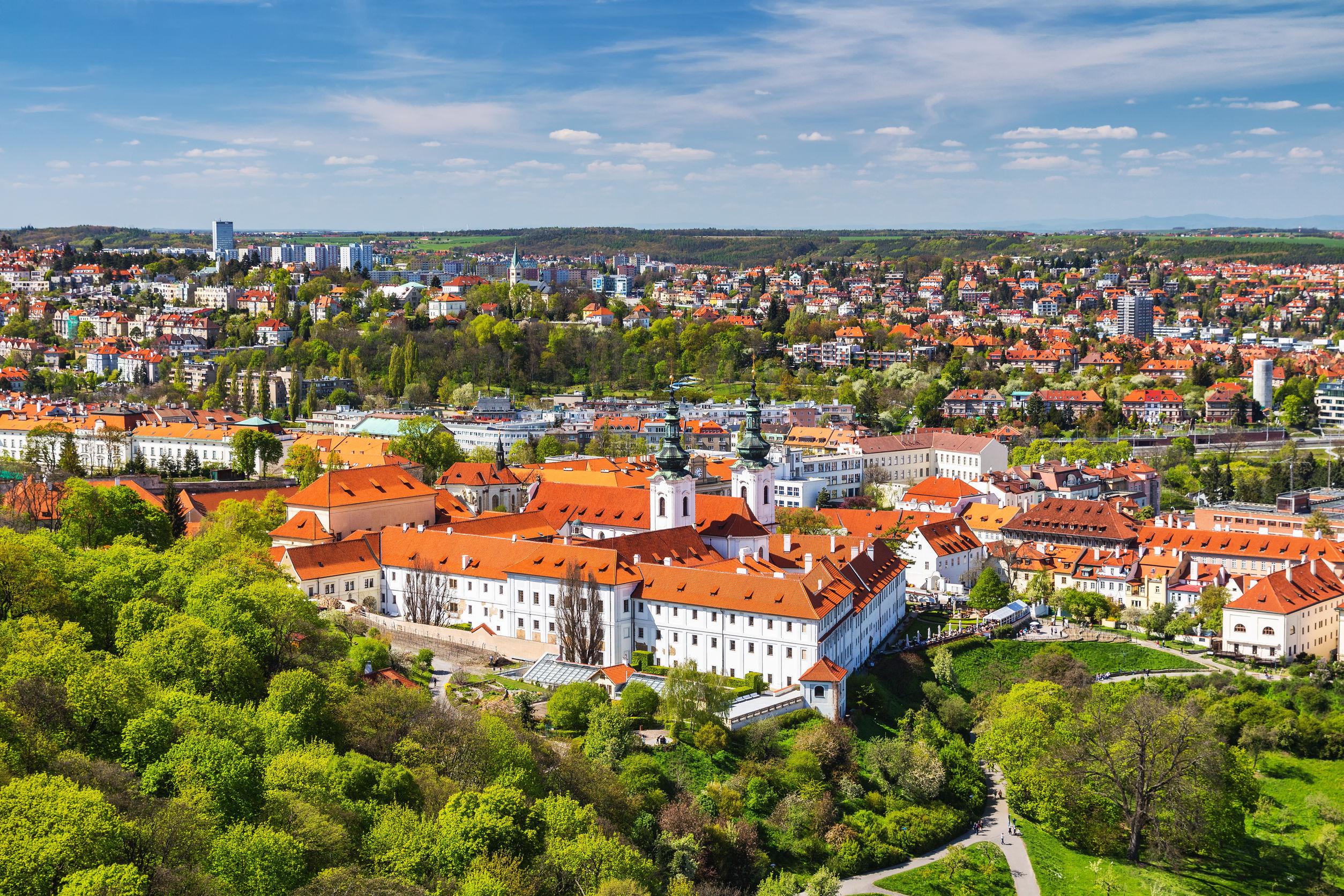 Klasztor przetrwał liczne pożary, wojny i władzę komunistyczną, przez którą w 1950 roku został zamknięty, a wielu zakonników wówczas aresztowano.
Norbertanie mogli tu powrócić dopiero po 40 latach.
Obecnie w klasztorze, który należy do najstarszych budowli romańskich Europy, modli się kilkudziesięciu norbertanów, ale na szczególną uwagę zasługują nie sami mieszkańcy klasztoru, a tamtejsza biblioteka.
Biblioteka Strahovska i unikatowy księgozbiór
Biblioteka Strahovska jest jedną z nielicznych bibliotek, które mogą zrekonstruować swoją nieprzerwaną historię od XII wieku i jedną z dwóch (obok Biblioteki Kapitulnej na Hradczanach) w Pradze, pochodzących z okresu romańskiego.
Biblioteka mieści się w ogromnych salach, których sufity zdobią przepiękne freski z okresu baroku.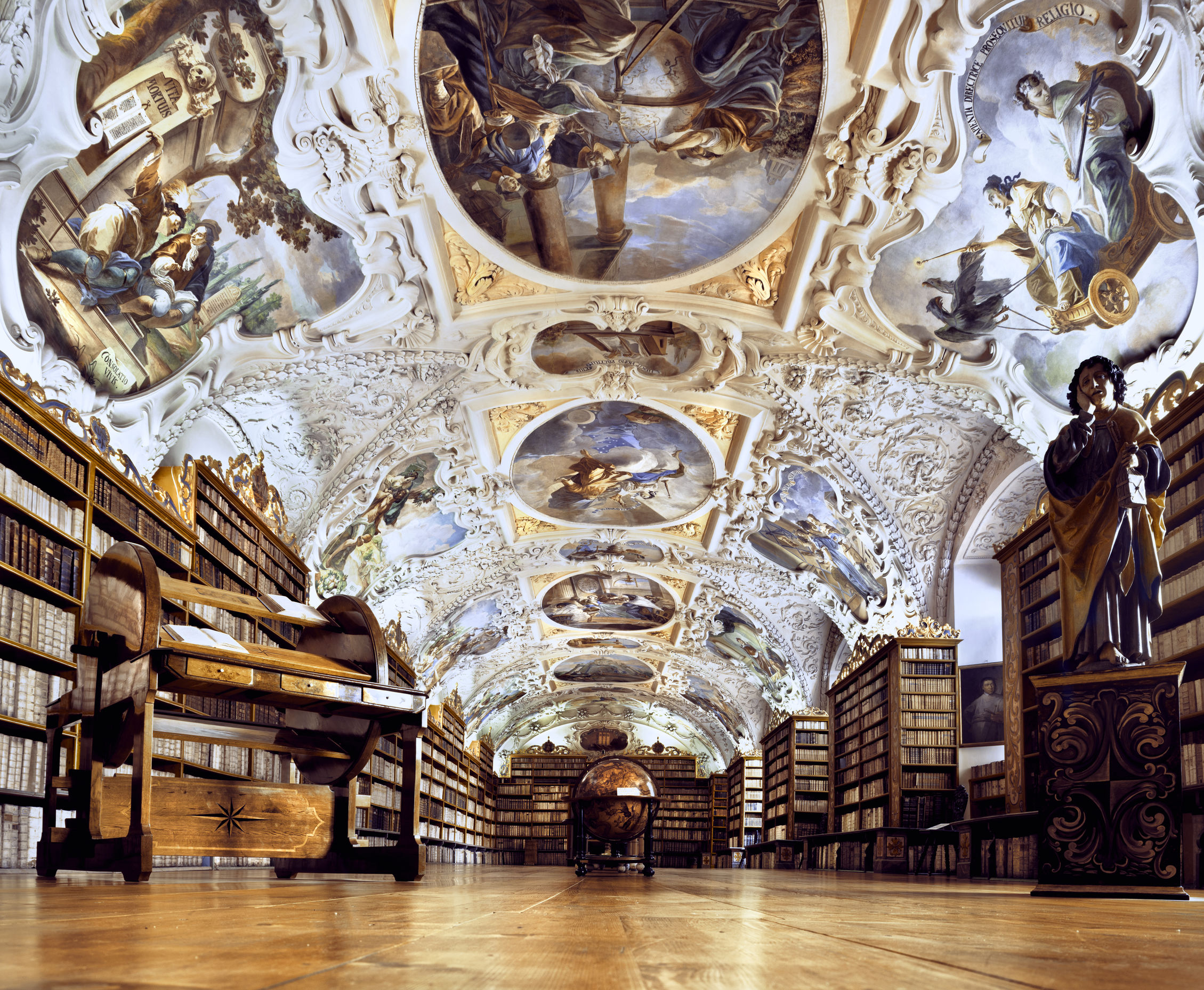 Znajduje się tu największy, najstarszy i najcenniejszy księgozbiór w kraju.
Zgromadzono tu ponad 130 000 pozycji, z czego 2500 książek opublikowanych przed rokiem 1500, razem z 3000 rękopisów.
Najstarszą książką jest pochodząca z IX wieku Ewangelia Strahowska z Trewiru z lat 860-865, do której wszyto cztery całostronicowe podobizny Ewangelistów.
Niezwykle ciekawa jest ksyloteka, czyli biblioteka dendrologiczna z XIX wieku.
Zawiera ona 68 woluminów, z których każdy jest monografią poszczególnych gatunków drzew.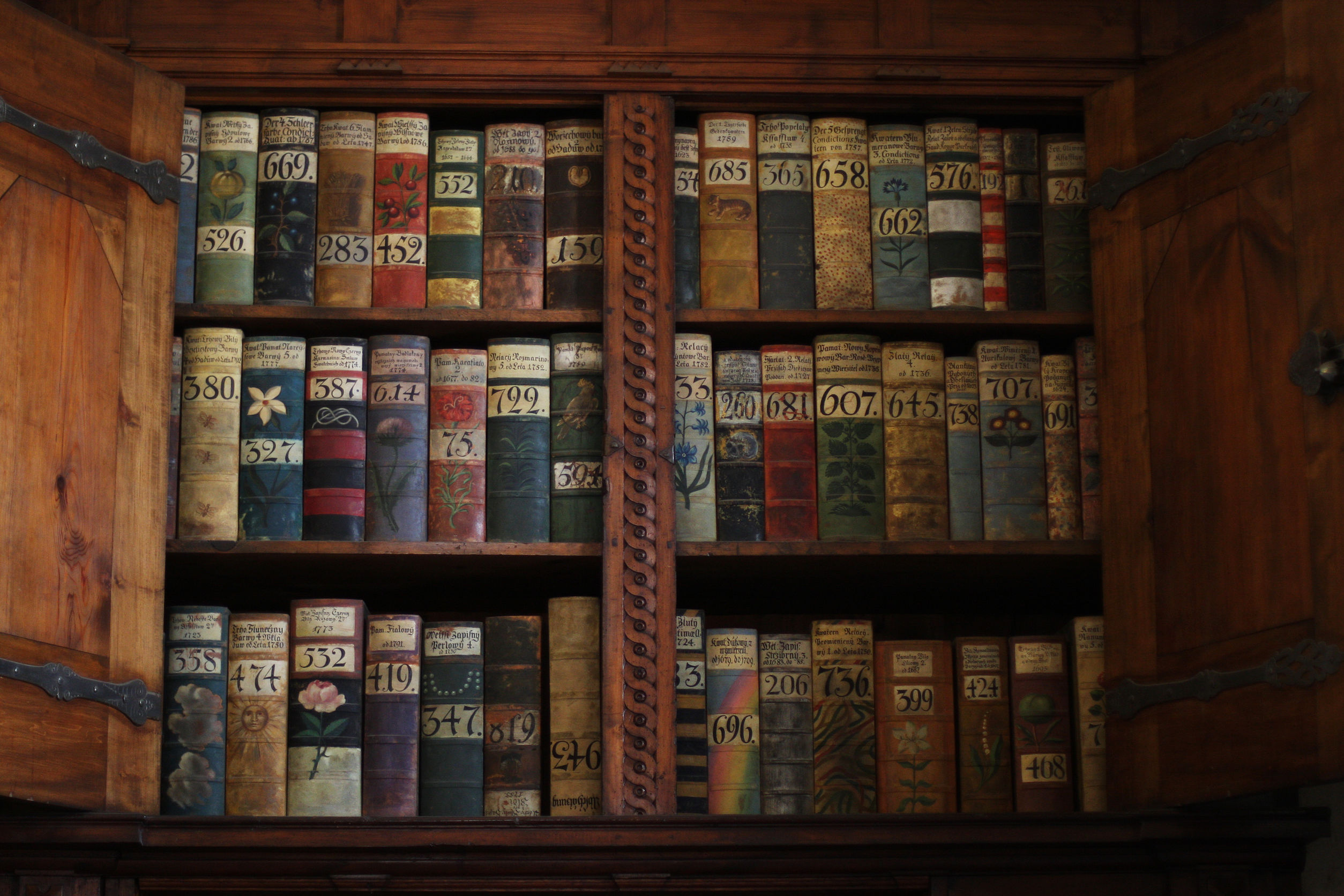 Okładki tomów zostały zrobione z omawianego drzewa, a w ich wnętrzach umieszczono zielniki z korzeniami i liśćmi, natomiast grzbiety wykonano z kory.
Sala Teologiczna i Filozoficzna
W bibliotece możemy podziwiać m.in. Salę Teologiczną (pierwotnie zwana Biblioteką Opata) z XVII wieku i Salę Filozoficzną zbudowana sto lat później.
W Sali Teologicznej znajduje się około 18 tysięcy tomów literatury teologicznej, przy czym na północnej ścianie znajdują się wyłącznie wydania Biblii lub jej fragmentów w różnych językach.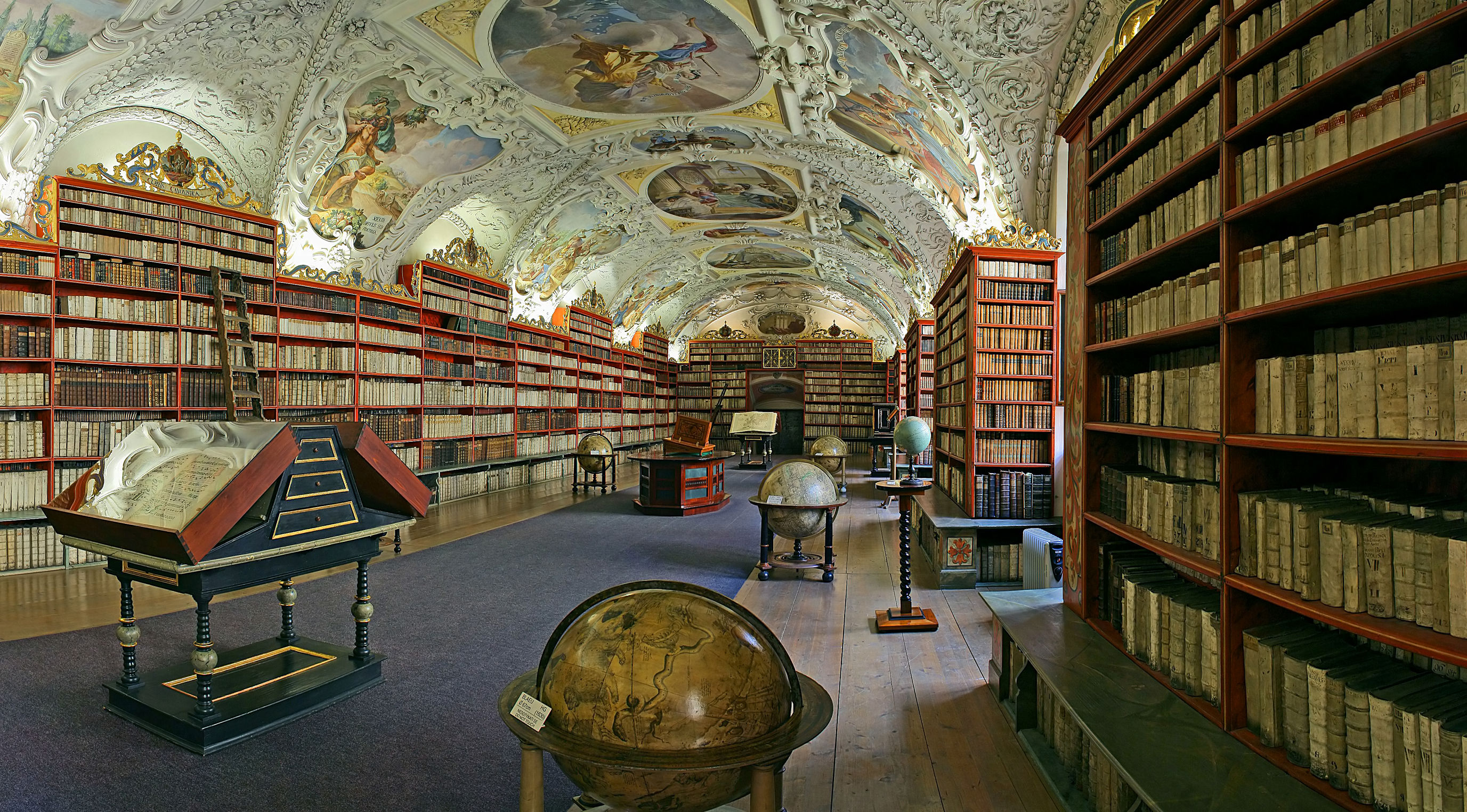 Zgromadzono tu także zabytkowe globusy ziemskie i astronomiczne, pochodzące z XVII, XVIII i XIX wieku.
W tej sali znajduje się również późnogotycki drewniany posąg św. Jana Ewangelisty, trzymającego w lewym ręku woreczek z książką.
Inny ciekawy eksponat to koło kompilacyjne wykonane w 1678 roku na zlecenie opata Hirnhheima.
Na jego półkach skryba rozkładał źródła, z których korzystał.
Dzięki tzw. mechanizmowi planetarnemu w czasie obracania koła, półki utrzymywały ten sam kąt nachylenia, dzięki czemu książki się nie zsuwały.
W sali umieszczony został napis: "Initium sapientiae – timor Domini" (początek mądrości – bojaźń przed Bogiem), który zawiera w sobie myśl przewodnią sali.
W Sali Filozoficznej Biblioteki Strahovskiej bogato rzeźbione szafy na książki szczelnie zasłaniają ściany.
Mieszczą one około 50 tysięcy tomów, w tym encyklopedie oraz książki z takich dziedzin, jak filozofia, matematyka, fizyka, astronomia, literatura piękna, poezja, sztuka, historia i inne.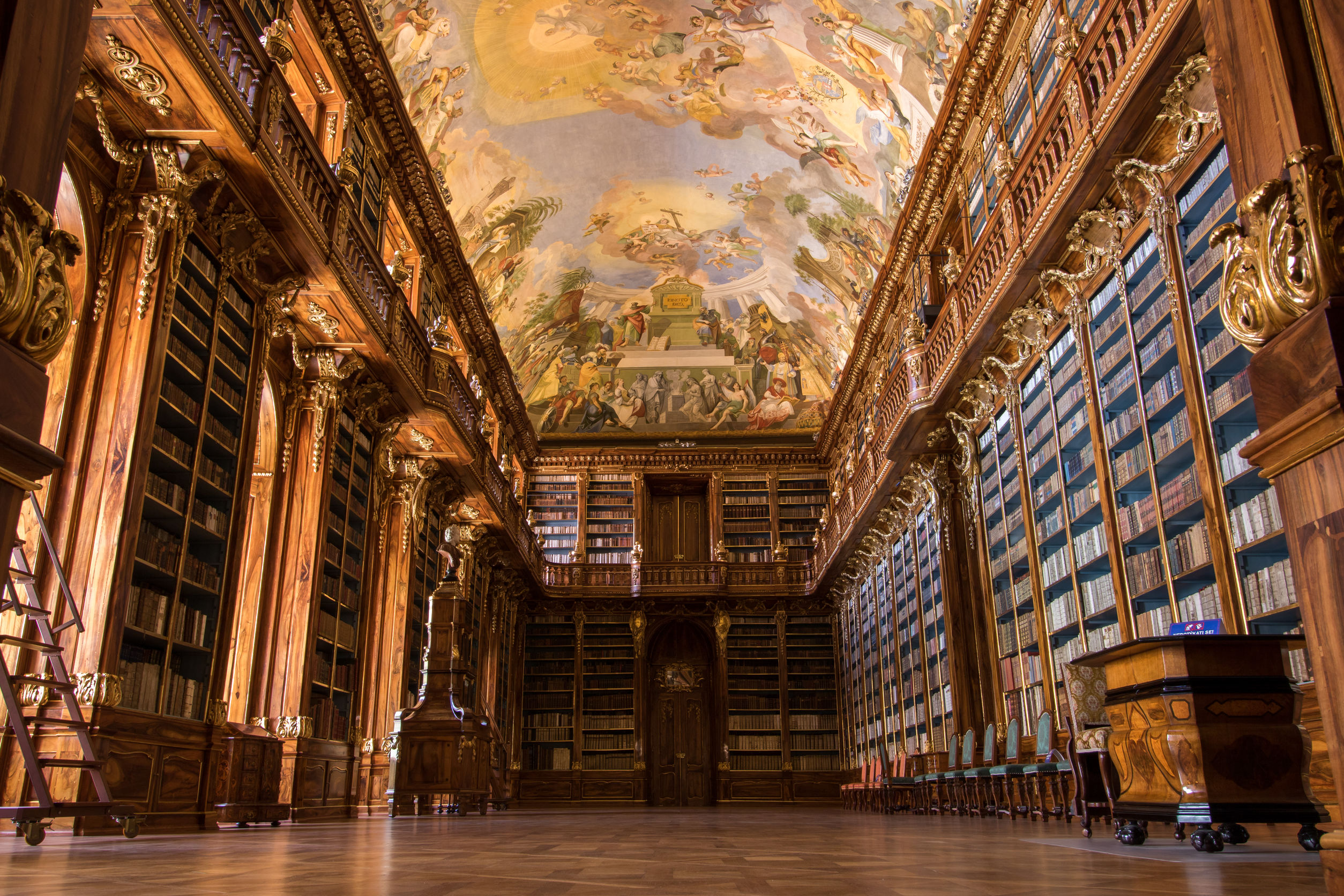 Najwyższe rzędy książek w szafach są dostępne jedynie z galerii, do której prowadzą ukryte spiralne schody zamaskowane zasłonami imitującymi grzbiety książek.
W sali stoi inkrustowana masą perłową szafa mieszcząca dziesięć tomów podarowanych bibliotece w 1813 roku przez cesarzową Marię Ludwikę – czterotomowe dzieło Musée Français Crozé-Magnana z reprodukcjami obrazów i figur z Luwru oraz sześć tomów Liliaceae J. P. Redouté'a.
Należy wspomnieć również o atlasach Bleue'a z XVII wieku oraz "O obrotach sfer niebieskich" Mikołaja Kopernika z 1543 roku.
Nietuzinkowy gabinet osobliwości
W łączniku między salami znajduje się gabinet osobliwości.
W jego skład wchodzi kolekcja przyrodnicza (fauna morska, zbiory owadów, minerałów i woskowych replik owoców).
Prawdziwą ciekawostką są tutaj spreparowane szczątki wymarłego ptaka dodo (Dodo neptus) oraz dwie spreparowane trąby słonia i ząb narwala (wcześniej uznawany za róg jednorożca).
Oprócz eksponatów przyrodniczych w zbiorach znajduje się również kolekcja "archeologiczna": ceramika, kajdany, chłopska broń husytów oraz mapa przedstawiającą historię klasztoru norbertanów w latach 1120-1727.
W kolekcji są także eksponaty militarne: model okrętu z przełomu XVII i XVIII wieku, lufa armaty, pięć kul armatnich, buty jeździeckie z czasów oblężenia Pragi przez wojska francuskie w 1742 roku, trzy polskie kopie, łuk tatarski i inne eksponaty.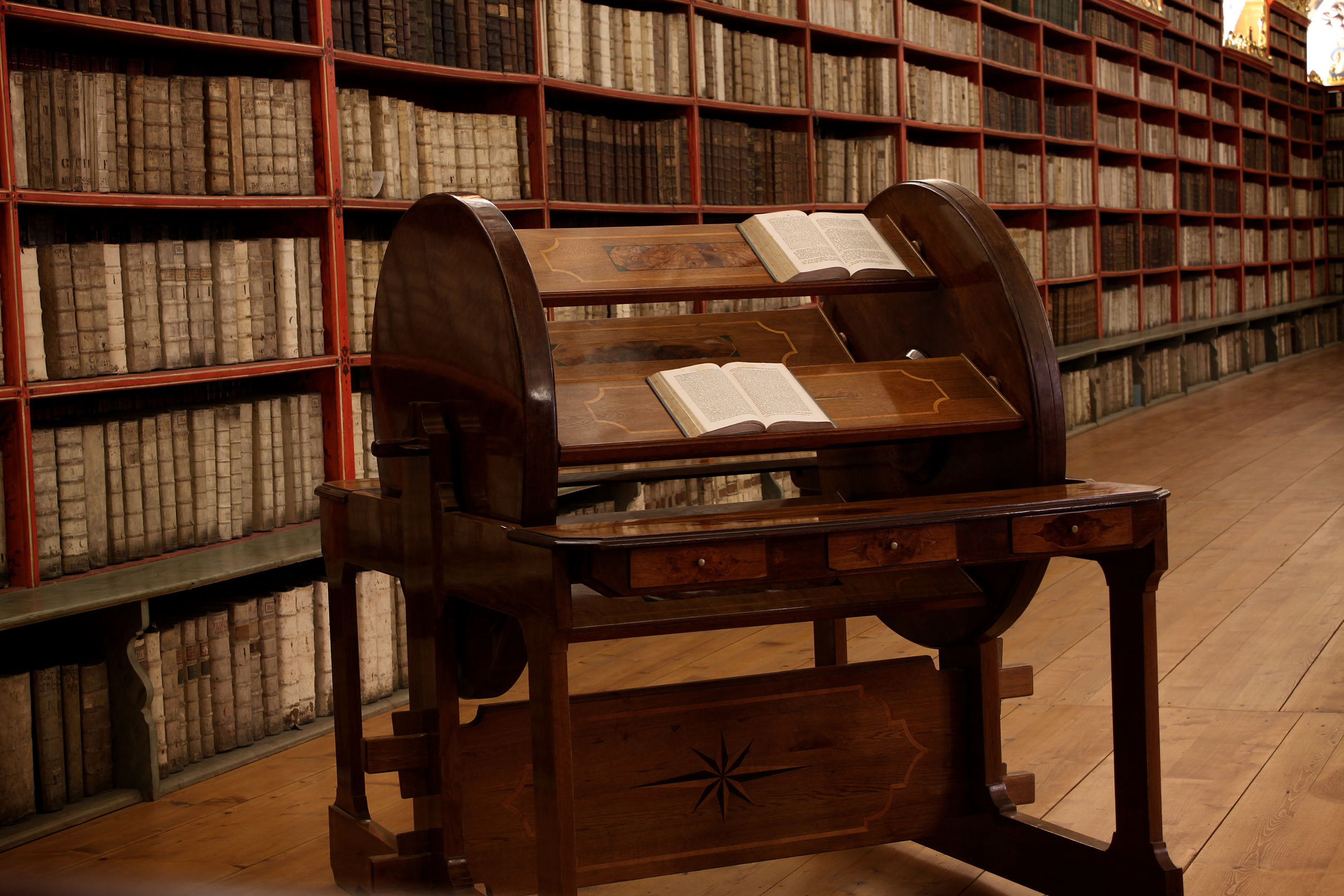 W 1953 roku utworzono na terenie klasztoru Muzeum Piśmiennictwa Narodowego.
Biblioteka ze względu na wyjątkowy charakter i wartość zbiorów nie wypożycza ich na zewnątrz klasztoru.
Czytelnicy mogą skorzystać z nich na miejscu, w bibliotecznej czytelni.
Miejsce to zasługuje na zainteresowanie nie tylko ze względu na swe unikalne zbiory, ogromną wartość muzealną jej urokliwych pomieszczeń i ich zabytkowego, bogato zdobionego wyposażenia oraz imponującą kolekcję ciekawych eksponatów, ale również z uwagi na jej aktualną działalność naukową, usługową i oświatową – gromadzenie, opracowanie i udostępnianie zbiorów, udostępnianie sal do zwiedzania oraz współtworzenie bazy cyfrowych kopii najcenniejszych egzemplarzy.
Komentarze