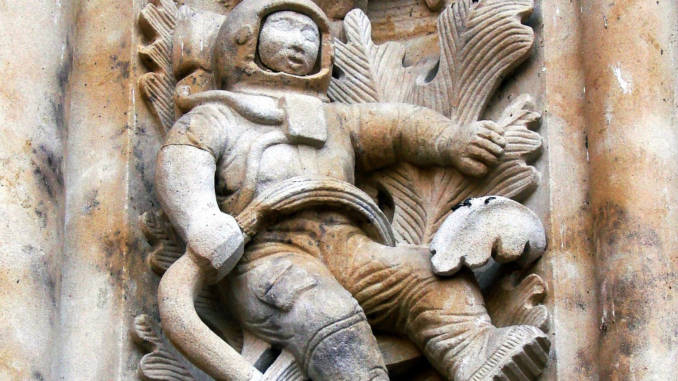 Bep Kororoti to istota wywodząca się z opowieści amazońskich Indian. Miał on dawno temu przybyć na Ziemię do Indian Kayapo. Historie przez nich opowiadane pozwalają sądzić, że niegdyś pojawił się on z nieba w nietypowym stroju, który można porównać do współczesnego kombinezonu astronauty.
Pochodzenie opowieści
Informacje dotyczące Bep Kororoti pochodzą z Amazonii.
To niezwykle rozległy teren, na którym do dzisiaj zamieszkują liczne plemiona, a pośród nich Indianie Kayapo, którzy mieszkają we wschodniej części Niziny Amazonki.
Osoby pochodzące z tego plemienia od bardzo dawna opowiadają ciekawą historię, dotyczącą postaci nazywanej Bep Kororoti.
Kim był Bep Kororoti?
Zgodnie z indiańskimi podaniami był on istotą, która przybyła do nich z nieba.
Nosiła na sobie nietypowy lub nawet dziwny ubiór, który przypominał skafander dzisiejszego astronauty.
Plemię Kayapo do dzisiaj kultywuje pamięć o tym przybyszu, który dostarczył im wiedzę z rozmaitych dziedzin i posiadał do swojej dyspozycji nietypowe narzędzia.
Indianie opowiadają o przeogromnym huku, który rozległ się w górach Puokato-Ti, gdy kamienny dom zstępował na Ziemię.
Wszyscy mieszkańcy okolicznej wioski mieli wówczas zbiec się w to miejsce i obserwować, jak z mocno błyszczącego domu wychodziła nieznana im istota.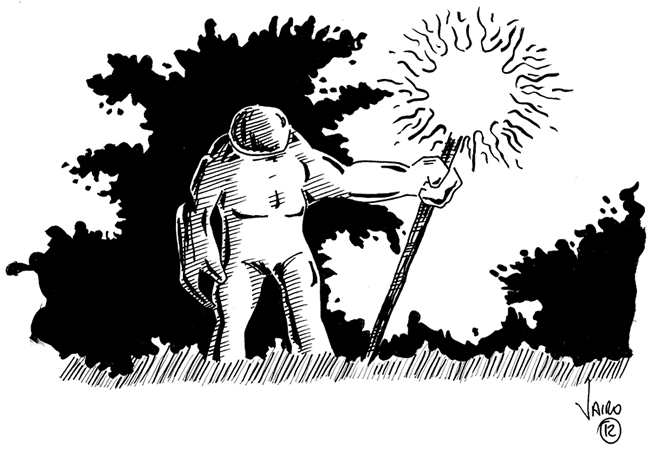 Pośród mieszkańców pojawiło się zdziwienie wyglądem przybysza, który miał na sobie bardzo dziwny strój, który pokrywał całe ciało.
W ręce dzierżył "kop", który wedle indiańskich opowieści stanowił niezwykłą wręcz broń, która raziła piorunami.
Tubylcy byli przerażeni tym, co zobaczyli i w popłochu ukryli się w lesie.
Po upływie pewnego czasu mężczyźni z wioski podjęli decyzję, że muszą bronić kobiet oraz dzieci i pozbyć się dziwnej istoty z wioski.
Udali się do latającego domu gotowi do podjęcia walki z niechcianym przybyszem.
Indianie nie mieli jednak najmniejszych szans w walce z dziwną istotą.
Oszczepy i strzały nie powodowały u niego żadnego uszczerbku.
Bep Kororoti skierował posiadaną przez siebie broń na drzewo oraz na kamień i dokonał ich całkowitego zniszczenia, tak że nie pozostał najmniejszy ślad.
Był to rodzaj demonstracji siły, który uświadomił Indianom, że nie mogą mu absolutnie nic zrobić.
Przybysz miał wówczas zawrzeć z Indianami przymierze, przemawiając do nich w ich języku.
Jego głos przypominał grzmot.
W plemieniu został okrzyknięty władcą.
Co jeszcze wiemy o Bep Kororoti?
Mieszkańcy plemienia uważali, że Bep Kororoti był bardzo sprawiedliwy i mądry.
W czasie swojej bytności w wiosce miał nauczyć ludzi sztuki budowania domów, sposobów leczenia, jak również nieznanych dotąd metod uprawy roli czy polowania.
Stworzył specjalny budynek, który był rodzajem szkoły, w której przekazywał swoją wiedzę dzieciom.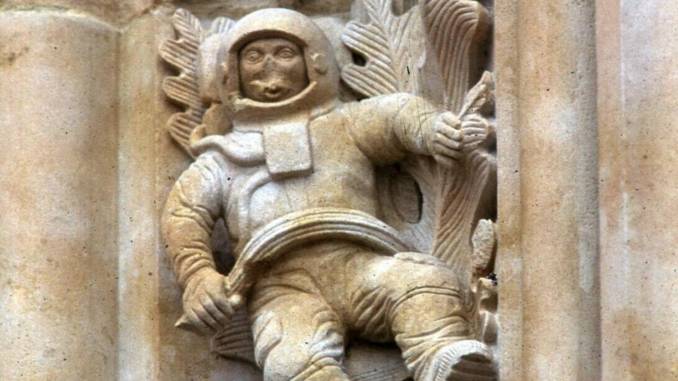 Co ciekawe wybudowane przez niego szkoły, które znajdują się również w sąsiednich plemionach przetrwały do dzisiaj.
Obecnie nadal pełnią podobną funkcję – dorośli nauczają w nich dzieci łowiectwa i wielu innych dziedzin życia.
Intrygujący jest również fakt, iż zdaniem Indian Bep Kororoti nigdy nie jadł ani nie pił, a wszystko, co udało mu się zdobyć, oddawał Kayapom.
Zbliżone, dalekie podania
Podobne opowieści dotyczące istot, które miały nie jeść, nie pić, a ich głos przypominał grzmot, pochodzą od Sumerów, z ich podań o Oannesie.
Można znaleźć więcej podobieństw, np. w zbliżony sposób zachowywał się Rafał z Biblii.
Czy te powiązania mogą mieć znaczenie?
Szczególnie jeśli weźmiemy pod uwagę, że pochodzą z czasów, gdy ludzie nie mieli ze sobą najmniejszego kontaktu, a przede wszystkim na tak znaczne odległości i ich kultury nie miały możliwości przenikania się?
Co się stało z Bep Kororoti?
Zgodnie z informacjami pochodzącymi z plemienia, Bep Kororoti miał spędzić w wiosce dużo czasu.
Pewnego dnia jednak postanowił ich opuścić.
Zabrał swoją dziwną broń i z jej pomocą dokonał wycięcia drogi w lesie, którą podążył w góry.
Członkowie plemienia udali się za nim i zobaczyli, jak wchodzi to wielkiego błyszczącego domu.
Po chwili usłyszeli przeogromny huk i jednocześnie zobaczyli, jak wielki dom wznosi się do nieba i odlatuje.
Bep Kororoti zniknął wówczas na zawsze, jednak pozostał zapamiętany w kulturze Indian Kayapo.
Nadal żywe pozostają specjalne, związane z nim rytuały.
W dniu, gdy obchodzone jest święto niebiańskiego nauczyciela, mieszkańcy plemienia przygotowują odwzorowanie kostiumu "kosmicznego przybysza", dbając o jak najlepsze dopięcie wszystkich szczegółów.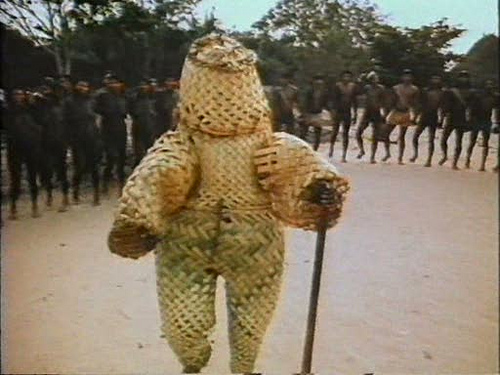 Strój wydaje się dziwny, Indianie zdzierają z drzewa szerokie pasma łyka i upinają je w nietypowy kostium.
Gdy zostanie on nałożony przez jakiegoś członka społeczności, to w sposób całkowity zakrywa twarz, nie ma w nim miejsc będących otworami na oczy, nos czy usta.
Całość porównywana jest, jak już wcześniej wspomnieliśmy, do kombinezonu astronauty, jednak jest niejako jednoczęściowa.
Indianie uważają, że właśnie w ten sposób prezentował się ich pochodzący z nieba nauczyciel.
Mieszkańcy wioski zakładają tak przygotowane stroje, w ręce trzymają pałkę, która stanowi symbol broni, którą miał posiadać, czyli "kop" i rozpoczynają rytualne tańce.
Te nietypowe stroje i obyczaje zostały po raz pierwszy opisane przez etnologa Karla von den Steinena, który dotarł w ten rejon Amazonii w roku 1884.
Z identycznym opisem strojów Indian Kayapo spotykamy się w 1909 roku, gdy podziwiał je inny etnolog Teodor Koch-Grunberg.
Sam opis od początku mógł wydawać się niesamowity, jednak pierwsze zdjęcia tych kostiumów zostały wykonane dopiero w 1952 roku przez Joao Americo Pereta.
Przedstawiciele starszyzny Kayapo chętnie udzielali pierwszym europejczykom, którzy do nich zawitali informacji o Bep Kororoti.
Do dzisiaj niektórzy Indianie z plemienia oczekują na powrót wielkiego nauczyciela z nieba.
Historia nie/prawdziwa?
Czytając relacje z tej amazońskiej wioski, zastanawiające jest, czy istotnie ktoś taki pojawił się w dawnych czasach pośród tej społeczności?
Czy mieli oni do czynienia z istotą pozaziemską, a może jedynie to zgrabna opowieść, która powstała dawno temu, jako bajka opowiadana na dobranoc?
Jeśli jednak zwrócimy uwagę na niezwykłe podobieństwa w innych kulturach, przekazywanie podań z pokolenia na pokolenie oraz na niesamowity strój przybysza, który przypominał współczesny skafander astronauty, to można pokusić się o tezę, że dawni Indianie spotkali się z kosmitą.
Komentarze