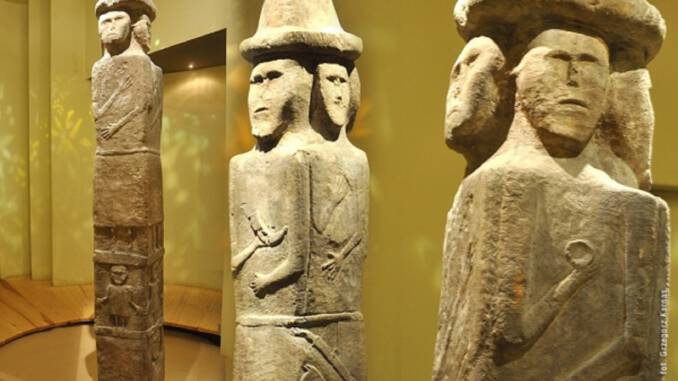 Światowid ze Zbrucza – co charakteryzuje ten posąg ? Czy to naprawdę jest przedstawienie słowiańskiego bóstwa? Został on odnaleziony w XIX wieku, ale jego pochodzenie, czas powstania i funkcja nadal budzą wiele kontrowersji.
Odkrycie posągu Światowida ze Zbrucza
Posąg ten został odnaleziony w 1848 roku w majątku Liczkowce, koło Husiatyna na Podolu, w rzece Zbrucz.
Jest to kamienna rzeźba, która została ofiarowana Towarzystwu Naukowemu Krakowskiemu, przez Mieczysława Potockiego.
Następnie 12 maja 1851 roku posąg znalazł się w Krakowie i tam wystawiono go w sali Biblioteki Jagiellońskiej przy ulicy św. Anny 6.
Z kolei na przełomie lat 1858/1859 posąg został wystawiony na pierwszej Wystawie Starożytności i od tamtej pory znajduje się w muzeum.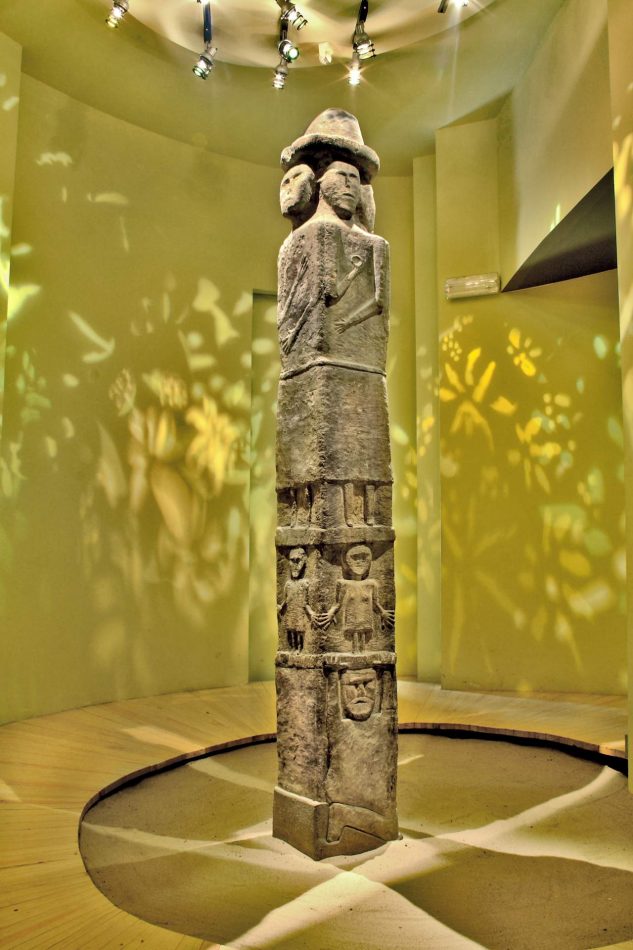 Nazwę posągowi nadał Joachim Lelewel, który podczas oceniania wyglądu rzeźby, uznał błędnie, że przedstawia ona połabskiego Świętowita.
Imię to zapisane po łacinie w formie "Svantevit" błędnie rozszyfrował jako "Światowid", a to miało oznaczać: "patrzący w cztery strony świata".
Wygląd posągu
Zachowana wysokość tej rzeźby wynosi 257 cm, a została wykonana z wapienia z Miodoborów.
Jeśli chodzi o jej wygląd, to jest to czworoboczny słup, którego boki są podłożem do przedstawień figuralnych, które zostały wykonane pasmowo.
Zwieńczeniem rzeźby jest "kapelusz" nakrywający, a także cztery ludzkie głowy, które zostały osadzone na krótkich szyjach, a są one ze sobą połączone i pozbawione owłosienia.
Charakterystyczny jest tutaj podział kompozycji na boki słupa, ale poza tym na wszystkich ścianach różnej wysokości, zostały wyodrębnione trzy pasma poziome, które są oddzielone od siebie plastycznymi listwami.
Takie trójsferowe przedstawienie może odzwierciedlać przekonania jego twórców o tym, jaki był porządek otaczającego ich świata.
Najważniejsze miejsce zajmuje w nim czterogłowe bóstwo, które zostało przyzdobione w różne symbole, a najbardziej czytelne z nich to: róg, pierścień, szabla i koń.
Te symbole interpretowane są jako takie, które mają związek z bogiem wojownikiem, który jednocześnie gwarantuje ziemską pomyślność i dostatek i o tym świadczy róg, ale też chroni przed złymi mocami – świadczy o tym pierścień.
Dzięki temu byłby to taki uniwersalny bóg, który włada różnymi siłami natury oraz bytem ludzkim.
Z kolei świat ziemski stanowi pas środkowy, a sposób pokazania tutaj postaci interpretowany jest jako przedstawienie korowodu tanecznego.
Natomiast całość podtrzymuje trzygłowa postać, którą interpretuje się jako władcę państwa podziemnego.
Takie podtrzymywanie może mieć także wymiar dosłowny, ponieważ bez niego niemożliwe byłoby zachowanie porządku na świecie.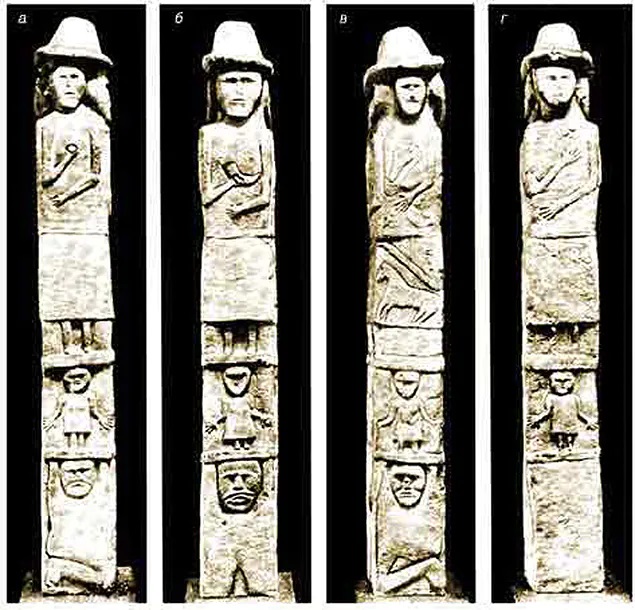 Posąg ten może stanowić ślad idei słupa kosmicznego i właśnie on miał zapewniać lokalnej społeczności taką idealną wewnętrzną komunikację pomiędzy światem realnym a tym, w co wierzono.
Ten element bardzo odróżnia go od innych posągów słowiańskich, które wyobrażały tylko jedno "piętro" kosmosu, a tutaj jest wyobrażany cały wszechświat.
Zgodnie z koncepcją Borisa Rybakowa górny pas posągu przedstawia główne bóstwa słowiańskiego panteonu, a jest to kolejno:
postać z rogiem – Mokosz,
postać z pierścieniem – Łada,
postać z mieczem i koniem – Perun,
postać bez atrybutów – Dażbóg,
figura u dołu posągu – Weles.
Badacz ten utożsamiał tę rzeźbę jako całość z Rodem, a według niego miało to być naczelne bóstwo słowiańskie i uważał, że rzeźba ma kształt falliczny, czyli miała oddawać ideę płodności.
Jednak według Leszka Pawła Słupeckiego w tezie Rybakowa przeczy jedna głowa postaci, której cztery oblicza wyobrażają cztery aspekty Peruna.
Natomiast Janusz Kotlarczyk widział w Światowidzie przedstawienie Swarożyca.
Badania archeologiczne Światowida
W latach 80. XX wieku Borys Tymoszczuk oraz Irina Rusanowa przeprowadzili badania, które wykazały, że posąg ten prawdopodobnie stał na, znajdującej się niedaleko Zbrucza, górze Bohod.
Tam właśnie odkryty został kamienny krąg z ośmioma ogniskami oraz miejscem na czworokątną figurę.
Analiza chemiczna wykazała na posągu ślady czerwonej farby, która go kiedyś pokrywała.
Trwają spory odnośnie czasu powstania posągu i nie ma także całkowitej pewności, kto jest jego autorem.
Niektórzy badacze uważają, że możliwe jest inne pochodzenie posągu niż słowiańskie.
Dlatego zgodnie z tymi hipotezami rzeźba miała najpierw należeć do Traków albo do ludów irańskich, tureckich lub do Waregów, a nawet Celtów i właśnie od któregoś z tych ludów miał trafić w ręce Słowian.
Są także opinie, że posąg Światowida to XIX-wieczna mistyfikacja, która powstała w związku z zainteresowaniami słowiańskimi starożytnościami w epoce romantyzmu.
W związku z tym powstanie posągu mogło mieć, np. związek z Tymonem Zaborowskim, który mieszkał w Liczkowcach, oraz jego zainteresowaniami literackimi, a także historycznymi.
Natomiast według Janusza Cieślika rzeźba ta, pomimo pogańskiego charakteru, ma pochodzić już z czasów po chrystianizacji, a sposób przedstawienia zawartych w nim treści wskazuje, że twórca mógł się inspirować XI-wieczną sztuką ruskiego chrześcijaństwa.
⇒ Czytaj także: IDOL SZYGIRSKI – NAJSTARSZA DREWNIANA RZEŹBA NA ŚWIECIE
♦ Zareklamuj wydarzenie, swoją działalność, produkty itd. – dodaj ogłoszenie ⇒ KLIK
♦ Współpraca reklamowa na portalu ⇒ kontakt@odkrywamyzakryte.com
♦ Chcesz poznać więcej tajemnic świata? ⇒ KLIK
Komentarze