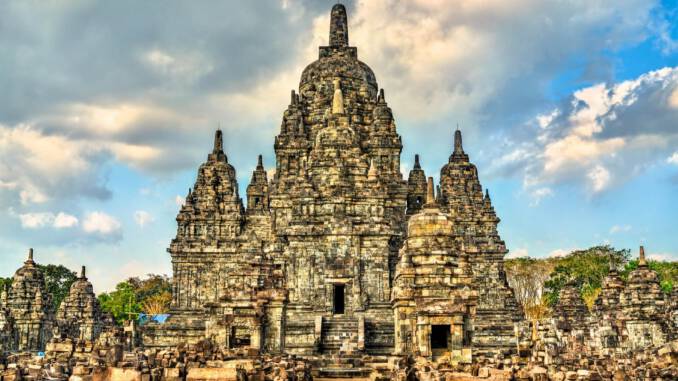 Sewu. Na Jawie są piękne świątynie związane z hinduizmem oraz buddyzmem. Osoby, które odwiedzają Indonezję, zazwyczaj wybierają się, np. do słynnej Candi Borobudur. Jednak niewiele osób wie, że jest tam równie ciekawa świątynia Candi Sewu. Jej tajemnicza i ciekawa historia sprawia, że warto ją włączyć do listy zabytków wartych obejrzenia.
Charakterystyka świątyni Sewu
Świątynia Sewu jest buddyjską świątynią Mahayana z VIII wieku, która znajduje się 800 metrów na północ od Prambanan w środkowej Jawie w Indonezji.
W języku indonezyjskim nazwa świątyni hinduskiej albo buddyjskiej brzmi "candi", dlatego też nazwa zwyczajowa tej świątyni to "Candi Sewu".
Candi Sewu to drugi co do wielkości kompleks świątyń buddyjskich w Indonezji, a największy jest Borobudur.
Na ten kompleks składa się 249 świątyń, ale zgodnie z jawajską nazwą "Sewu" tłumaczy się to jako "tysiąc świątyń".
Nazwa "tysiąc świątyń" wzięła się stąd, że kiedyś świątynie otaczało tysiąc stup, a więc budowli, które dla buddystów symbolizowały stan oświeconego Buddy.
Natomiast zgodnie z odkryciami archeologów pierwotna nazwa tej świątyni to Manjusrigrha.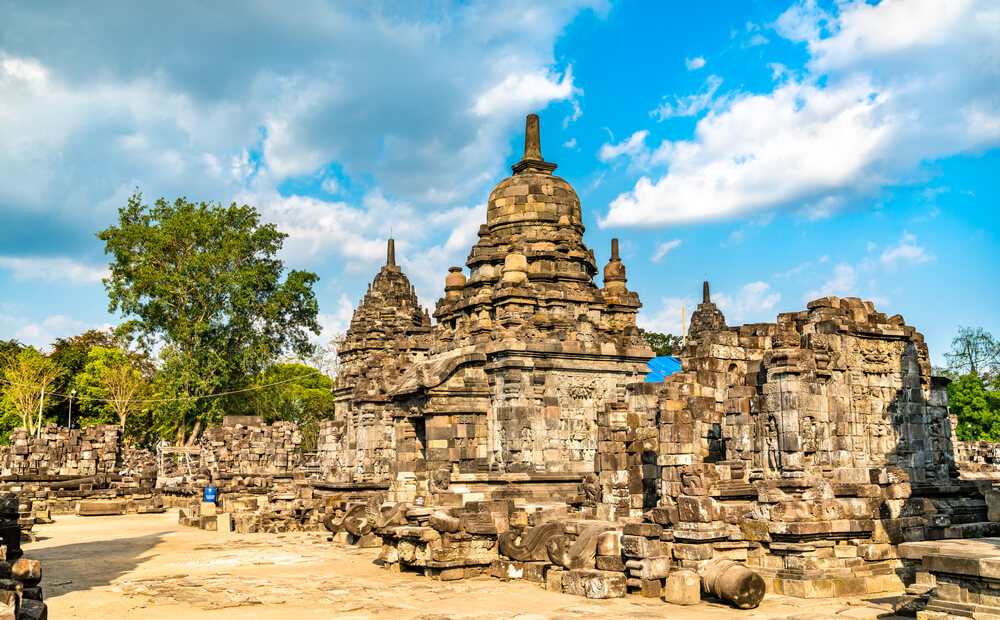 Świątynię Sewu zbudowano pod koniec VIII wieku, kiedy to do końca dobiegało panowanie Rakai Panangkarana, a jej budowę ukończono już za panowania jego następcy, czyli króla Indry.
To właśnie Rakai Panangkaran był uznawany za oddanego króla buddyjskiego mahajany, a rządził on królestwem Medang Mataram.
Dzięki temu, że świątynia Sewu znajdowała się w sercu Mataram, to była uznawana jako królewska świątynia buddyjska.
To w niej regularnie odbywały się ceremonie religijne.
Z kolei świątynia Bubrah, która znajduje się kilkaset metrów na południe, a także świątynia Gana, która położona jest na wschód od świątyni Sewu, najprawdopodobniej służyły jako świątynie stróżujące dla kompleksu Manjusrigrha, a strzegły one czterech głównych kierunków właśnie wokół świątyni Sewu.
Świątynię tę prawdopodobnie rozbudowano oraz ukończono za panowania Rakai Pikatana, a był to książę, który poślubił buddyjską księżniczkę z dynastii Sailendra – Pramodhawardhani.
To, że świątynia Sewu oraz hinduska świątynia Prambanan znajdują się blisko siebie, może świadczyć o tym, że społeczności hinduskie i buddyjskie żyły w zgodzie w czasach, gdy budowano te świątynie.
Pochodzenie świątyni Sewu
Początki istnienia świątyni są wielką tajemnicą.
Przez wiele stuleci wieśniacy opowiadali różne opowieści oraz legendy, w których dominowały mity o gigantach, a także przeklętej księżniczce.
Pochodzenie świątyni Sewu oraz Prambanan miało mieć nadprzyrodzone źródła, a zgodnie z legendą o Loro Jonggrang miały zostać stworzone przez wiele demonów pod rządami Bandung Bondowoso.
Prawdopodobnie te opowieści sprawiły, że te świątynie zostały zachowane przez wiele wieków przed wojną na Jawie, gdyż wieśniacy bali się usunąć jakiekolwiek kamienie świątyni, ponieważ wierzyli, że te ruiny są nawiedzane przez istoty nadprzyrodzone.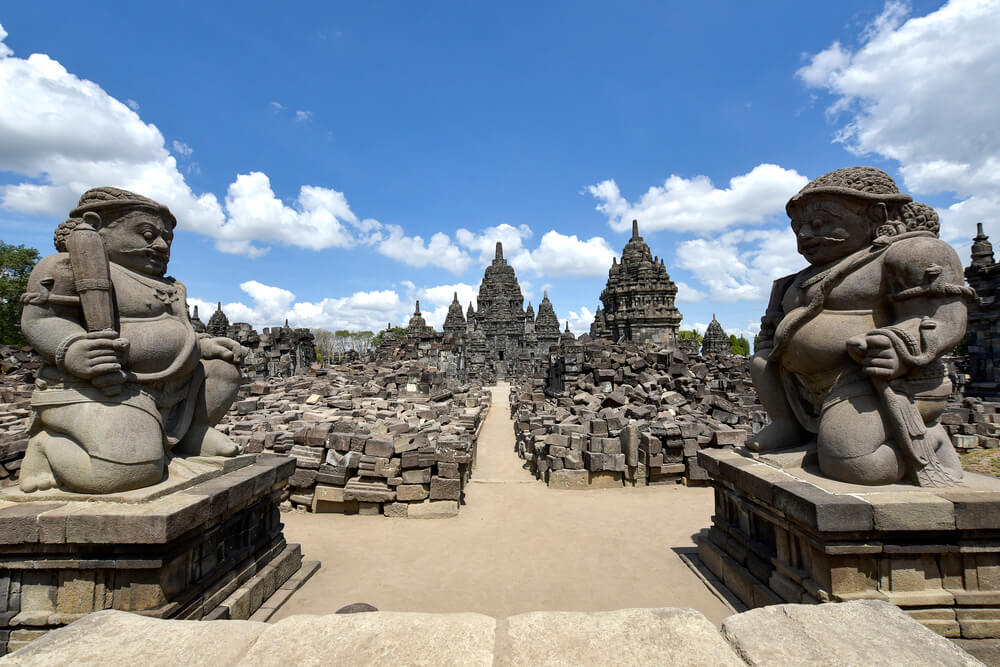 W 1773 roku Pakubuwono II pozwolił holenderskiemu kupcowi Corneliusowi Antonie Lansowi na wycieczkę po środkowej części Mataram.
To właśnie raport z tej podróży zawiera pierwszy znany zachowany opis świątyni Sewu oraz Prambanan.
W latach 1825 – 1830, czyli podczas wojny na Jawie jednak odważono się wykorzystać niektóre kamienie świątynne do umocnień, a potem już w następnych latach świątynie były grabione.
Wtedy wiele posągów Buddy zostało pozbawionych głowy, które skradziono.
Z kolei niektórzy holenderscy koloniści kradli rzeźby, a potem używali ich jako ozdoby ogrodowe, a rdzenni mieszkańcy wioski jako materiał budowlany wykorzystywali kamienie fundamentowe.
Natomiast te płaskorzeźby, głowy Buddy oraz niektóre ozdoby, które najlepiej się zachowały, zostały stamtąd zabrane i trafiły do muzeów oraz prywatnych kolekcji za granicę.
Świątynia Sewu współcześnie
Już od początku XX wieku świątynia Sewu była starannie i powoli przebudowywana, ale nie udało się jej całkowicie odnowić.
Jest wiele ruin świątyni, a do tego brakuje wielu kamieni, ale też została poważnie uszkodzona 2006 roku podczas trzęsienia ziemi.
Dzisiaj świątynia jest zrekonstruowana i można ją odwiedzić.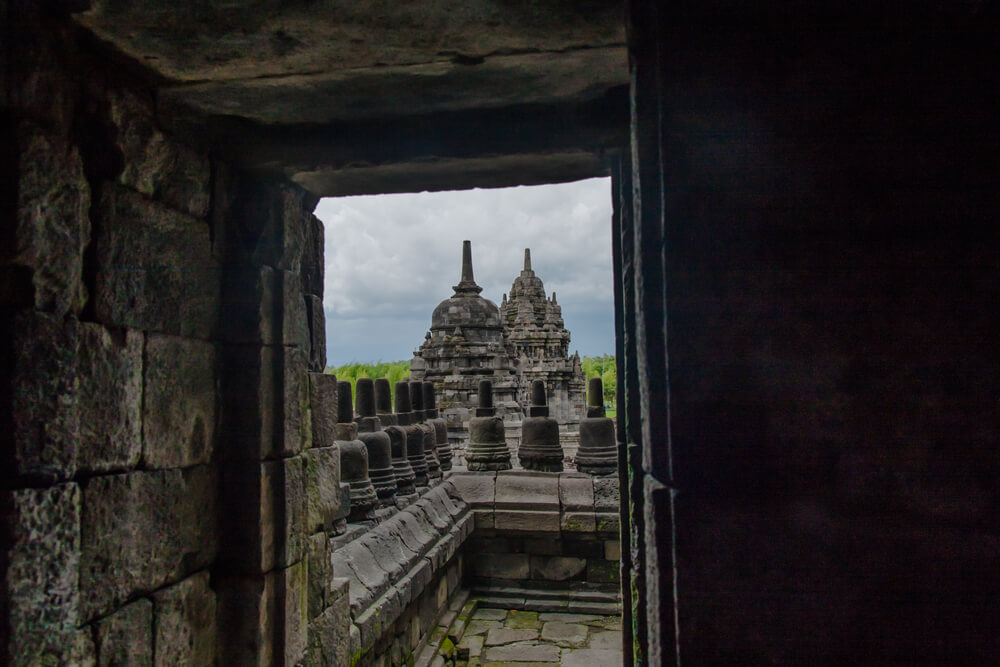 To tam również odbywa się Vesak, czyli celebracja urodzin, oświecenia oraz śmierci Gautamy Buddy w tradycji Teravady.
Jest ona wyznaczana w lunarno – solarnym kalendarzu hinduskim w miesiącu Visakha.
Legenda Loro Jonggrang
Legenda ta opowiada o miłości oraz zdradzie, a wszystko to działo się wokół walki dwóch legendarnych królestw, czyli Pengging i Boko.
Wojnę rozpoczął król Prabu Boko, a miał on piękną córkę – Rarę Jonggrang.
Był to okrutny król, który zginął na polu bitwy w wyniku działania nadnaturalnych mocy księcia Bandung Bondowoso, który był synem Prabu Damar Moyo, czyli władcy Pengging.
Kiedy księżniczka Rara dowiedziała się o śmierci ojca, wpadła w rozpacz.
Z kolei książę Bandung Bondowoso zdobył stolicę Boko, ale kiedy urzekło go piękno księżniczki Rary, to zaproponował jej małżeństwo zamiast dalszej walki.
Księżniczka była przebiegła i zażądała od niego, aby spełnił dwa warunki.
Zadaniem księcia Bandung Bondowoso było wybudowanie studni Jalatunda, a potem tysiąca świątyń w ciągu jednej nocy.
Książę miał magiczne moce i dzięki temu spełnił warunki księżniczki, ale i tak dał się jej podpuścić, ponieważ gdy wszedł do wnętrza studni, gigant Patih Gupolo pogrzebał go żywcem w tej studni, gdyż przysypał go stosem kamieni.
Jednak księciu udało się uciec dzięki magii, ale zaślepiony beznadziejną miłością, postanowił wybaczyć księżniczce i przystąpił do konstrukcji świątyń.
Aby tego dokonać, książę Bandung Bondowoso przywołał całą hordę demonów ziemi.
Kiedy prace już zbliżały się do końca, to księżniczka Rara po cichu rozkazała wzniecić pożar na wschodzie, a potem udał się z kobietami, aby młócić ryż.
Demony myślały, że nadchodzi świt, więc uciekły.
Natomiast wściekły książę zrozumiał, że został oszukany i rzucił klątwę na księżniczkę i zamienił ją w posąg i poprzez to stała się ona ostatnim elementem ostatniej nieukończonej świątyni i właśnie w ten sposób książę spełnił jej warunki.
⇒ Czytaj także: ŚWIĄTYNIA AIN DARA I TRAGEDIA ŚWIATOWEGO DZIEDZICTWA
♦ Zareklamuj wydarzenie, swoją działalność, produkty itd. – dodaj ogłoszenie ⇒ KLIK
♦ Współpraca reklamowa na portalu ⇒ kontakt@odkrywamyzakryte.com
♦ Chcesz poznać więcej tajemnic świata? ⇒ KLIK
Komentarze