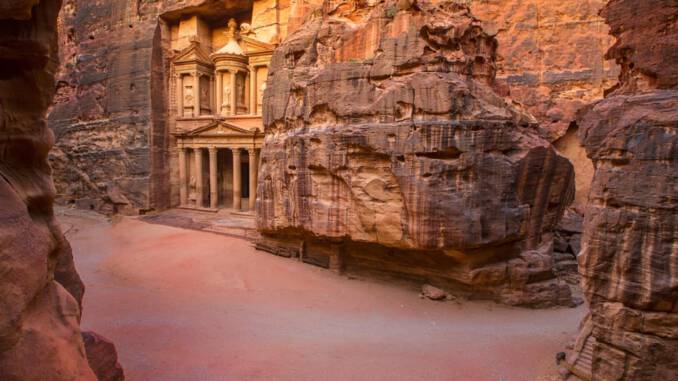 Petra to ruiny miasta Nabatejczyków w Jordanii, do którego prowadzi wąska droga pośrodku skał. Miasto to ma ciekawą historię, ale też interesujące budowle. To starożytne skalne miasto jest największą atrakcją Jordanii. Odkryte w 1812 roku dzięki sprytowi pewnego podróżnika do dziś zachwyca swoim pięknem.
Gdzie znajduje się Petra?
Petra to ruiny miasta Nabatejczyków, a można ją znaleźć w południowo-zachodniej Jordanii.
Położona jest w skalnej dolinie, a prowadzi do niej tylko jedna wąska droga pośrodku skał, a jest to wąwóz As-Sik.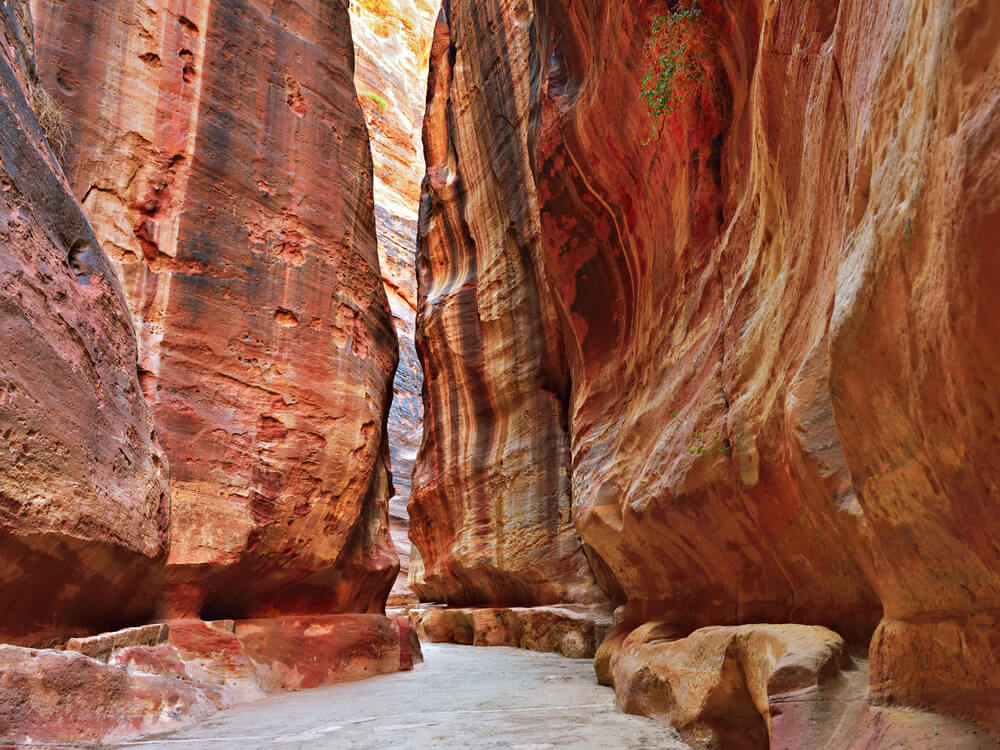 Petra znana jest z tego, że znajdują się w niej liczne budowle, które są wykute w skałach.
Historia skalnego miasta
Zanim w Petrze pojawili się Nabatejczycy, to zamieszkiwali ją od wczesnego paleolitu różne grupy myśliwych, zbieraczy, a potem jeszcze koczowników.
Do podboju arabskiego dolinę Petry regularnie zamieszkiwały różne grupy nomadów.
Pierwsze wzmianki o Nabatejczykach w Petrze pochodzą z IV wieku p.n.e., ale prawdopodobnie byli oni tam już wcześniej, gdy wyparli stamtąd Edomitów.
W III wieku p.n.e. wzrosła rola tego miasta, ponieważ stał się on ważnym węzłem komunikacyjnym i handlowym w tamtym regionie, gdyż było tam skrzyżowanie szlaków z Indii do Egiptu, a także z południowej Arabii do Syrii.
W 321 roku p.n.e. dla Petry, która odparła wojska Antygona, rozpoczyna się okres hellenistyczny, a wtedy wiedli spokojne życie i skutecznie odpierali ataki Ptolemeuszy oraz Seleucydów.
Właśnie w tamtym czasie Petra stawała się stałym osiedlem o charakterze miejskim.s
Imperia hellenistyczne stawały się coraz słabsze, a to sprzyjało rozwojowi Petry, która stała się ośrodkiem monarchii Nabatejczyków.
W 64 roku p.n.e. na Bliskim Wschodzie pojawia się wódz Pompejusz Wielki, któremu nie udaje się narzucić panowania Nabatejczykom.
W 62 roku p.n.e. na Petrę wyprawił się Marek Emiliusz Skaurus, który był kwestorem Pompejusza, ale podobno wycofał się po otrzymaniu 300 talentów łapówki.
Petrę próbowali jeszcze zdobyć, ale im również się nie udało: król Judei, czyli Herod Wielki, który chciał ją zdobyć razem z Kleopatrą, a także cesarzowi Oktawianowi Augustowi.
Petra nie została militarnie zdobyta, ale czuła one respekt przed Rzymem i wspierała swoimi siłami imperium rzymskie.
Dzięki temu miasto status państwa klienckiego, które jako sojusznik imperium cieszył się dużą niezależnością.
Właśnie w tym czasie przypada okres apogeum znaczenia oraz rozkwitu miasta, a przeważnie za czasów panowania króla Aretasa IV.
Stan takiej względnej niezależności Petry trwał do czasów cesarza Trajana, który w 106 roku zajął miasto i ustanowił w nim stolicę nowej prowincji rzymskiej, czyli Arabii.
Kiedy doszło do aneksji Petry przez Rzym, to przeszła ona bez komplikacji ze strony miejscowej ludności i to właśnie był kres niezależnego królestwa Nabatejczyków.
Jednak nadal była ważnym centrum handlowym w regionie.
Poza tym cesarz Trajan podniósł jej status z grodu, czyli osiedla tubylczego do rangi miasta rzymskiego, co przyczyniło się do jej rozwoju.
W 130 roku do Petry przybywa cesarz Hadrian, który przyczynił się do rozbudowy centrum miasta.
Za czasów Antoninów i Sewerów Petra przeżywała swój ekonomiczny oraz kulturowy renesans.
W 325 roku odbył się sobór nicejski i wtedy w Petrze zaczęło dominować chrześcijaństwo, a tak było do najazdu arabskiego w VII wieku.
W średniowieczu podczas wypraw krzyżowych Petrę zajęli krzyżowcy, a potem miasto zdobył Saladyn i wtedy zostało ono znacznie zniszczone i popadło w ruinę, z której już się nie podniosło.
Do upadku Petry przyczyniły się również trzęsienia ziemi, a szczególnie to z 363 roku.
7 lipca 2007 roku Petra została ogłoszona jednym z siedmiu nowych cudów świata.
Architektura Petry
Na początku Petra nie była miastem wykutym w skale, a pierwsi Nabatejczycy, którzy tam przybyli, mieszkali przeważnie w namiotach, które tworzyły luźne obozowisko wśród skał, a także w naturalnych jaskiniach.
Wraz z upływem czasu, razem ze zmianą trybu życia mieszkańców z koczowniczego na osiadły, zaczęły pojawiać się płaskie białe budynki, których dziś w Jordanii jest wiele.
W okresie największego rozkwitu w Petrze zaczęły pojawiać się liczne budowle wykute w skałach – zaczynając od świątyń i pałaców, a kończąc na okazałych grobowcach.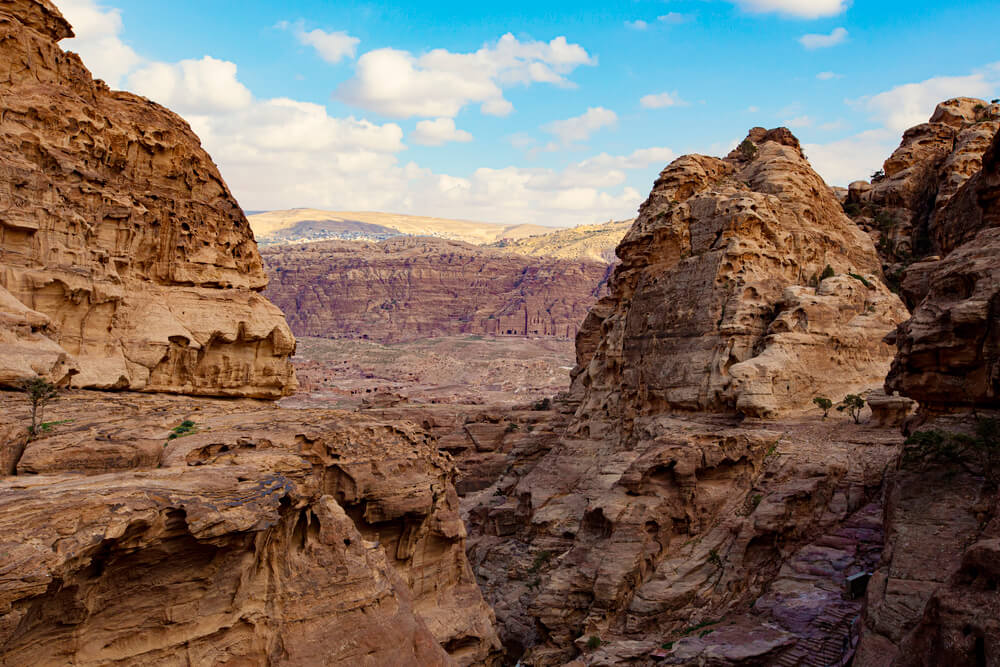 Nabatejczycy, którzy najpierw byli ludem koczowniczym, nie mieli tradycji budowniczych, przez co musieli korzystać ze wzorców innych kultur.
Dlatego w Petrze charakterystyczne jest skrzyżowanie różnych stylów architektonicznych, takich jak: egipski, syryjski, grecki oraz rzymski, a do tego dochodziły rozwiązania rodzime, a szczególnie związane ze zdobnictwem i to z kolei doprowadziło do wypracowania ich własnego stylu.
W rozwoju Petry wyróżnia się przeważnie trzy okresy:
nabatejski (III – II wiek p.n.e.);
hellenistyczny (I wiek p.n.e. – I wiek n.e.);
rzymski (II – III wiek).
Najbardziej znane budowle Petry
Jedną z nich jest Al-Chazna, która przez Beduinów określana jest jako "Skarbiec Faraona", a jest to wykuta w skale piętrowa budowla, która powstała około I – II wieku n.e.
To najbardziej znany budynek świata, ale do końca nie jest jasne, jakie było przeznaczenie tej budowli, a ostatnio mówi się, że jest to grobowiec, a nie świątynia, któregoś z władców Petry.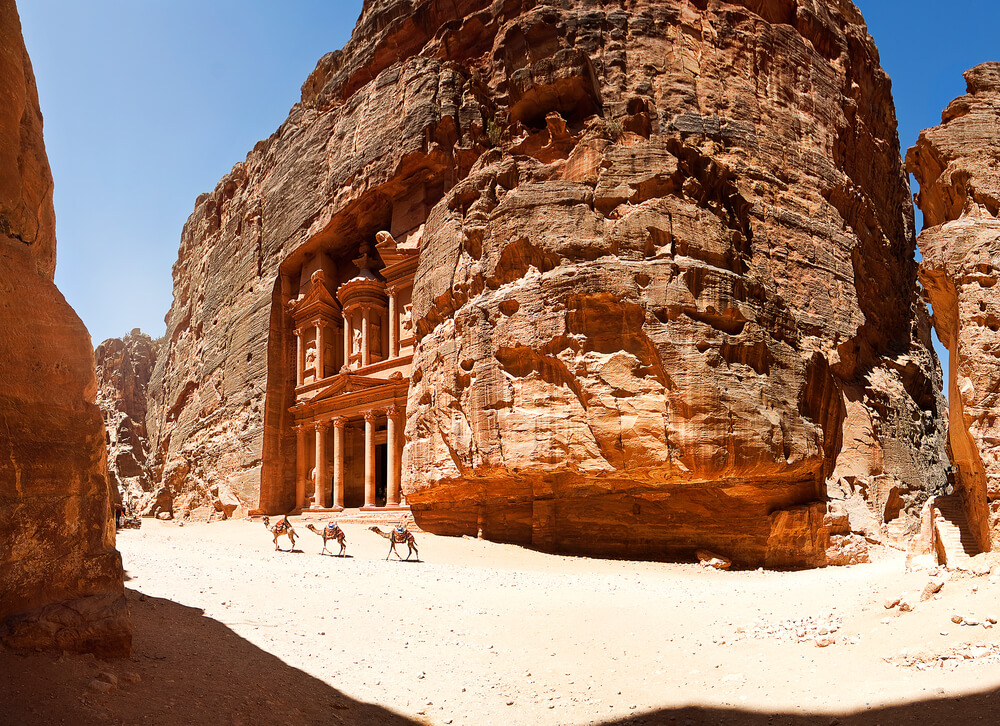 Kasr Bint Firaun to tzw. Pałac Córki Faraona albo także świątynia Duszary, czyli lokalnego bóstwa Nabatejczyków.
Świątynia ta została wybudowana z piaskowca w drugiej połowie I wieku p.n.e. albo w pierwszej połowie I wieku n.e.
Ad-Dajr to kolejna budowla, czyli "Klasztor", którego nazwa pochodzi z okresu bizantyjskiego, gdy wtedy rzeczywiście znajdował się tam klasztor chrześcijański.
Prawdopodobnie powstała ona w okresie panowania ostatniego króla nabatejskiego, czyli Rabela II.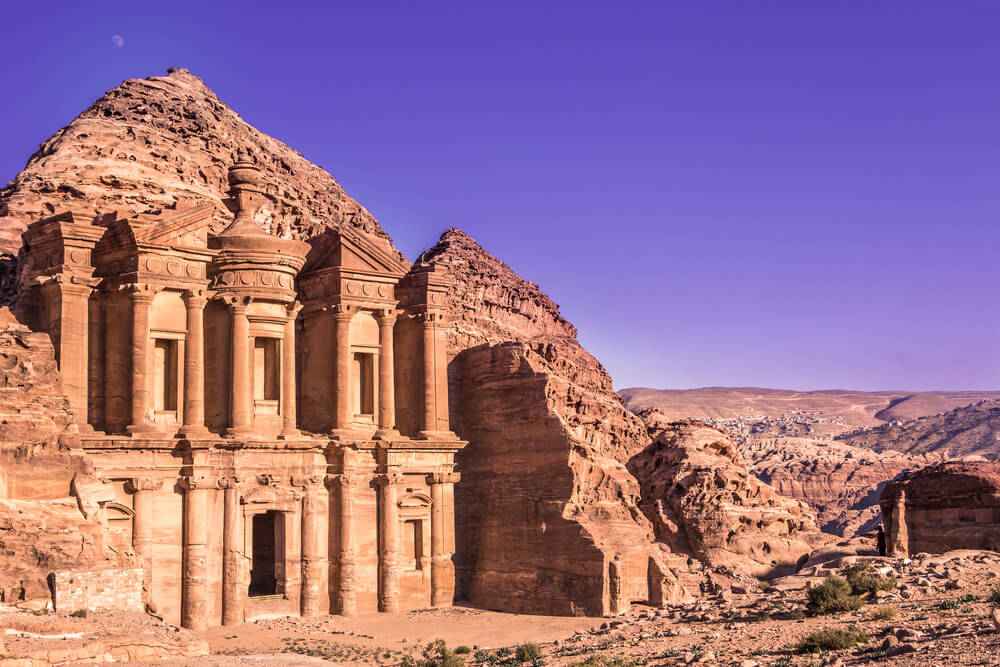 Kolejna znana budowla to wielki zespół Grobowców Królewskich na tzw. Ścianie Królewskiej.
Na zespół tych grobowców składają się: Grobowiec Urny, Grobowiec Jedwabny, Grobowiec Koryncki, a także monumentalny Grobowiec Pałacowy, ale nie znaleziono w nich żadnych szczątków.
Grobowiec Sekstusa Florentinusa to grobowiec namiestnika rzymskiego, który powstał około 130 roku n.e., a znajduje się w północnej części miasta.
Jednym z największych obiektów w Petrze jest teatr, który może pomieścić od 6000 do 10000 widzów.
Prawdopodobnie został wybudowany w I wieku n.e. i niektórzy uważają, że został on znacznie rozbudowany wtedy, gdy Petrę zajął Trajan.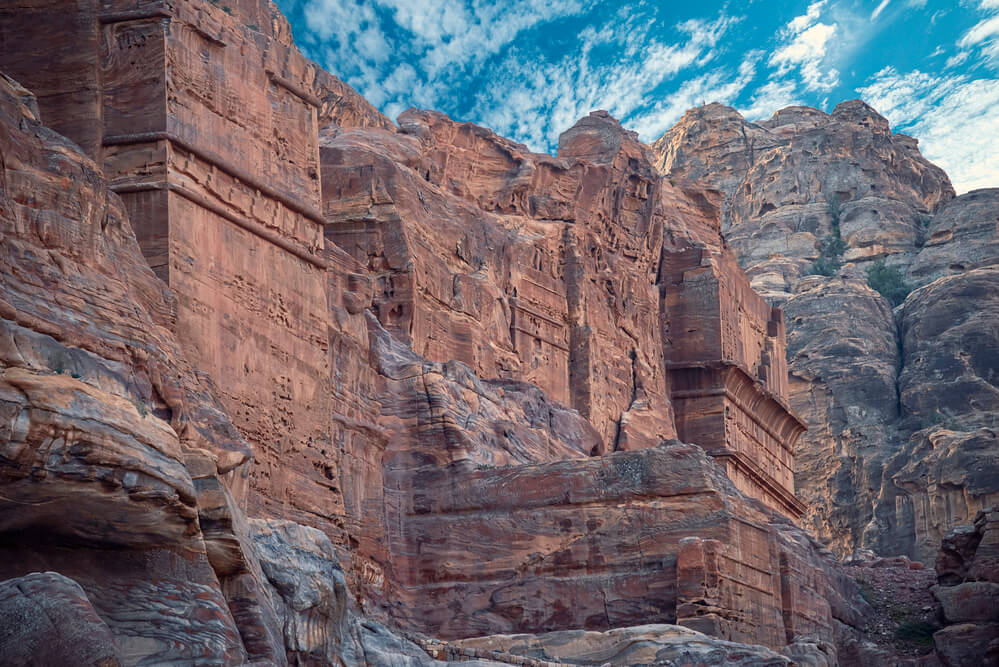 Następny jest Grobowiec Obelisków, a jest on zwieńczony czterema obeliskami, które zostały uformowane w skale.
Odzwierciedla on połączenie sztuki nabatejskiej z egipską, a otoczony jest kamiennymi siedzeniami i niektórzy przypuszczają, że był on wykorzystywany do przeprowadzania obrzędów żałobnych.
Suchur al-Dżinn są skałami dżinów, które przedstawiają boga Duszary.
Odkrycie Petry
Przez stulecia Petrę znały tylko lokalne plemiona, a one pilnie strzegły dostępu do tego miejsca.
Jednak to się zmieniło, gdy w Jordanii pojawił się Johann Ludwig Burckhardt.
Kiedy podróżował, usłyszał o starożytnych ruinach w wąskiej dolinie niedaleko rzekomego biblijnego grobu Aarona, który był bratem Mojżesza.
Wtedy przypomniała się mu historia o doktorze Seetzenie, którą słyszał na Malcie.
Doktor ten wyruszył z Egiptu do Arabii, aby odnaleźć zaginione miasto Petra, ale zamordowano go.
Johann Ludwik Burckhardt zaczął się dobrze przygotowywać, gdyż najpierw udał się do Aleppo w Syrii i tam kupił mały dom, a także pobierał lekcje arabskiego od zaprzyjaźnionej osoby, ale też studiował prawo Koranu oraz prawo muzułmańskie.
Zaczął nazywać siebie szejkiem Ibrahimem Ibn Abdallahem i podróżował również po Syrii, Libanie oraz Palestynie.
Kiedy podróżował z grupą kupców, zatrudnił miejscowego przewodnika, aby ten zaprowadził go do ruin starożytnego miasta pod pretekstem złożenia ofiary na grobie Aarona.
Mężczyzna zrobił to, aby uśpić czujność wrogich plemion Beduinów, którzy zamieszkiwali tamte tereny.
Był przekonany, że znajduje się w Petrze, ale nie chciał zdradzić swoich myśli, ponieważ nie chciał zostać zdemaskowany jako niewierny, który szuka zaginionego skarbu, przez co mógłby zostać zaatakowany.
Wtedy poświęcił kozła i wrócił na swoją trasę, która prowadziła do Kairu.
⇒ Czytaj także: PODZIEMNE MIASTO DERINKUYU – SKALNE TAJEMNICE KAPADOCJI
♦ Zareklamuj wydarzenie, swoją działalność, produkty itd. – dodaj ogłoszenie ⇒ KLIK
♦ Współpraca reklamowa na portalu ⇒ kontakt@odkrywamyzakryte.com
♦ Chcesz poznać więcej tajemnic świata? ⇒ KLIK
Komentarze