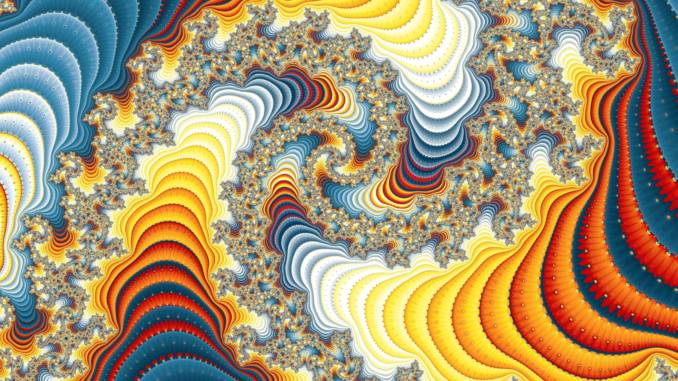 Fraktale-czym są? Co ukrywają? Skąd pochodzą i jak wpływają na nasze życie?
Jakie siły rządzą naszym wszechświatem? Zobacz, dlaczego fraktale są odpowiedzą na te pytania?
Naukowo poznawany świat to materia, która ma cechy, właściwości, zachowania.
Każdy element analizowany dogłębnie wskazuje na odrębne atrybuty, świadczące o indywidualności i niepowtarzalności tego bytu.
Tymczasem od pewnego czasu coraz bardziej powszechna staje się wiedza o tajemnicy stawiającej dotychczasową metodologię pod dużym znakiem zapytania.
XXI wiek niesie pytania o porządek wszechświata, uważanego przez tysiąclecia za niezgłębiony chaos.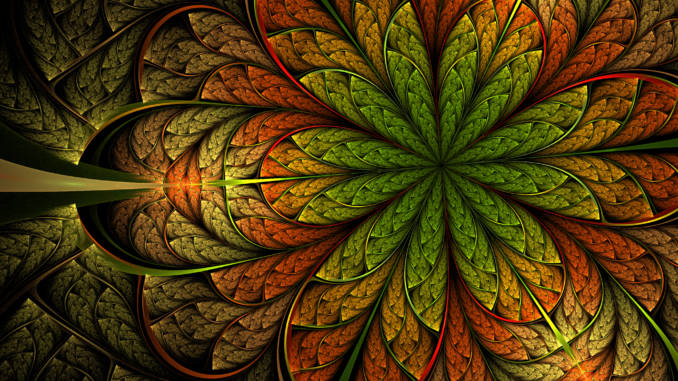 Okazuje się, że naszą rzeczywistością rządzi osobliwy ład, kryjący się pod tajemniczym pojęciem fraktal.
Czym jest i jak wpływa na nasze życie?
Na razie, wiemy tylko że istnieje.
Czym są fraktale?
Struktura fraktalna kształtuje byt materialny i niematerialny, kreuje czas. Otacza wszystko – i jest wszystkim.
Ta niesamowita wiadomość buduje całkowicie nową perspektywę naszej rzeczywistości, prawda?
Fraktal stanowi eritum każdego kształtu, każdej wartości, każdej przestrzeni i sprawia, że nawet pozornie chaotyczne obszary wewnętrznie tworzą osobliwy porządek.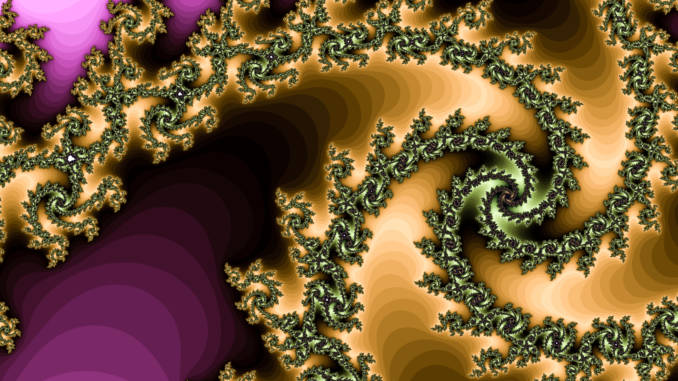 Tajemnica ta ma wiele wymiarów – nie wiemy, bowiem nie tylko skąd pochodzi i jak powstaje fenomenalna struktura, ale również – czy i w jaki sposób oddziałuje na nasze życie.
Wiadomo jak dotąd tylko, że powtarzalność, jaką odznacza się ta istota, występuje dosłownie wszędzie – od prostych form materii, po czasoprzestrzeń i potencjalne wymiary czasu.
Badania prowadzone w ostatnich latach przez takie nazwiska jak Haramein, Lungold, Mandelbrot, rozjaśniają nieco samą formułę fraktali i ich właściwości w otaczającym nas świecie.
Jednocześnie toczą się oczywiście symulacje, w jaki sposób charakterystyka fraktalna odnosi się do obszarów trudnych do zbadania – jak powtarzalność wszechświata, równoległe rzeczywistości czy cechy czasu.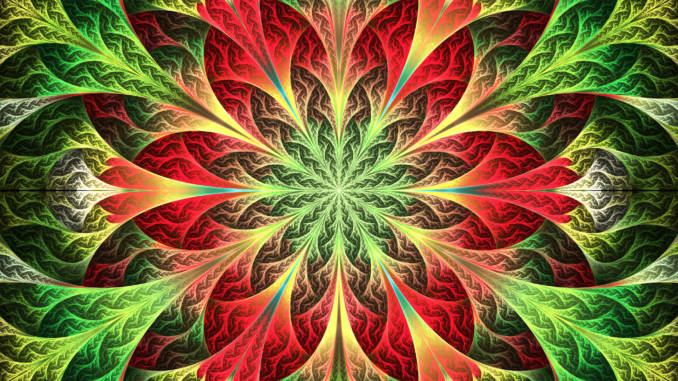 Wyniki są zdumiewające, choć oczywiście nadal wielu teorii nie udało się potwierdzić.
Fraktal to cecha materii. To kształt, jednakowy dla jakiejś całości oraz jej mniejszych elementów.
Jeżeli zauważamy, że pewna cząsteczka jest identyczna z większą, jeszcze większą oraz całością danej rzeczy – mamy do czynienia z fraktalem.
I jak donoszą najnowsze badania – cały wszechświat opiera się właśnie na fraktalach.
I to w niesamowity sposób.
Najdobitniej fenomen fraktali można oddać na przykładzie bliskiej nam natury. Zauważono na przykład fantastyczną powtarzalność w lesie.
Fraktalna struktura drzewa oddaje precyzyjnie układ całego drzewostanu – układ gałęzi jest łudząco podobny do układu drzew w lesie.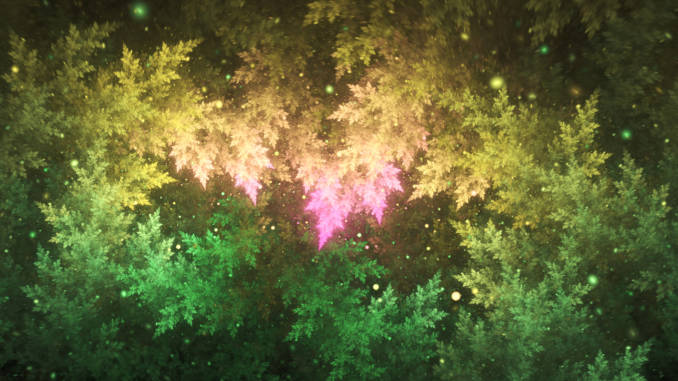 Korzenie pojedynczego drzewa rozchodzą się w glebie identycznie, jak drzewa na terenie lasu, a obserwując wielkość i ułożenie gałęzi, odwzorujemy dokładnie wielkość drzew i ich rozstawienie.
Fraktale widać na każdym etapie budowy roślin – układ drzew, widoczny w układzie gałęzi, odwzorowuje precyzyjnie układ pojedynczego liścia.
Fenomenalne i tajemnicze.
Jeżeli więc jest tak, że fraktalną powtarzalność obserwujemy w:
przyrodzie,
zjawiskach atmosferycznych,
układzie nerwowym i krwionośnym człowieka,
płatkach śniegu, rozlewiskach rzek,
chmurach, błyskawicach podczas burzy,
układzie skał, budowie szyszki,
w rytmie serca,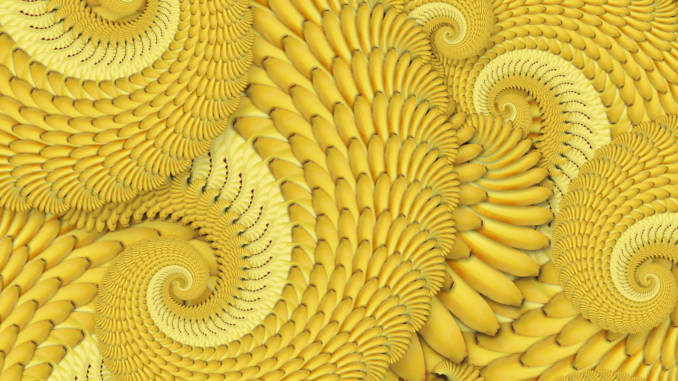 to dlaczego nie wysnuć tezy o powtarzalności światów, układów słonecznych, galaktyk?
Fraktale – jakkolwiek trudno nam zrozumieć ich perfekcyjną charakterystykę, dają poczucie graniczące z pewnością, że istnieje we wszechświecie o wiele więcej, niż możemy sobie wyobrazić.
Największą tajemnicą w omawianej przestrzeni wydaje się fraktalny wymiar czasu.
Ian Xel Lungold oraz Greg Braden starali się zgłębić temat maksymalnie dogłębnie, wykorzystawszy wszelkie dostępne rozwiązania matematyczne i znane teorie oraz poznane już właściwości fraktali.
Wspomniani naukowcy załamanie czasoprzestrzeni analizowali na gruncie wiedzy o rozwoju czarnych dziur na osi czasu. Dynamika oraz pęd czasoprzestrzeni wydaje się zachowywać dokładnie według równań stworzonych przez Harameina.
Oznacza to, że czas jest fraktalem i płynie powtarzalnie również w odrębnych rzeczywistościach. Wobec tego nie tylko świat i wszechświat ulegają fraktalnej powtarzalności, ale zachowuje się tak również czas.
Czy kiedyś przyjdzie nam przekonać się o tym namacalnie?
Czy wiedza, jaką zgłębiają wybitne umysły, kiedyś doprowadzi człowieka do poznania prawdy o fraktalach i pełni ich istoty?
Dziś, u progu XXI wieku, nadal jest to wielka tajemnica. Tajemnica wszech czasów.
FOTOTAPETA – FRAKTAL  kupisz tutaj kliknij
Książkę OD NOWEGO PORZĄDKU ŚWIATA DO FRAKTALNEJ REWOLUCJI kupisz tutaj kliknij
Książkę FRAKTALE I OBIEKTOWE ALGORYTMY ICH WIZUALIZACJI kupisz tutaj kliknij
Komentarze